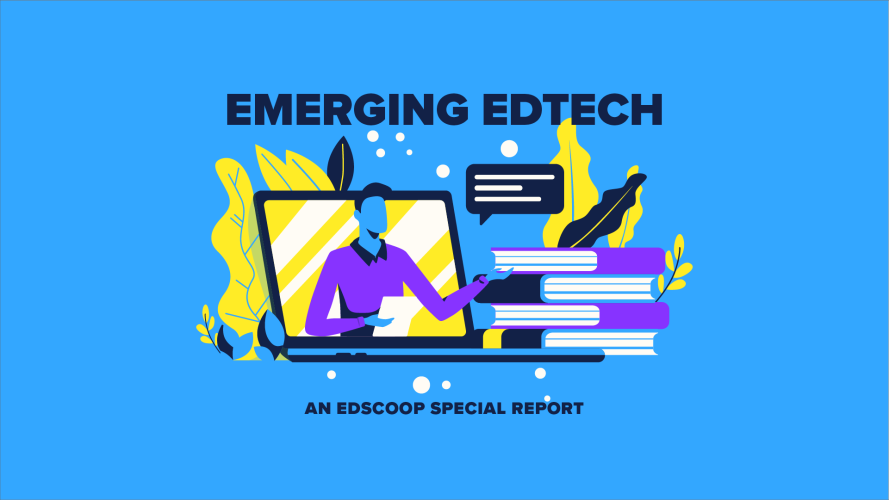 Emerging Edtech: An EdScoop special report
The hype around emerging technologies sometimes encourages skeptical observers to underestimate the likes of <a href="https://edscoop.com/ai-universities-automation/">artificial intelligence</a>, <a href="https://edscoop.com/list/5g-technologies-universities/">5G infrastructure</a> or <a href="https://edscoop.com/virtual-reality-technology-universities/">virtual reality</a>. This collection of editorial coverage — EdScoop's special report on emerging edtech — is a snapshot of just what promise these technologies hold for institutions in 2021 and beyond, written for an audience of sensible skeptics interested in taking advantage of what the newest technologies might offer. Check out the special report here.
A Message From AWS Educate
With over 1,500 institutions and hundreds of thousands of students who use AWS Educate, we wanted to take you on a trip around the world and highlight how students are learning and innovating with the cloud. Learn more.
Virtual campus tours are catching on
Virtual college tours became a staple during the coronavirus pandemic, with a jump of 258% in participation among high school seniors, according to April statistics from the educational technology company EAB. Universities invested in tools to build out virtual tours when campuses shut down and student tour guides were no longer on campus to form connections with prospective students. As students and faculty head back to campus, universities are continuing to develop those offerings to stand out to students who want an individualized experience, tour companies say. Emily Bamforth reports.
Six ways higher education is advancing 5G
The 5G mobile standard is expected to one day provide the backbone for "smart" infrastructure, including near-instantaneous data sharing, high-definition video streaming, autonomous vehicles and facial recognition. Check out a few of the most innovative 5G projects and test beds at universities that are supporting students on their campuses and furthering research on the next generation of wireless technology, including 5G backpacks, 5G glasses and 5G drones. Ryan Johnston has the details.
Edtech hasn't transformed the college experience
Higher education officials are bombarded with pitches for how the latest emerging technologies are going to upend their students' learning experiences and professors' instructional methods. From online courses to learning management systems to autograders to AI-enabled "tutors," schools have no shortage of products claiming to offer transformative change. But a recent book by Justin Reich, an assistant professor of digital media and director of the Teaching Systems Lab at the Massachusetts Institutional Technology, argues that the professed technological revolution in education has largely fallen flat, as the aspirations of technology met the realities of how people learn. "Failure to Disrupt: Why Technology Alone Can't Transform Education" makes the case that modernizing education is a more iterative, tinkering journey than any single product can fix overnight. Benjamin Freed has the full story.
Going from 'no' to 'know'
Data breaches are among the greatest sources of risk for higher education institutions, so it's not surprising that even before the pandemic, privacy and security concerns headed up the list of worries for IT teams at colleges and universities. But when teaching and learning moved to homes and parking lots in the spring of 2020, end-user security protection immediately became more difficult to manage, yet even more important to maintain. Read more insights from Brian Kelly.
VR in universities a welcome addition
Professors have used headsets for immersive lessons in nearly every discipline and to train faculty to recognize their unconscious bias when dealing with students from different backgrounds. But despite a growing community of advocates and use cases, professors told EdScoop they believe the technology's unlikely to be more than a complementary teaching tool for the foreseeable future. Ryan has it.
AI in higher education isn't automating everything
Higher education institutions are increasingly adopting artificial intelligence as a helping hand in major decisions like admissions and counseling, but AI is still serving as an assistant, not a full-time employee. The promise of AI in higher education is that it can help administrators make smarter decisions through its ability to quickly scan large amounts of data for relevant markers. While seeking to retain more students in light of the coronavirus pandemic and to find new students in a diminishing pool of prospects, higher education institutions are using AI to save time, freeing humans up to do work that requires critical thinking or face-to-face interaction. Emily has the story.
Online education students are career-minded
Online students are still predominantly looking to further their careers or find new ones through online education, a recently-released survey from the college rankings website BestColleges found. Despite a plethora of changes in online education, in both 2020 and 2021, the majority of online students who responded to the survey were career-minded students, who were looking to up-skill or change careers through online programs. Nearly half of participants in 2021 fell into this category. Emily has more.