Facial recognition finally activated at New York school district
After receiving concerns over possible student privacy violations, the Lockport City School District in Upstate New York activated its facial recognition tool last week. Officials say the tool is designed to detect and preempt threats to campus safety for the district's 4,400 students. The system includes cameras equipped with object and facial recognition software from the Canadian company SN Technologies. The system has been the subject of controversy among students, civil rights activists and state officials. It was first approved by the state education department in 2017, but was held pending a review of the district's privacy policies. In June, the New York State Education Department reported the Lockport did not have the framework in place to protect student privacy. The district, in response, implemented a policy that bars its system from collecting or storing student information. Betsy Foresman has the rest of the details.
A Message From AWS Educate
With over 1,500 institutions and hundreds of thousands of students who use AWS Educate, we wanted to take you on a trip around the world and highlight how students are learning and innovating with the cloud. Learn more.
Ransomware entered Michigan district systems through HVAC
The ransomware attack — in addition to shutting down classes for several days at the tail end of holiday break — also knocked out several heating systems, telephones, copiers and classroom technology at Richmond Community Schools in Michigan. District officials said no student data was affected because it was stored offsite. Betsy has more.
Higher ed can improve security and user experience with independent identity governance tools
An IT associate director from the University of Utah says that because of its diverse user population, the university needs greater control in securing access privileges. By using a specialized tool for identity governance, he says, the university has improved capabilities in managing roles, role mining, logging and collecting user behavioral analytics. Listen to the interview.
Texas starts showing students how much they'll make with each degree
Amid record-high student debt levels, a new bill in Texas arms prospective students with better compensation data related to their chosen majors. Betsy has the details.
University tech presents growing privacy concern for students, educators
The benefits of technology are often publicized, but educators are increasingly questioning whether student surveillance is getting out of hand. Betsy has more.
Communication is critical before an emergency, says university CIO
To ensure student safety, it is important that departments come together and communicate before there is an emergency, Texas Tech's CIO says. Check out the interview with Sam Segran.
Arkansas to develop statewide high-school cybersecurity program
The new curriculum and courses will give students the ability to immerse themselves in industry-relevant concepts and prepare for future careers. Betsy has more details.
Upcoming database will enable universities to share policy ideas
Each school has their own policies. A new tool slated for release in 2020 will allow researchers to search and filter them all from one location. Learn more about the tool here.
Ed. Dept., Educause partner to promote cybersecurity collaboration
The department says exchanging expertise and intelligence on information security will help institutions better safeguard student data. Betsy has the details.
Tweet Of The Day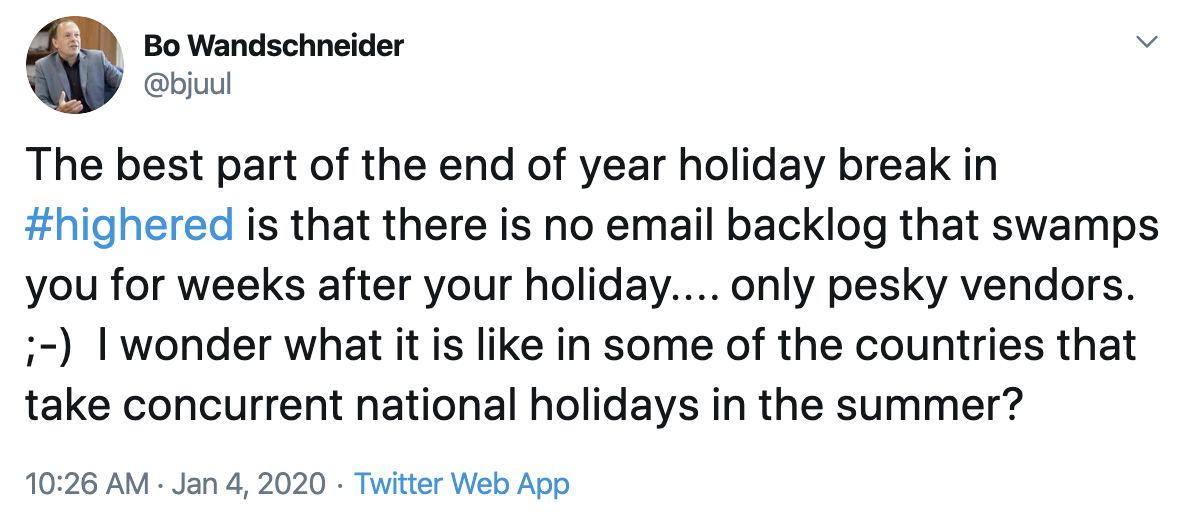 Happy New Year...or according to this tweet, the end of your email backlog peace. Here's to a great 2020 for IT in education!