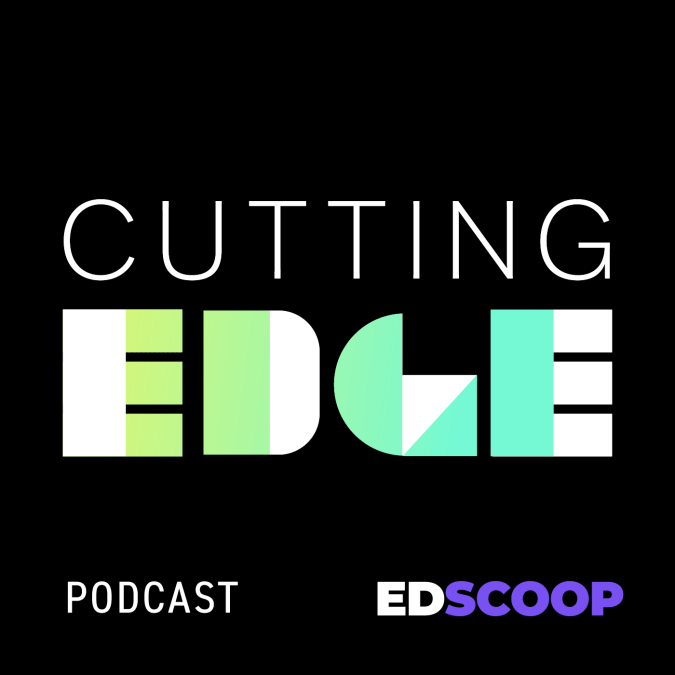 Online education platforms offer agility for universities, students
Online education platforms have become increasingly important for colleges and universities, especially in the face of rising costs, declining enrollments and changing workforce demands.
"Universities are dealing with a lot of challenges that online education can help them solve," says Nina Huntemann, the director of academics and research at edX in Cambridge, Massachusetts.
But online education platforms also require thinking differently about how courses are taught, says Huntemann in a new episode of EdScoop's "Cutting EDge" podcast series.
Huntemann speaks from experience. She devoted 15 years to college-level teaching and program administration at Boston-area universities before joining edX three years ago and where she now helps institutions develop online curriculum strategies.
EdX, which was founded by Harvard University and MIT in 2012, has risen quickly to become one of the world's largest massive open online course providers. Tnder the direction of CEO Anant Argarwal, who helped pioneer the nonprofit, edX now works with more than 130 global education partners.
That growth is partially attributable to the decision to build the platform using open source code, Huntemann said.
"What that means is one could download the entire code of our platform and create their own instance of open edX," she says in the podcast. "In fact, we have many customers who do that," including many nations who use the platform for educating K-12 students.
"But it also means we have a lot of educators and technologists who are building tools for the open edX platform … and contributing those features back into edX. The platform is continually evolving," she says.
The reason that's important goes beyond the need to keep the underlying technology offerings up-to-date.
"Universities are recognizing that their engagement with students needs to happen early and continue after graduation. That's just reflecting the reality of the workplace today," she says.
It also reflects the growing diversity of prospective, current and returning students who need different skills and credentials.
"What online education at scale really allows is [for institutions] to still provide high quality learning to students who may otherwise not be able to afford it, don't have the time to stop life and go to a residential program," she says. "And in particular, to nimbly respond to the [workforce] requirement to constantly skill and reskill yourself in a career."
Online platforms allow universities to become "far more agile in the programs they create and develop by putting them online and that's something that, with dropping enrollments, is really critical to the future of an institution," she says.
Asked about common pitfalls in developing online education programs, Huntemann urged higher ed officials:
"Don't take your offline offerings and just put them online. There are too many things about the online environment that really require you to transform your course offerings — both what you're offering but also how you teach it."
Commenting on what's ahead for edX, Huntemann says one of the most promising developments is the growing willingness of universities to accept the exchange of other universities' online learning credits.
On the podcast:
Nina Huntemann, director of academics and research, edX
Wyatt Kash, senior vice president of content strategy, Scoop News Group
This is the second episode of EdScoop's "Cutting EDge" podcast, which highlights the people who are leading conversations about the future of edtech and education IT.