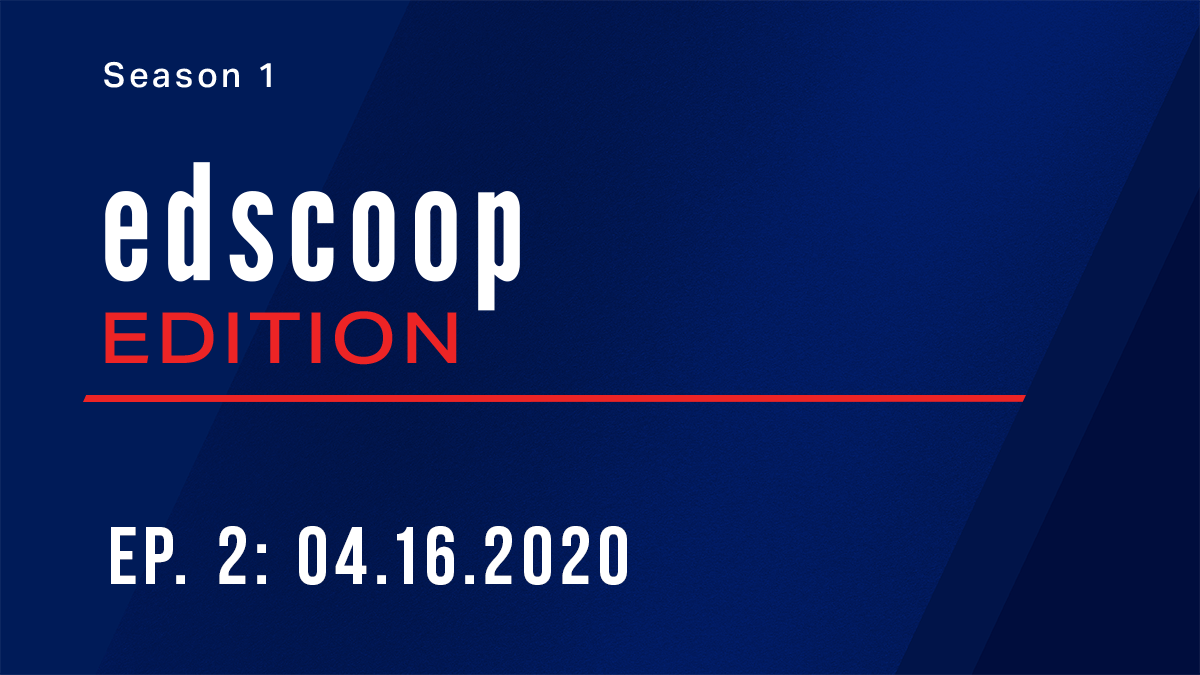 Education shouldn't go back to normal after pandemic, experts say
The novel coronavirus pandemic has disrupted entire sectors of the American economy, but now, as students and faculty settle into distance learning, technology leaders are questioning what it could mean for the future of education.
"I think we would be remiss to try to go back to what we used to do," Karen Fuller, the director of network infrastructure and communications at Cypress-Fairbanks Independent School District in Harris County, Texas, says on a new episode of the EdScoop Edition podcast. "We've discovered that we can do things different. I think we're learning that we don't have to have that much control. We've just got to be able to provide the resources, provide abilities to ask and answer questions to get feedback back from students."
Fuller, who oversees the network infrastructure for the Houston-area district with more than 116,000 students, says there will need to be some adjustments along the way, but that the coronavirus pandemic response could establish a baseline for what the future of education can be.
"There's going to be some refining that we're going to have to put in place, but we're really going to start seeing a different way of thinking of how we can deliver instruction and resources for students to continue to learn," Fuller says.
Paige Francis, the chief information officer for the University of Tulsa, says that she and her staff are already preparing for a higher education structure that is drastically different than the one students experienced when they started the 2020 spring semester.
"From an IT perspective, right now at TU, I'm envisioning a future that does look and feel different than it is right now," Francis says. "Our primary role is going to be facilitating the delivery of teaching, how students consume the learning and ensuring an equal experience for all. I think that's our biggest challenge."
The conversation between Fuller and Francis was originally scheduled to take place at the now-canceled SXSW EDU conference in Austin, Texas. The event was canceled due to the outbreak of the coronavirus pandemic. 
On the podcast:
The EdScoop Edition podcast is broken down into segments. Here's what you'll find on this episode:
University of Tulsa CIO Paige Francis and Cypress-Fairbanks ISD IT leader Karen Fuller talk about their response to the coronavirus pandemic and how they are working to unify the student experience using emerging technology.

EdScoop managing editor Colin Wood and staff reporter Betsy Foresman highlight how Florida

is working to get devices to students

who need them for distance learning, how universities are stepping in to

provide medical workers with supplies

, as well as a new technology-based

admissions effort at the University of Central Florida

. 
Things to listen for:
After making a rapid decision to cancel physical classes and move instruction online, the University of Tulsa's IT department is now preparing for the "10 different pathways this could take" in the future, Francis says.

Using software, Cypress-Fairbanks ISD routed school phones to staff working remotely so that parents could still call the main school numbers they were used to calling for information even when staff were not working in the physical school buildings. 

When students return to campus, emerging technology could mean things like physical doors opening automatically for students when their devices or some sort of technological beacon are detected depending on their access rights. Francis and her staff are preparing for what the integration of technology like this could mean for security and privacy on campus.

Higher education and K-12 leaders alike need to think specifically about technology's role in unifying the student experience from when they leave high school through when they attend university, Francis says.

Francis is working with a school district in Tulsa to understand what students are using and being taught around technology so that she can facilitate a similar experience when they arrive on campus as freshmen. 
EdScoop Edition is a podcast with conversations, news and analysis of the role of edtech and IT in higher education. Each episode features at least one long-form conversation, a quick digest of the news in the higher education information technology environment and a conversation with a higher ed CIO.