N.C.'s Fayetteville State built a giant video wall to connect students with internships
The 36-foot-long "Wall of Success" lends "a sports atmosphere" to connecting students with internships, the school's chancellor said.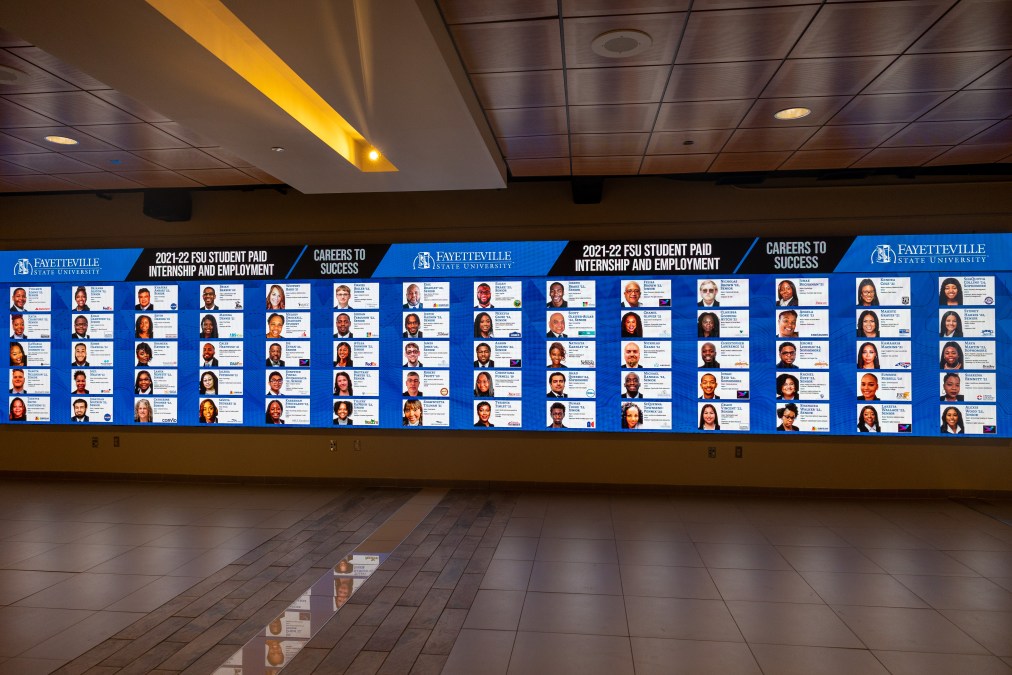 A 36-foot long, nearly seven-foot tall video wall in the student center at North Carolina's Fayetteville State University is highlighting students who've landed paid internships and jobs — and the employers that hired them.
The $300,000 wall, unveiled last month, is part of a years-long initiative to connect more students with career opportunities. The wall, which stands outside the university's career services office, is made up of more than 100 LCD displays.
It's meant to give Fayetteville State's students "a sense of a sports atmosphere" — albeit for career achievements, the school's chancellor, Darrell Allison, told EdScoop.
"It's not all about a wall, trust me on that, but [it represents] a real integrated, comprehensive game-changing approach," he said.
The wall is part of a goal the historically Black university set last year to land 740 students in paid internships by 2024. So far, 105 students have landed internships — ahead of Fayetteville State's goal of 100 for the effort's first year.
"To the left side, right across the hall, is career services," Allison said. "So what do [students] have to do to get on that board, to be a part of this? You make sure you head on over to career services office where they'll sit down and and register you and get to learn more about you and your desires, etc."
That strategy is part of the university's plans to get more students involved with the career office, so when an employer sets up a paid opportunity with the university, there's a ready-made set of candidates. Students currently use a digital career platform called Handshake, which features job and internship listings, as well as networking events.
Allison said the university may also add a requirement to the student-registration process that students submit information to the career services office. The office last year also added a corporate-relations position to make it easier for employers to find potential job candidates.
"The challenge now is making awareness and making sure that we get students in the pipeline," Allison said.