UC Irvine reveals big plans for epicenter eSports program
The University of California branch is launching a competitive e-gaming initiative this fall, making it the first of its kind at a public research university.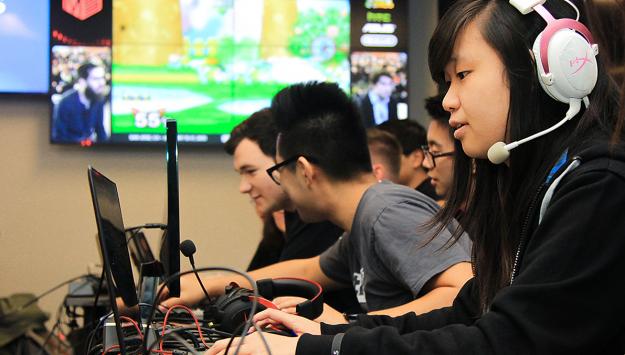 The University of California, Irvine is betting on a new gaming initiative, called eSports – the first of its kind at a public research university – to attract tech-savvy students and elevate UCI's stature with gaming enthusiasts.
"We hope to attract the best gamers from around the world," said Thomas Parham, vice chancellor for student affairs at UCI in a press release. "Our academic programs in computer gaming science, digital arts, computer science, engineering, anthropology, law, medicine, neuroscience and behavior create a strong foundation for research and inquiry related to gaming."
As part of the initiative, UCI eSports officials plan to build a 3,500-square-foot competitive gaming arena decked with sophisticated PCs, a real-time webcasting studio and a stage to host League of Legends competitions at the Student Center. The massive arcade is scheduled to open on September 23, in time for UCI's annual welcome week for students returning to school, Mark Deppe, UCI's acting director of eSports told EdScoop.
League of Legends, LoL, is a competitive online battle arena created and published by Riot Games, a video game developer. LoL games are so intense that teams compete for the champion title, a 70-pound trophy and a prize pool valued at over $2 million at the League of Legends World Championship every year. UCI's LoL team will compete in the collegiate tournaments next year.
Riot Games, based in Los Angeles, has promised to back the UCI eSports initiative and will partner with the university to create an elite LoL gaming experience on campus.
The eSports project is funded by a combination of sponsorship dollars and internally generated revenue. There will be a small charge for gamers to play socially at the arena, Deppe said.
"We are a really appropriate place for this to happen," Deppe said. "A lot of the best players in the world are an hour away from our campus and we'd love to be the epicenter of that. When anyone wants a high level competitive gaming experience or to socialize with friends, we want you to think of UCI."
The University of California, Irvine already encompasses an incredibly large gaming community, with nearly 75 percent of students self-identifying as gamers, according to a survey released by the Associated Students of UCI, the undergraduate student government. The survey, which canvassed undergraduate students via email, was published last year to gauge interest in video games and eSports on campus, Cathy Lawhon, senior director of media relations and publications told EdScoop.
Additionally, the Association for Gamers is the largest student club on campus and the Donald Bren School of Information & Computer Sciences is home of the largest computer game science major in the U.S., according to UCI officials. College Magazine, which publishes daily stories about campuses, ranked UCI the "No. 1 School for Gamers" last year.
The eSports Center is intended to do something special for UCI students, Deppe said. Officials hope it will be a great place for gaming that will set the university apart from its peer institutions. "We want the center to be open to anyone who wants to game," Deppe said. "The whole southern California gaming community can play."
Reach the reporter at darlene.aderoju@edscoop.com, and follow her on Twitter @buuukky.