Auburn's robotic construction dog can scan the inside of buildings too dangerous for humans
Mac, a four-legged autonomous robot, takes pictures and laser scans to map out the inside of buildings, showcasing how robots can advance building engineering, a professor told EdScoop.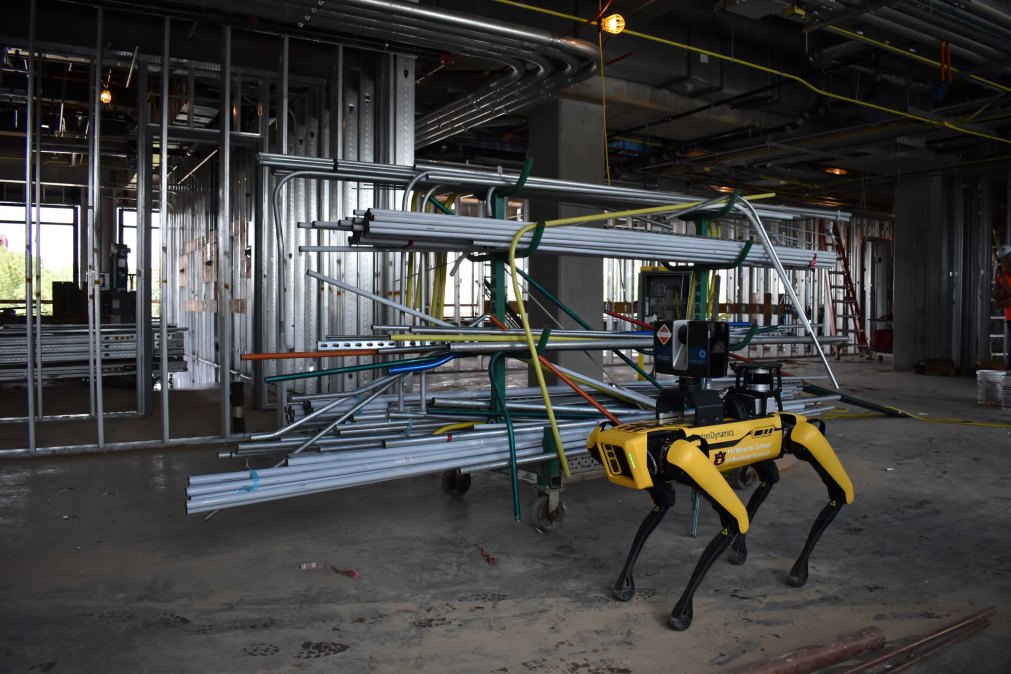 Auburn University is using a robotic dog, Mac, to explore the role of autonomous robots in construction and building science, an industry that assistant professor Eric Wetzel says is under-recognized for using cutting-edge technology.
Wetzel told EdScoop that after the robot's arrival to the Alabama university in March, researchers quickly started using it on job sites. The four-legged robot, controlled by a handheld device, can scan the inside of a building with lasers to create a 3D model, as well as take panoramic photos. That data is uploaded to the control device or stored on the robot in a memory card.
Mac can scan and avoid obstacles autonomously, but requires manual direction on which areas to scan. Researchers are working with other departments to enable the robot to follow a human around autonomously, according to Auburn's website.
Mobile robots like Mac can automate some tasks for engineers, Wetzel said, like creating maps of systems for heating and cooling, plumbing and wiring.
"It's also good for mapping existing structures," he said. "So if you have a condemned building that you need to tear down, but you're worried about sending people into it, you can get a 3D model of that space and we're talking about accuracy within millimeters here."
Researchers are also exploring how the robot can do these tasks without a human behind the controls, but mapping is just "scratching the surface" of what this technology can do, Wetzel said. He said researchers are interested in whether the robot can complete safety checks or check on fencing and structures after storms.
"Really, anything you could use an autonomous mobility platform with that could be visualized and that robot can process, or at least send back the data that a human can process, is sort of fair game at this point," Wetzel said.
Researchers observed that the robot, designed by Boston Dynamics, were more productive on construction projects than human workers using tripod-based scanners, Wetzel said. The robot can walk from room-to-room by itself instead of a tripod that needs to be moved manually. There are some shortcomings, Wetzel said, as the robot is shorter than where a camera would sit on a tripod, which means that some objects get cut off in the scan. The body of the robot also casts a shadow in the scan, he said, but that can be fixed through taking multiple scans after moving the robot a little.
Along with the research applications, Mac showcases the way building sciences are implementing technology, Wetzel said. The robot is housed in Auburn's McWhorter School of Building Science and is named after the school's namesake, Earlon McWhorter. Auburn students can participate in research and use the robot in projects, he said, but the dog is also great for connecting with local K-12 students in hopes to recruiting them to the field. Students in Auburn robotics summer camps were able to meet Mac, as well as see drones and augmented reality glasses used in construction, Wetzel said.
"[It's] getting younger people excited about what the construction industry will look like in the coming years and what they can do," Wetzel said. "The construction industry is no longer just, you know, shovels, hammers, hard hats. It is tech-heavy and I don't think that that's well known. I don't think that people drive by job sites all the time, and no one really looks at, 'Is that thing working by itself?'"