Northeastern University tech director arrested over bomb scare
A former tech manager at Northeastern's Immersive Media Lab was charged with masterminding a bomb hoax last month at the Boston university.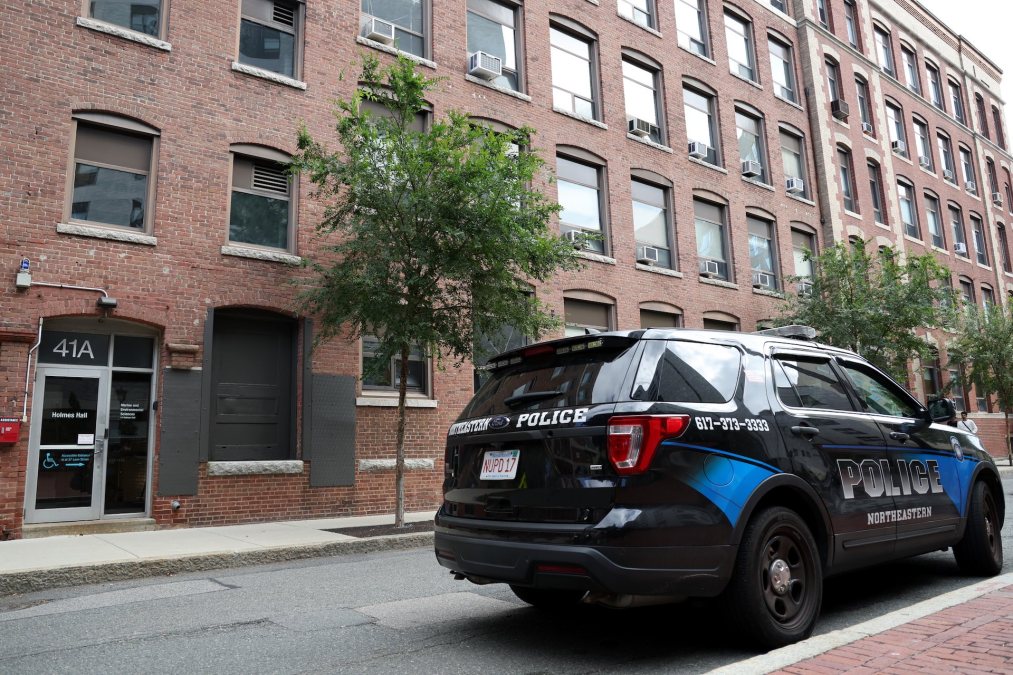 A former technology manager at Northeastern University's Immersive Media Lab, Jason Duhaime, was arrested in Texas on Tuesday for allegedly masterminding a bomb hoax that took place on the university's Boston campus last month.
Duhaime was charged with falsely conveying a bomb threat and lying to federal agents in an investigation stemming from a Sept. 13 incident in which a package sent to Holmes Hall — the Northeastern building housing the lab — allegedly exploded. At the time, Duhaime reported the incident to the police, claiming he had been injured in the supposed blast.
The Northeastern Immersive Media Lab designs and develops immersive technologies using augmented reality, virtual reality and extended reality. As a technology manager, Duhaime trained students and faculty in the use of these systems and managed the use of VR in the College of Arts, Media and Design.
The package was accompanied by a rambling letter that threatened to destroy the lab if it did not cease its VR work, called Duhaime the "anti-Christ" and accused the lab of working with Facebook founder Mark Zuckerberg and the U.S. government to "try and get us all to live inside a virtual fucked up world!!!!"
A Northeastern spokesperson confirmed to EdScoop that Duhaime is no longer employed by the university.
The incident generated a huge police response and caused panic among students, faculty and staff at Northeastern and at Boston's many other university campuses. Duhaime was quickly suspected of fabricating the entire episode but denied it, telling the Boston Globe on Sept. 14 that police "need to catch the guy that did this."
But the ensuing investigation led the FBI to accuse Duhaime of devising a phony bomb threat against his employer and lying to authorities. Duhaime was arrested Tuesday morning in San Antonio, where he lives, and is being held without bond pending an arraignment in federal court in Boston.
In an affidavit, an FBI agent described his suspicion that Duhaime authored the threatening letter and faked the package explosion. The agent wrote that after Duhaime called 911, reporting he had been injured by sharp objects flying out of a package he opened in a supply closet, police arrived to find the package — a hard plastic case — and the letter that was allegedly inside it, bore no indication of "any sort of forceful or explosive discharge."
While Duhaime had some small bruises and marks on his forearms, there was no damage to his long-sleeved shirt, casting doubt on his claim of an explosion, the agent wrote.
A digital copy of the threatening letter was later found stored in a backup folder on Duhaime's computer, which was seized by investigators. Metadata associated with the file suggests the letter was written four hours before Duhaime's 911 call, which came in about 7 p.m. on Sept. 13.
"Evidence discovered during the FBI's ongoing investigation indicates that Duhaime himself authored the threatening letter," the affidavit read. "I believe, based on the ongoing investigation, that the Subject Case contained no 'sharp' objects, that no objects were expelled from the case when Duhaime opened it, and that Duhaime sustained no injuries as a result of opening the Subject Case."
Joseph Bonavolanta, the special agent in charge of the FBI's Boston field office, said Tuesday that Duhaime repeatedly lied to agents and accused him of faking injuries.
"In this case, we believe Mr. Duhaime wanted to be the victim but instead victimized his entire community by instilling fear at college campuses in Massachusetts and beyond," Bonavolanta said at a news conference.
The Northeastern spokesperson thanked the FBI, the U.S. attorney in Massachusetts and the Boston Police Department for "bringing this investigation to a close."
"Knowing what we know now about this incident, we would like to make it clear that there was never any danger to the Northeastern community," the spokesperson said. "As always, the safety of our students, faculty, and staff is our highest priority."