Universities are 3D-printing face shields for hospitals amid shortage
Amid a shortage of critical medical supplies, university professors and staff are pooling their knowledge of 3D printing to make equipment to protect health care workers.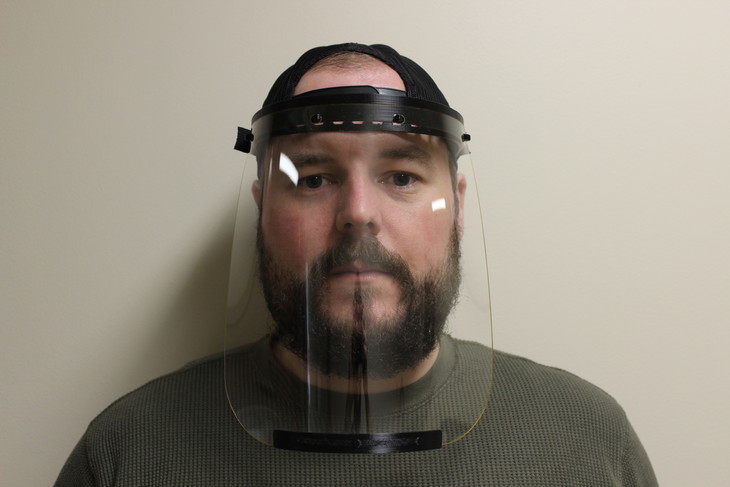 As the spread of the novel coronavirus pandemic continues, universities are taking their research and their technology to the fight against the COVID-19 disease. At least five universities are using 3D printers to produce medical masks for healthcare workers affected by a shortage of masks worn by doctors, nurses and other medical staff to stay protected when treating COVID-19 patients.
Faculty from the Michigan State University are collaborating across departments to produce medical face shields through 3D printing and laser cutting, according to an announcement from the university. Nathan Tykocki, an assistant professor of pharmacology and toxicology at the university, is using a 3D printer to make pieces for medical face shields designed to be fastened around the back of the head and with a support on the wearer's forehead. Using his own 3D printer, Tykocki is capable of printing 10 frames a day, but to increase that rate, he teamed up with a handful of professors from other departments.
The masks include a clear plastic shield that cannot be 3D-printed, so Tykocki turned to Aaron Walworth, the laboratory manager at the university's school of packaging. Using the university's laser cutter, Walworth reportedly cut more than 130 shields in a few hours.
"The nice thing is these shields are reusable — the plastic can be disinfected without harming it any way — so the shields are by no means a 'one and done," Tykocki told MSU Today. "In this crisis situation, all of these people are … doing this together from different colleges. This really shows me that collaboration is not limited at all to research."
At Penn State University, a team of more than 100 staff, faculty and students have joined to produce similar masks. Rutgers University and Florida International University have also announced efforts to produce masks for medical personnel.
The University of Arizona is working specifically to produce N95 respirators — masks that fit tightly around the wearers face and are designed to filter out 95 percent of airborne particles. A group of researchers from the university are designing, 3D-printing and testing masks for health care workers at Banner-University Medical Center Tucson.
"We want to design masks that can print relatively quick and make them into a form that people will want to use," Doug Loy, a professor at the University of Arizona's Department of Materials Science and Engineering said in an announcement from the university. "We're finding a lot of designs online that may look good, but they either require the assembly of dozens of parts, or they would take forever to print, which drove our decision to take a different approach."
To aid in the effort, the College of Engineering ordered 10 new 3D printers, which will allow the team to scale production of masks and filters once designs are finalized.