Yale admin stole millions in computer equipment to buy fancy things
Jamie Petrone-Codrington pleaded guilty to wire fraud and filing false tax returns after a nine-year scheme that cost the school $40 million.
A former Yale School of Medicine administrator this week pleaded guilty to charges that over a nine-year period, she stole computers and other electronic devices that totaled to $40 million in losses for the university — money she used to buy cars, real estate and vacations.
Jamie Petrone-Codrington, 42, pleaded guilty to wire fraud and filing false tax returns after years of running an illegal business that involved the bulk purchasing and resale of Microsoft Surface Pro tablet computers, Apple iPads, MacBook laptops and photography equipment.
Documents filed in federal district court in Connecticut showed she spent her earnings to live like a high-roller.
As director of finance and administration for the Yale's emergency medicine department, Petrone-Codrington routinely split large orders into separate purchases, each totaling less than $10,000, the school's threshold for additional approval. Court documents show law enforcement observed Petrone-Codrington on surveillance footage loading boxes of devices into her red Land Rover Range Rover in the nearby town of Orange before shipping the merchandise to her business in New York State.
Petrone-Codrington's scheme continued unfettered until last year when the university received an anonymous tip that she had been ordering "suspiciously high volumes of computer equipment, some of which was placed into her personal vehicle," according to court documents.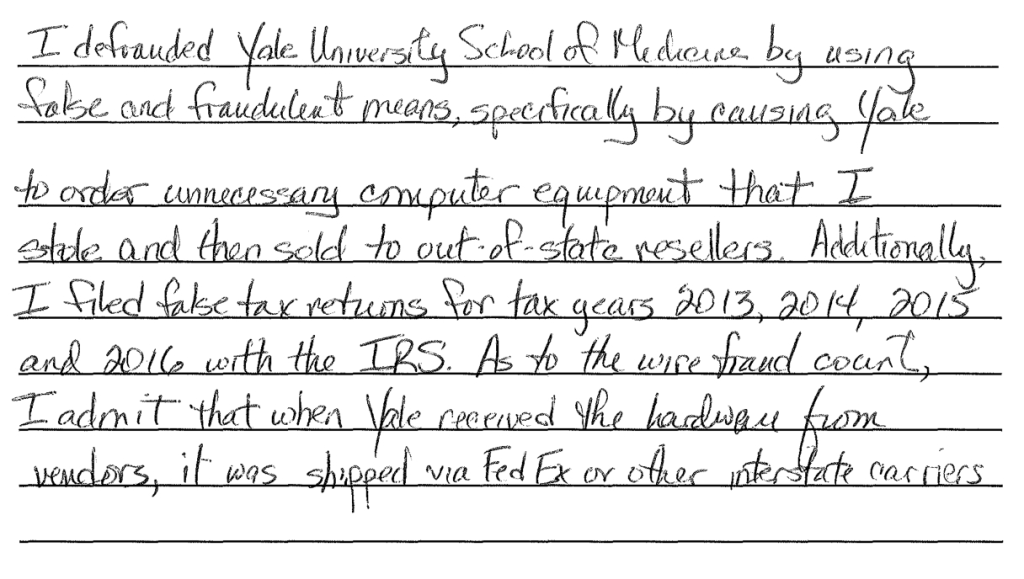 In addition to facing a maximum sentence of 23 years in prison, Petrone-Codrington also agreed to pay more than $6.4 million in restitution to the IRS. The level of her offense is increased by the fact it exceeded a monetary value of $25 million, that she employed "sophisticated means" and that she "abused a position of private trust," according to court documents.
Assets Petrone-Codrington has agreed to forfeit include $560,000 in cash in a bank account under the name Maziv Entertainment LLC. The government also seized six of her cars, including two Cadillac Escalades, the 2017 Range Rover, a 2018 Dodge Charger, a 2014 Mercedes-Benz G550 and a cardinal red 2020 Mercedes-Benz Model E450A. Law enforcement also seized four properties, including a five-bedroom home in Lithia Springs, Georgia.
"Since the incident, Yale has worked to identify and correct gaps in its internal financial controls," a university spokesperson said in a statement.
Petrone-Codrington was arrested on Sept. 3, 2021 and was released on $1 million bond. She's scheduled to be sentenced by U.S. District Judge Vanessa L. Bryant on June 29.