Big Ten universities team up for first-of-its-kind cybersecurity collaboration
OmniSOC, a cyber-intelligence service, will protect five universities in the Big Ten by acting as a "neighborhood watch" for the internet.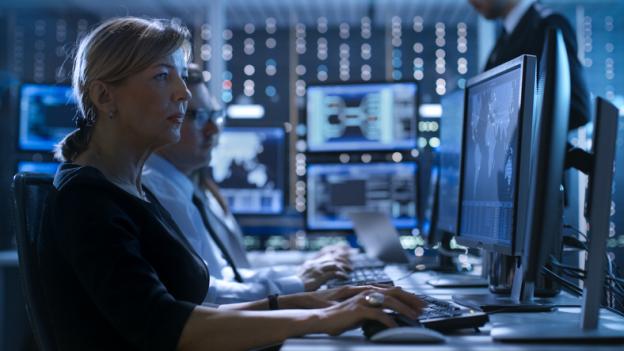 A new cybersecurity operations center called OmniSOC aims to protect the networks of five Big Ten universities that decided to seek "strength in numbers" against cyberthreats.
OmniSOC is a subscription-based, round-the-clock cyber-intelligence service hosted at Indiana University and serving four other founding member institutions: Northwestern University, Purdue University, Rutgers University and the University of Nebraska-Lincoln. When a threat is detected, OmniSOC will notify the affected institution, and from there the respective university's cybersecurity team will take over.
The purpose of OmniSOC is to reduce the time it takes for a college or university to become aware of and respond to a cyberthreat, officials said.
"It's really a matter of being the neighborhood watch for the OmniSOC member institutions," Tom Davis, OmniSOC founding executive director and chief information security officer, told EdScoop.
"So if you think of a neighborhood watch in a residential neighborhood, you have a group of neighbors to look out for one another, and they look for any kind of suspicious activity that may be going on in the neighborhood," he added. "The OmniSOC is sort of like that neighborhood watch — only for the internet."
Davis explained that the participating universities had reached a tipping point and decided to come together to form this security operation center.
"Over the course of the last five to seven years we've seen the the threat landscape change — the types of threats we're facing," Davis said. "We know that there is strength in numbers."
The education sector now accounts for about 13 percent of all data breaches, according to digital security company Gemalto, making it one of the most vulnerable industries. OmniSOC will not only be protecting hundreds of thousands of devices, but also tens of thousands of students and faculty.
Brad Wheeler, Indiana University's CIO and vice president for IT, said in a statement that he and his Big Ten CIO colleagues realized they could fight these risks better and faster if they "joined forces to rapidly accelerate detection and mitigation across our institutions."
"I think we'll see growth within the year," Davis said. He added that he and his colleagues at the five member universities have already received some inquiries from other institutions interested in joining the collaborative effort.