Student data is increasingly compromised by tech providers
Students are affected every day by commercialism through technology products, according to a new report form the National Center for Education Policy.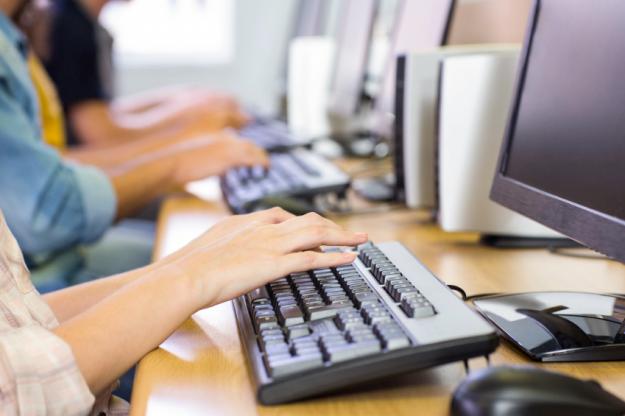 Student privacy is increasingly tenuous thanks to the rise of digital products and computer-based tests that are popping up in schools today, according to a recent report.
The report, titled "Learning to be Watched: Surveillance Culture at School," released by the National Center for Education Policy at the University of Colorado at Boulder, details how commercialism has seeped into classrooms through technology that is frequently provided to schools for free.
Advertisers are able to market to kids by collecting data about them online – and start getting them acquainted with tools and programs at a young age.
"In schools, because the targets are children who are compelled under law to
attend, an important part of the goal is to exert influence at an early age, to establish attitudes that will affect a lifetime of purchases," according to the report.
A recurring issue concerning student data privacy is that developers are able to personalize programs, which has advantages because it is tailored to an individual student's needs. But it also has a downside, because vendors can gather more specific data about a student.
"The technology for delivering marketing has become more sophisticated and personal, helping to ensure that today's children and adolescents are constantly connected and targeted
by advertisers wherever they may roam," the report notes. "In school, teachers are encouraged to integrate technology into their lessons and homework, and to rely on computerized student performance data as a diagnostic tool."
Although there are several federal laws and dozens of state laws that address student data privacy, the authors of the report say they are not enough because programs from technology giants like Google and Facebook are so ubiquitous in schools, and the companies have strong lobbying arms to keep regulators from enforcing privacy laws.
According to the report, Google, one of the companies that collects troves of digital data, reaches more than 30 million students, teachers and administrators around the globe through its Google Apps for Education. It also increased its lobbying expenditures to nearly $20 million in 2012.
There is a Student Privacy Pledge, supported by the Future of Privacy Forum and Software Information and Industry Association, that is touted by advocates of protecting student data – but it is a voluntary pledge.
The pledge "does not ensure that digital data will not be sold to advertisers, nor does it prevent students' online behavior from being tracked," the report notes.
Reach the reporter at corinne.lestch@edscoop.com and follow her on Twitter @clestch and @edscoop_news.