Vermont military college offers cyber camp for HS students
Rising juniors and seniors can build their own mini computers in the week-long summer camp at Norwich University.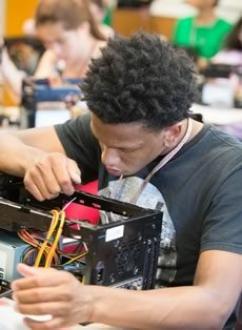 Cybersecurity is the new camping.
High school students from around the country can learn how to build mini computers and protect themselves from hackers in a summer camp hosted by Norwich University, a private military college in Vermont.
With the rise in cyberattacks across industries – and the dearth of workers needed to fill security jobs – educating students in the topic, whether in K-12 schools or colleges and universities, has become a top priority for federal, state and local officials. Just last week, the International Quality and Productivity Center hosted a summit with security officers from campuses across the country.
In the week-long GenCyber@NU camp, which runs from July 17 to 23, rising juniors and seniors can listen to lectures on cyberattack defense and personal online protection, and learn about the inner workings of computers and networks with hands-on exercises.
Instructors will show students how computers and network infrastructures work. Students will also get hardware and software to build mini computers by themselves, which they get to keep at the end of the program.
Norwich University will cover all costs, including tuition, accommodation and transportation, with a grant from the National Security Agency and National Science Foundation. The school is certified by the NSA and Department of Homeland Security as one of the "Centers of Academic Excellence," a special designation awarded to institutions that teach and promote information security and cyber defense.
Guest speakers and faculty from Norwich's undergraduate and online graduate programs in cybersecurity will instruct the campers. The goal of the program is to create a pipeline for students to enter college and the workforce with cybersecurity skills under their belts.
Students who are interested can apply via email by April 15. Check out their website for more information.
GenCyber programs include a series of summer camps both for teachers and students funded by NSA and NSF. Universities in 14 states, including Jacksonville State University in Alabama, Pace University in New York and Oakland University in Michigan, will hold the camps this year.
Reach the reporter at yizhu.wang@edscoop.com and follow her on Twitter @yizhuevy and @edscoop_news.