Virginia prepares 'Equity in Education' data competition
The commonwealth's annual "datathon" will center this year on improving the equality of educational outcomes for all students.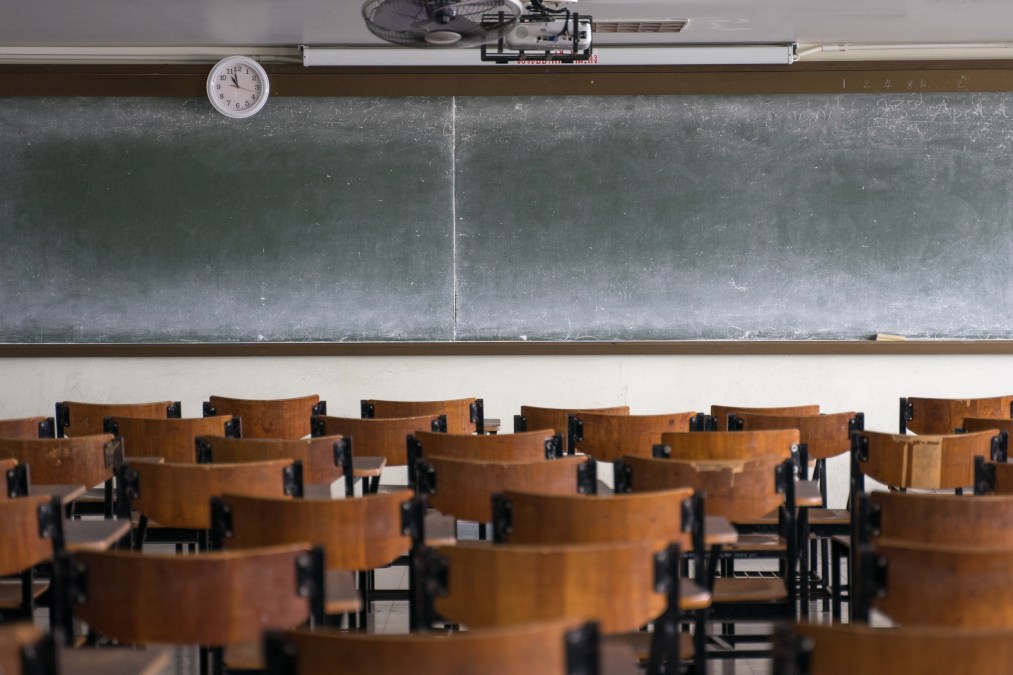 Virginia Gov. Ralph Northam on Wednesday announced that the commonwealth's annual data competition will focus this year on finding ways to make its education system produce more equitable learning outcomes for students.
The event, titled the "Equity in Education Datathon," will be held at the Library of Virginia in Richmond in October. According to the competition's website, multidisciplinary teams from government, higher education, private industry, and nonprofit organizations will join for two days to use new and existing data sets to "support the Commonwealth's goal of using data and analytics to improve educational outcomes and promote equity."
In a press release, Northam notes that "education is the best tool we have to empower and equip all Virginia students to reach their full potential, but we know we have more work to do to address systemic disparities that exist within our educational system."
Standardized test scores for the 2018-2019 school year released on Tuesday — in Virginia called Standards of Learning assessments — revealed gaps in pass rates across demographic groups in all five of the subjects covered by the test: reading, English writing, mathematics, science and history/social science.
On the reading assessment, 89 percent of Asian students passed and 85 percent of white students passed, compared to 65 percent for black students, 66 percent for Hispanic students, 65 percent for economically disadvantaged students, 47 percent for students with disabilities and 35 percent for "English learners." Similar statistical profiles are found across all five subjects dating back at least the past three years.
Tori Noles, special assistant to Virginia Secretary of Education Atif Qarni, told EdScoop that while standardized testing doesn't provide an exhaustive picture of student learning, it does provide "good indicators of where we're at." And the achievement gaps between demographic groups is a major concern, she said.
The latest test scores also provide another set of useful data for the upcoming competition, she said. "The exciting thing about the datathon is we have no idea what will come of it," Noles said.
Past datathons have produced useful apps and encouraged statewide policy changes, said Tony Fung, who spent four years as Virginia's deputy secretary of technology under former Gov. Terry McAuliffe and now remains part of a committee leading this year's competition.
Fung pointed to a healthy-food-and-nutrition app developed by the commonwealth's Department of Transportation and a "career ladder" planning app for university students as past examples of how strong support from the governor's office can ensure progress continues after the competitions have ended.
Competitions of this kind, usually called "hackathons," have become popular in state and city governments in recent years as a way to tap into the interests and talents of the public to solve civic challenges. Research published in December by Gartner research analysts Paolo Malinverno and Kristin Moyer, however, concluded that hackathons often underachieve, especially when they fail to set specific goals.
"They are not designed at all; they are just run to see what happens next. It's not surprising to see that they fail to be of much use," the researchers wrote.
To avoid running a useless event, the researchers recommended integrating the kind of innovative thinking and practices encouraged at the event into the daily work of an organization. Otherwise, they warned, the event will occur and then pass with little consequence, as there's frequently little follow-up and therefore little value contributed to an organization's long-term goals.
Beyond the apps created in Virginia's datathons, Fung said, the most important outcome has been the knock-on effect of a heightened data-sharing culture in the state. The Virginia legislature passed a law last year that created a statewide chief data officer position and smoothed the way for data sharing across agencies.
"I really believe the datathon and all the other efforts we did the last four years made it shift and change," Fung said.
Now in its fifth year, Fung said he's hopeful that the competition will continue to break down Virginia's "data silos" so that everyone can understand what's happening using the most current information.
"The equity piece is important in terms of making sure students will get equal chances," Fung said.
Note: This story was updated on Aug. 16 to clarify Noles' comments.