Why Eastern Michigan University is updating classrooms for flexible delivery
Simultaneous in-person and virtual sessions are a growing trend for which university leaders are now measuring demand.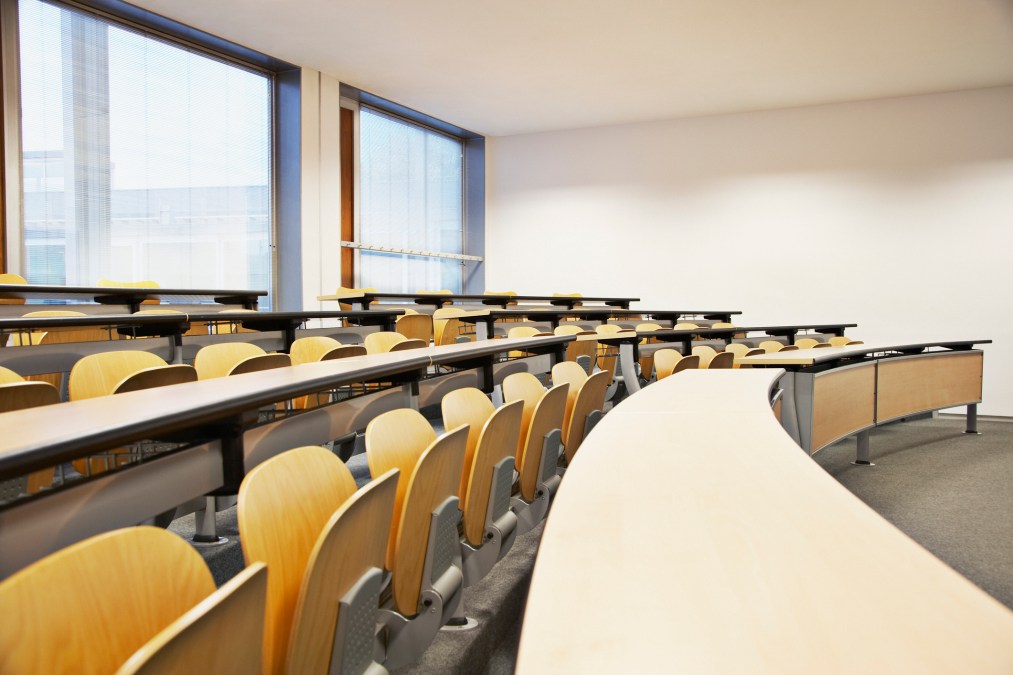 Eastern Michigan University is gradually upgrading its classrooms to accommodate lessons that are taught in-person and online simultaneously, as part of a new commitment to hybrid-flexible learning.
The Ypsilanti school plans to spend $491,000 on its classrooms' IT refresh during its next fiscal year, according to a budget approved last month by its governing board.
Eastern Michigan set up about a dozen classrooms last year for courses that allow students to choose how to engage with lectures, in-class work or collaboration, and plans to add 10 more this year, Aric Kirkland, the university's director of desktop and classroom technology, told EdScoop. The hybrid-flexible learning model, sometimes called "HyFlex," gained momentum nationally during the pandemic as instructors redesigned their lesson plans for phased-in returns to campus.
Eastern Michigan Chief Information Officer Ron Woody said the university is taking a slower approach to implementing classroom technology to support this type of course gradually to gauge professors' demand. The last round of updates was completed weeks before the fall 2021 semester, so this spring is the first time instructors can plan around having access to the technology.
"We're taking a slow approach of 10 rooms a year and may ask for more if demand ever outpaces what we have," Woody said. "A lot of literature is telling universities and others to be be cautious in what they what they spend around this, not knowing how HyFlex is going to take off and you don't want to equip a bunch of rooms where the equipment never gets used."
Traditional hybrid course design requires building separate components for in-person and virtual learners. Upgrading a classroom to support simultaneous virtual and in-person sessions involves adding an auto-tracking camera to the back of the classroom, a panoramic camera in the front of the room, ceiling microphone arrays to catch audio for virtual participants and connections for in-person presentations to be shared remotely, Kirkland said.
Eastern Michigan had planned to hybrid-flexible design before COVID-19, Kirkland said, but the pandemic gave the university time to "fine-tune" plans and engage faculty in the process.
"A couple of things that they put forward that I hadn't considered initially were the panoramic camera at the front of the classroom and the ability to not just present their own material remotely and in-person, but to really try to facilitate classroom discussions between remote participants and the in-person students," he said. "The reason for the ceiling mounted microphone arrays is to account for not just instructor audio, but the whole classroom."
The university also plans to implement similar technology in 40 conference rooms over the next several months, Woody said. Any classroom updates need to be completed when the rooms are offline, so upgrades will likely take place during academic breaks.
Woody explained that the university typically runs multi-year update cycles for classroom technology, and the IT department finished a technology refresh for 350 classrooms a couple of years ago. The school's $6.2 million budget for the upcoming fiscal year also set aside $1.3 million for campus network and server updates, part of another routine update cycle.
That money is set to be used for replacing one-fourth of the campus' wireless network points, replacing the servers that store video for the security camera system, adding additional broadband capacity for some areas and potentially adding servers or storage, said Rocky Jenkins, Eastern Michigan's director of network and systems services.