'Clever Badges' lets kids log onto computers via camera
The new badge system, from the edtech company Clever, allows kids to take pictures of customized codes with their school computer to log in.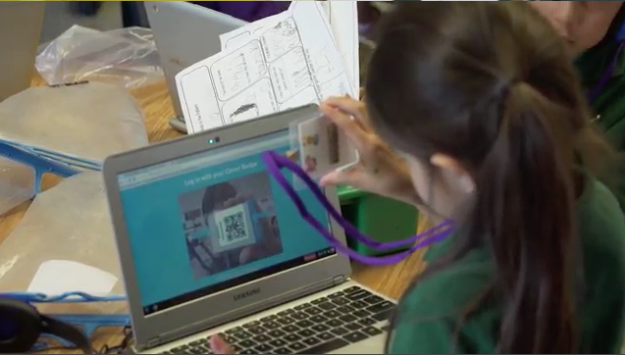 This new tool is pretty clever.
Clever, an educational technology company based in San Francisco, unveiled on Tuesday a new badge system that allows children to log into apps by taking a picture of a custom code with their computer's camera.
In the age of new concerns about student data privacy, officials for the company say that Clever Badges help students in younger grades who can't necessarily come up with — or remember — complex passwords.
The new technology is a response to "a growing need for increased privacy and security for young students who can't use complex passwords," according to a company spokeswoman.
Rocketship's personalized learning manager, Stephen Pham, explained to EdScoop why the school uses Clever Badges:
EdScoop: How are Clever Badges helpful in your classroom/school?
Stephen Pham: Clever Badges will make the process of accessing online content much more efficient and streamlined for students, resulting in more instructional minutes. Before Clever Badges, students sometimes had a hard time remembering and/or entering their usernames and passwords. Teachers had to closely monitor the login process, which could sometimes take away from class time.
ES: How did you hear about it? Did you try any other similar tools before this?
SP: We learned about Clever Badges through our partnership with the great folks at Clever. One of our principals, Amy Filsinger, partnered with some of their product managers, to create and refine the right tools for our students.
ES: How do the badges protect students' privacy?
SP: Clever Badges ensure that the codes are kept private and the underlying information is not easily replicated. If badges are lost, Clever creates a new code so that the previous codes cannot be used, and privacy is maintained.
ES: How have the badges changed your classroom?
SP: The badges have helped to streamline the login process into programs so that time in the classroom is spent learning. Students can easily access online content and are able to quickly get to what matters — the lesson of the day.
ES: What other apps do you use for classroom management?
SP: We utilize PowerSchool and PowerSchool SMS for our student information system. For our online learning programs, we use ST Math, DreamBox, Lexia Core5, i-Ready, myON, & TypingClub.
Reach the reporter at corinne.lestch@edscoop.com and follow her on Twitter @clestch and @edscoop_news.