Data is the lifeblood of Michigan State University's 'digital nervous system'
Michael Dawisha, a chief information officer at MSU, explains how modern systems are bestowing insights that improve communication and fuel decisions.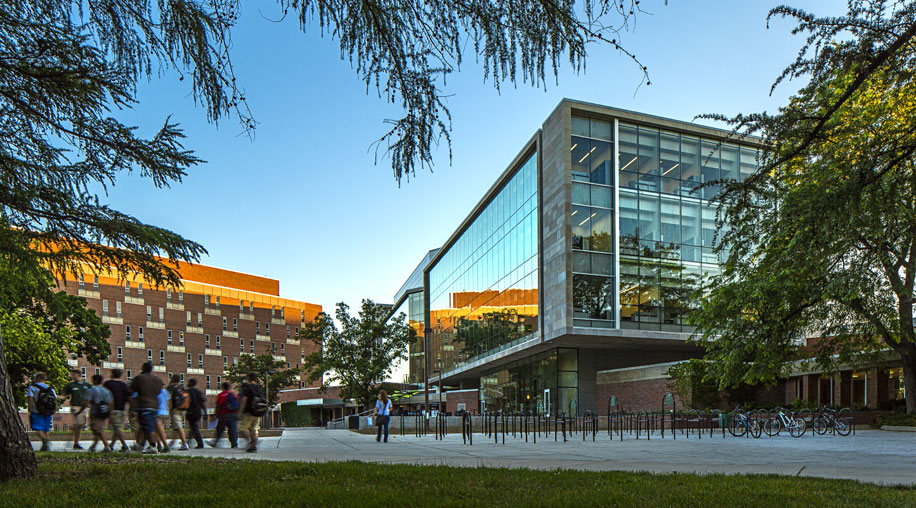 Organizations in all kinds of industries rely on having access to high-quality information in real time, and higher education is no different. At Michigan State University Residential and Hospitality Services, we are creating what we call a "digital nervous system" that will deliver high-quality data to all department heads, so they can make more effective decisions that improve everything from student retention to operational efficiency.
Our digital nervous system consists of a series of interconnected software programs and databases. Much like a human nervous system, it's designed to transmit information quickly and efficiently from a variety of sources to enable rapid decision making. The individual components that make up this system include our student information, learning management, human capital management, and enterprise resource planning systems, among other programs.
Our digital nervous system gives us a big-picture view of how the decisions we make affect our entire enterprise. When we were considering having our first-year law students arrive on campus two weeks earlier than usual to provide more time for orientation, we could easily see how that decision would affect our other operations as well, such as food service, security, water use, and so on. These are the kinds of details that many organizations discover only later, after they have made a significant change — not realizing how many unintended consequences would stem from their action.
A key requirement in making this work is having information technology systems that can communicate with each other in real time. When we're looking to acquire a new software program, one of the first questions we ask is: Will this new program easily plug into our digital nervous system? For instance, is it built on industry-recognized interoperability standards for sharing information? Does it include application programming interfaces that enable us to write scripts for pulling out data and instantly sharing it with other applications?
Because we have been very deliberate in how we evaluate and acquire new technology that meets these criteria, we now have dozens of software applications that are interconnected to create a seamless flow of information.
Within our digital nervous system, we're using many different software platforms to help us assess information and make more intelligent decisions. For instance, we use Cognos , a business analytics program from IBM, to analyze data from a wide variety of sources. With this platform, for example, we are looking to isolate the factors that have the biggest impact on student success at MSU, so we can help more students graduate on time.
We also use a service management platform from TeamDynamix (TDX) that makes it easier for people from multiple campus departments to communicate with each other and track the status of projects, so that everyone is on the same page.
Door security is a big priority for us, but it's hard to manage. We have about 50 buildings that have their own electronic door locks, and everyone who should have access to those buildings needs the proper security clearance. We also have upwards of 8,000 people who come and go each year. That's a lot of moving parts, but we now use TDX to simplify this process. Building managers create service tickets for adding or removing people's door security privileges as needed, and these requests are routed to a security administrator for fulfillment. We also use the platform to manage projects within our marketing department and elsewhere, with clients and producers using shared workspaces to discuss their work.
These types of conversations used to happen through email; however, bringing them into a single, centralized platform allows us to consolidate various workflows, while giving managers much better visibility into what is happening within their departments. Managers can instantly view the status of projects, and they have an easy way to track how much time their staff are spending on various activities as well. What's more, this information is connected automatically to the other elements of our digital nervous system.
Having access to this information supports better decision making, because we no longer have to rely on instinct. As a manager, I know where my resources are being used and how much money and effort we are committing to various activities.
This allows me to perform a simple cost-benefit analysis to justify expenditures, even for relatively minor activities. For instance, we create specialty coffee mugs each quarter and sell them in our campus convenience stores. I have always been interested in this project, but I had assumed it was simply a novelty item. I didn't know if it was actually providing value to the organization, or whether it was merely costing us time and money.
By looking at the number of staff hours we were spending in designing these mugs, and comparing this information to our sales data, and looking at sentiment data through surveys and social media, we were able to determine that we are, indeed, pursuing a valuable endeavor. Students were buying enough of these mugs to warrant the time involved, and the items were contributing to school spirit as well.
This is just a small example, but it's indicative of the kind of thinking our digital nervous system now enables. When data systems are sharing information in real time, campus leaders are empowered to make more effective decisions that benefit students, faculty, staff, and the institution as a whole. Our digital nervous system at MSU supports this kind of insight, and we continue to explore further applications of the system that can improve student outcomes and enhance operational efficiency.