Biden's education secretary pick called an experienced educator, edtech advocate
Connecticut education Commissioner Miguel Cardona would be a strong advocate for educational technology if picked as education secretary, predicted a former colleague.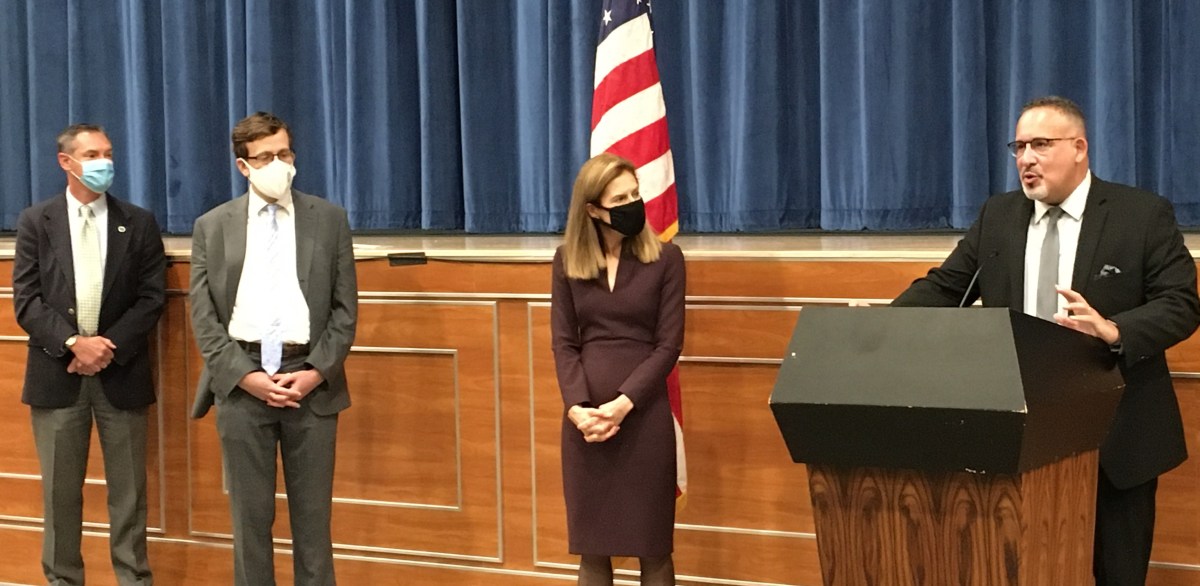 President-elect Joe Biden on Tuesday announced his pick of Connecticut Education Commissioner Miguel Cardona as his education secretary. According to those who have worked with him, Cardona will be a strong advocate for educational technology and ensuring students have continued access to education during the pandemic and beyond.
Cardona is committed to making education accessible to all students and arming them with the resources they need to succeed in school, Doug Casey, executive director of the Connecticut Commission for Education Technology, told EdScoop.
Casey worked with Cardona on edtech initiatives, including Connecticut's Everybody Learns Initiative, which sought to ensure that all students in the state are equipped with home internet and personal computers, as well as the state's Interagency Council for Ending the Achievement Gap, which focuses on achieving educational equity for all students. Through that work, Casey said he learned that Cardona is a huge advocate for strategically leveraging technology in education.
"He's not the kind of leader who is excited about technology for technology's sake," he said. "He's interested in making sure that every student has an opportunity to learn wherever they are."
Casey said he also expects Cardona to help elevate the U.S. Education Department's Office of Education Technology, which under the Trump administration has been functioning with minimal staff, and work with other federal agencies, like the Federal Communications Commission, to bring technology to students and teachers.
"He's going to look at every opportunity and every set of resources, including technology, to make sure kids have an equal opportunities to succeed and that the teachers have the resources," Casey said.
Cardona began his career in education as a fourth-grade teacher in Meriden, Connecticut, and also served as an elementary school principal before he was was appointed as Connecticut's education commissioner in August 2019. As a former educator, Cardona also fulfills Biden's campaign promise to put a former teacher in the role of education secretary.
"Cardona has significant experience in a range of roles in K-12 education," Thomas Harnisch, vice president of government relations for the State Higher Education Executive Officers Association, told EdScoop. "But he also has some exposure to higher education as well, both as a student and as an adjunct faculty member, and these experiences will be useful to understanding the policy challenges that lie at the federal level."
Cardona, whose grandparents are from Puerto Rico, would also be the second Latino to run the Education Department after Lauro Cavazos in the late 80s. And as someone who speaks English as a second language, Cardona is dedicated to ensuring that all students have equitable access to education, Casey said.
"Ending the achievement gap and making sure that every kid has access to the same learning opportunities is in [Cardona's] personal story, it's something that he has experienced in his own life," Casey said. "As someone who has really had to work very hard at overcoming challenges, … I think he's going to bring that passion to the to the department, edtech and digital learning."
As education secretary, Cardona would also be tasked with policy decisions affecting higher education. The Department of Education is the primary lender for America's university and graduate students with a $1.6 trillion loan portfolio, and Cardona could be involved in several key decisions around whether to extend the pause on student loan repayments that expires on Jan. 31, 2021, as well as Biden's promise to forgiving student loan debt.
Harnisch said that Cardona's ultimate task would be to build an experienced executive team at the agency with deep knowledge of the education policy issues to execute on Biden's agenda.