Grubhub halts Russian-made food delivery robots on college campuses after Ukraine invasion
GrubHub and its partner colleges are moving away from Russian-made food delivery robots after Russia attacked Ukraine.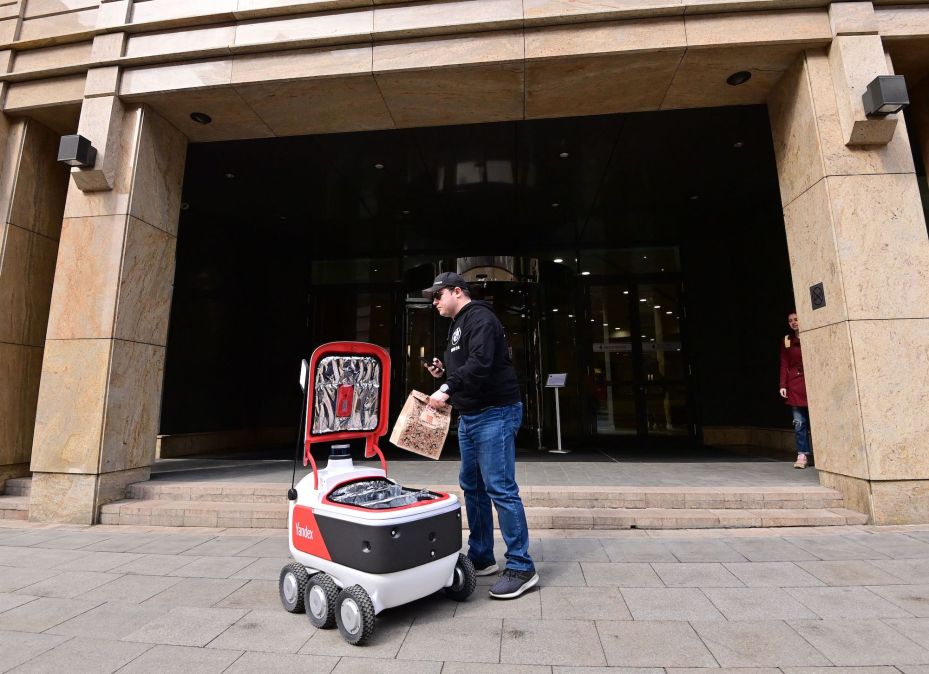 Grubhub is discontinuing use of its Russian-made food delivery robots at college campuses following Russia's invasion of Ukraine.
The announcement affects the Yandex food delivery robots launched at Ohio State University last fall and at the University of Arizona in November. The robots operated on the Grubhub app and rolled autonomously across campus to deliver students food. Grubhub, headquartered in Chicago, will work with its partners on "alternate service options as we shift away from Yandex over time," a company spokesperson wrote in an emailed statement.
Russia began widespread military attacks on Ukraine on Feb. 24, prompting sanctions from many governments. Many Western companies have also cut off long-standing business relationships or ceased operations in Russia.
"We will be ending our partnership with Yandex," Grubhub's statement reads. "We take seriously our commitment to the universities that we partner with – and ultimately the student diners who order from the Grubhub platform – to make food ordering and delivery available on campus."
Ohio State has already stopped using the robots on campus, according to an emailed university statement.
"Ohio State affirms and supports GrubHub's decision to end their partnership with Yandex," the statement read. "We have ceased the rover delivery option on campus. Our hearts and thoughts continue to be with all those who are impacted by the conflict in Ukraine, and we encourage any campus community member who needs support to reach out."
Robotic deliveries also stopped at the University of Arizona, and humans will handle Grubhub deliveries, the school told KOLD News 13.
Autonomous food delivery has become more common on college campuses in recent years. A more popular delivery robot provider, Starship Technologies, saw demand for autonomous delivery climb during the pandemic, tripling deliveries in 2021 and now operating more than 1,700 robots globally, according to its website.