How innovative universities are boosting female student retention in computer science
Angela Galik of NCWIT explains how universities around the country are attracting women to computer science and keeping them engaged and confident.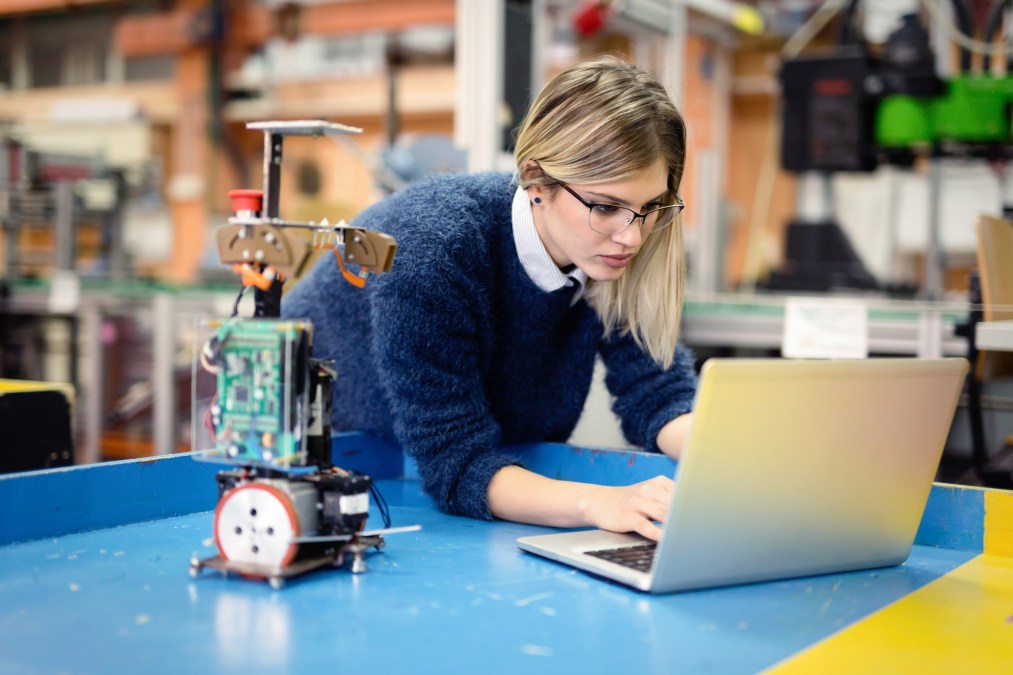 When it comes to increasing the number of women graduating with computing degrees, recruitment is only the beginning. Colleges and departments that are working to improve gender diversity in tech fields must also tackle the challenge of retaining female students once they've enrolled.
The Extension Services for Undergraduate Programs , or ES-UP, is one way the National Center for Women & Information Technology is helping computing departments utilize high-impact strategies for recruiting and retaining more women students that are research-based and customized to local needs and conditions.
The University of Pennsylvania, an ES-UP client school, for example, reported that prior to joining the NCWIT Academic Alliance, the attrition rate for women in the computer science major was 13.6 percent, compared to only 2.5 percent for men. Through a multi-pronged strategy, the school was able to bring the attrition rate for female students down to that same level seen for males of 2.5 percent.
The University of Pennsylvania is one of nine schools over the past three years that NCWIT has recognized through its Extension Services Transformation, or NEXT Awards. NEXT Award recipients have experimented with a wide range of approaches to keeping female students engaged and invested in computing programs. Many of them, including PENN, have found that the core curriculum is a great place to start.
To improve retention, faculty at Michigan State University, a 2015 NEXT Award recipient , gave its introductory programming course for computer science majors a considerable overhaul.
In the new format, weekly projects emphasize applications that students see as relevant and important, and lab sections have begun using pair programming to create a more collaborative learning environment. Research shows that pair programming best practices — such as those described in NCWIT's Pair Programming-In-A-Box resource — can improve computing students' enrollment, retention, performance and confidence, along with providing many other benefits.
Computing confidence
MSU also started a one-credit Computational Thinking Laboratory, or CTL. This optional class was designed specifically for students who are enrolled in the introductory computer programming course for majors and interested in a small-class active learning opportunity. The CTL uses peer-led team learning, meets students where they are and emphasizes a growth mindset in the way feedback is presented to help students overcome any doubts they might have as to whether they can make it in a computer science class.
"In focus groups, seniors who took the CTL as freshmen or sophomores said it helped level the playing field and gave them confidence that they were as qualified as any to become a computer scientist," said Laura Dillon, professor of computer science and engineering at MSU. "While only 3 percent of students who took Intro CS in the last five years elected to enroll in the CTL, nearly 50 percent of the officers of our active student organizations in the past three years have been students who took the CTL as freshmen or sophomores."
Computer science faculty at the University of Texas at Austin, a 2016 NCWIT NEXT Award recipient , have also explored ways to use modifications to the curriculum to help raise students' confidence. Like Michigan State, it has adopted pair programming, drawing on research that shows this practice can boost both performance and retention.
"In my class, the design of the operating system is really difficult, so I ask students to program in groups of two or four so they can leverage peer learning to solidify their understanding of the system as they design its implementation," said Alison Norman, an associate professor of computer science at UT. "Students are able to learn more quickly than through traditional methods and experience reduced frustration."
Alternative approaches
In addition, the school has implemented a " flipped classroom " model in many introductory courses, offering students the opportunity to apply the concepts they are learning right away with hands-on projects. At least two studies indicate that the flipped classroom model is especially beneficial for students who are underprepared or who lack confidence in the field.
Bill Young, a research scientist and senior lecturer at UT who uses this model, finds it pedagogically helpful to have students view instructional videos before attending class so that in-person class time can be spent working through challenging problems.
"This approach places more responsibility on students, but they seem to like it, and I have found that student performance is comparable or even improved compared to traditional lectures," Young said.
At Virginia Polytechnic Institute and State University, another 2016 NCWIT NEXT Award recipient , faculty had observed that the first-year engineering curriculum was presenting a barrier to students in other majors who might want to add computer science to their degrees. In order to provide a pathway for interested students, especially women, to pursue computer science without taking on a second major, the department created several "designer minors" to complement fields of study such as business, bioinformatics and math.
These programs were created to complement disciplines that tended to have higher percentages of female students, such as business, mathematics and bioinformatics. The idea was a great success, and in three years the percentage of women enrolled in computer science minor programs rose from 17.6 percent to 26 percent.
From modifying existing courses to creating new classes and programs, NCWIT NEXT Award recipients across the country are leading the way by using innovative curriculum ideas to help retain female students in computer science departments. As these schools demonstrate, there are many opportunities within introductory programming courses and lab sessions to foster the literacy, self-confidence, and empowerment that students need to keep them going when faced with coursework that can seem intimidating.
About the author
Angela Galik is an editorial consultant at NCWIT. She received her PhD in American Studies from the University of Minnesota, then taught college writing and literature for over a decade. Now a freelance writer, editor, performing artist and creativity coach, Angela works with individuals and organizations to help them find their voice, clarify their message, communicate effectively, and create change. When she's not poring over style manuals and sharpening her red pencil, you can find her composing and recording music or wandering along a forest trail somewhere in the Rocky Mountains.
About the National Center for Women & Information Technology
NCWIT aims to increase the meaningful participation of all women in computing. The non-profit convenes, equips, and unites change-leading organizations in achieving goals focused on both internal culture change and outreach to underrepresented groups — from K-12 to post-secondary and workforce programs.