Immersive technology keeps Rutgers students in class and off the buses
Telepresence technology from Cisco allows faculty members at Rutgers University to be in two classrooms at once, eliminating the need for cross-campus commutes.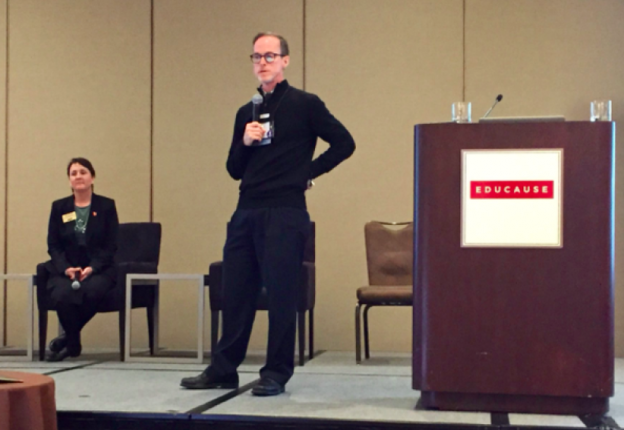 It's often difficult — and sometimes even impossible — to measure whether a technology truly enhances learning or student life in general, but it hasn't been a problem for a Rutgers University program that uses telepresence technology to cut down on students' lengthy cross-campus commutes.
The public New Jersey university has one of the biggest bus systems in the country — and not in a good way, said Michael Gower, executive vice president for finance and administration, during an event Tuesday at the EDUCAUSE Enterprise IT Summit in Orlando.
The bus system is so massive because it has to transport students to and from the university's four disparate campus locations in New Brunswick, which span about five miles from end to end and can take up to an hour to reach each way.
The setup can be complicated and cumbersome for students — the majority of whom take classes on more than one Rutgers campus in a day.
When Rutgers officials realized that students collectively take more than 258,000 cross-campus bus trips per week — and when 20 to 30 percent of students reported being unable to take a class they needed because of the commute time from campus to campus — they put their heads together to find a way to ease the burden on students.
In spring 2017, Rutgers piloted Cisco's telepresence technology with about a dozen instructors. The gear allows instructors to teach to a room full of students the traditional way while also appearing life-like on a screen in front of a room full of students on another New Brunswick campus a few miles away.
The screen is large enough that faculty members are projected at life-size and from the ground up, creating the illusion in the remote classroom that the instructor is speaking front of the room and at eye level.
"We didn't want students sitting in a class looking at a screen. We wanted immersion," said Michele Norin, senior vice president and chief information officer, during the presentation at EDUCAUSE. "We didn't want half of that group feeling disjointed or unable to engage in the class."
As a result, students in the real classroom can see their classmates in the offsite classroom, and vice versa. And students in the off-site classroom can talk to their teacher and classmates, raise their hands and ask questions, and participate in conversations that normal videoconferencing technology is not sophisticated enough to facilitate.
Over 1,700 Rutgers University students took classes in synchronous lecture halls during spring 2017, and based on the feedback they provided in an end-of-semester survey, the technology was a success. Seventy-one percent of students described it as the same or better than traditional lecture halls, and with 1,700 students needing fewer bus trips, bus traffic reduced 3 percent that semester.
"It's hard to show productivity in using technology tools, but in this case we were able to do just that," Norin said, "and to have a real impact on our students."
Norin and Gower said they expect the bus traffic to continue to decline semester-to-semester as they implement more of the technology and enlist more faculty members to participate in the immersive synchronous lectures.