One Morehouse College professor wants every student to have a VR headset
Muhsinah Morris, an assistant professor of chemistry at Morehouse, said she wants all incoming freshmen to be issued a VR headset.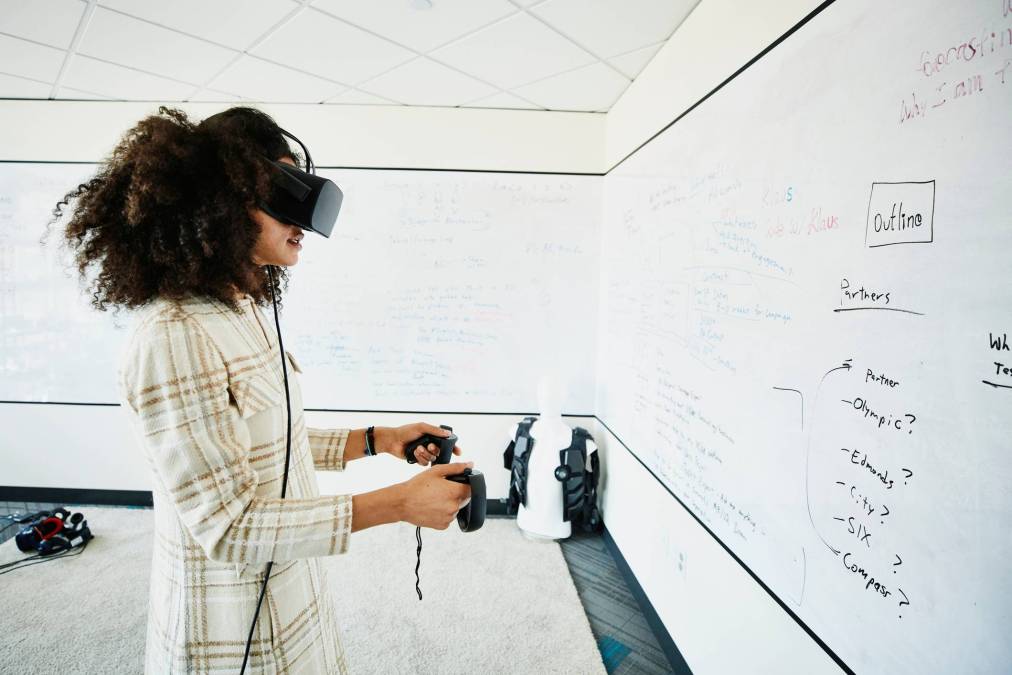 The physical world is a fine place to learn, but some universities and colleges in search of more immersive experiences are thrusting their students into the digital environments that make up the metaverse.
One of the companies capitalizing on the virtual reality trend is VictoryXR, which claims at least 10 colleges and universities on its expanding roster of "metaversities." The company helps institutions add VR-based content to their courses and develop so-called digital twins, virtual representations of their campuses where students can hang in the quad, gather for a special event or attend a meditation session.
Morehouse College, a historically Black institution in Atlanta, started tinkering with the tech in the spring 2021 semester, offering a new way to visualize molecules in an advanced inorganic chemistry class. Muhsinah Morris, an assistant professor of chemistry who led the effort, said VR has impressed her, crediting the technology with boosting students' grades by 10% and heightening student satisfaction and engagement with course material.
The benefits are so pronounced, she told EdScoop, that she's now pushing for all incoming freshmen to receive a VR headset.
"It frees them from distraction," Morris said. "They can learn more of the material faster and they're able to actually engage with the material in a way they otherwise wouldn't have."
Initial success of the program encouraged five other professors to adopt VR for their courses. Some students at Morehouse now use the headsets as part of English, history and men's health studies.
"It's one thing to just read about history in a book. It's another thing to take part in a WWII battle on a battleship," Morris said. "It's another thing to understand slavery happened, but it's another thing to actually cross the Atlantic on a slave ship."
The slave ship simulation supplements an English course and a history course dealing with La Amistad, a Spanish slave ship that marked its place in the history books in 1839 when its 53 captives revolted and took control of the ship. Morris said that VR experience "can be triggering," so students are first provided with a disclaimer and encouraged to switch off if they become overwhelmed.
"We do have real thorough discussions around what they saw, how they felt, but what it really does is give you this emotive type of experience that you don't really get when you're just watching a movie or just even hearing about a story," Morris said. "It tells the story in a visual capacity and makes you think wow, this was really a human life, wow, these were really human beings. And it helps you look at atrocities from both sides, to be quite honest."
In addition to new course materials, Morehouse uses VR to replicate part of its campus. Morris said students can't enter every building, but that students enjoy seeing familiar surroundings in what is otherwise a foreign experience. VR allowed the college to offer virtual access to a gala event in February, converting the campus' Martin Luther King Jr. International Chapel into a dance hall for virtual attendees.
To help its instructors use the technology, Morehouse is using a credentialing program offered by VictoryXR. Morris said the college is also using VR to design "culturally responsive spaces" on partnering campuses, ensuring that the art and other cultural elements on tribal and Hispanic-serving campuses, for example, are accurate.
The type of headset used by Morehouse, the ​​Oculus Quest 2, currently retails for $300, which Morris said could put it within reach of universities that want to make it a standard piece of equipment, as she does. She said Morehouse currently has 450 headsets circulating the 2,200-student campus, but that it's not just about new experiences — she wants students to create new worlds, too.
"This is emerging technology, so why shouldn't they be creators?" she said. "The programs are pretty low-code. It just takes a little bit of patience."