Muhlenberg College in Allentown, Pennsylvania, announced last month that José Dieudonné will take over as the college's chief information officer.
As Muhlenberg's CIO, Dieudonné, who currently serves as the associate vice president for technology and library services at Wilson College in Chambersburg, Pennsylvania, will oversee the college's information technology plan and help to advice strategic priorities at the institution beginning March 23, according to the college.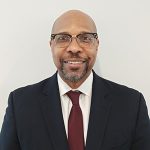 "I am excited to welcome José Dieudonné to Muhlenberg as our new chief information officer," Kathleen Harring, president of Muhlenberg College, said in a press release. "He brings to Muhlenberg broad technology and leadership experience and an appreciation for the values of a liberal arts education."
At Wilson College, Dieudonné led key initiatives such as the adoption of a learning management system and development of distance education programs. He has also served as vice president for technology and chief information officer at Point University in West Point, Georgia, and as vice president of library and information technology and chief information officer at Arcadia University in Glenside, Pennsylvania.
"I am humbled and honored to join the Muhlenberg community. The College's mission and commitment to diversity, equity and inclusion, its distinctive and engaging academic experience and the talented and engaged people drew me to the College," Dieudonné said in the release.
Dieudonné will succeed interim chief information officer Timothy Foley, who joined Muhlenberg in August 2019.