New technology allows visually impaired students to take tests online
Children with visual impairments will soon be able to access the MAP assessment online for the first time.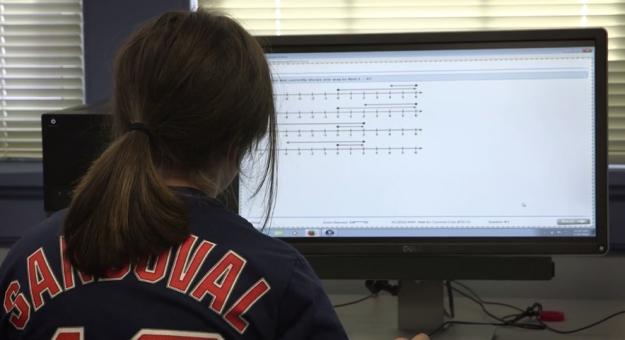 For the first time, visually impaired students will be able to take the same specialized online tests as their peers.
The Northwest Evaluation Association, which administers assessments in several subjects like reading and math for grades 3 through 12, has enhanced its flagship Measures of Academic Progress (MAP) assessment by allowing visually impaired students to take the tests on computers.
The personalized learning assessment helps teachers see where their students are struggling.
Beginning this fall, instead of using bulky braille textbooks, visually impaired students can take the test with devices that convert computer text into braille characters, along with mouse-free keyboard navigation and ZoomText magnification and color contrast software. Their screen readers can also describe images that show up on the test.
"The books they used to use to take the MAP assessment were huge and cumbersome, so this is really a matter of equity," said NWEA's Jessica Schwartz Hahn, public relations senior manager. "This allows them to be just like every other kid and take the assessment online."
The new features will be displayed at the ISTE conference in Denver, where NWEA staff will offer attendees an interactive experience with special eyewear to simulate the new capabilities.
According to the National Federation of the Blind, about 60,000 students in the U.S. have a visual impairment, out of the 49 million children enrolled in the public school system. But with updated technology, NWEA wanted to help children who are at a disadvantage.
"We're actually providing access to a small segment of the student population whose needs often go underserved," Brian Tosky, product manager of platform accessibility and accommodations, told EdScoop.
"We're looking at the big picture. We want to provide as many accommodations and make MAP and NWEA as accessible as possible in the future," Tosky said. "This is where we decided to begin, but we're looking into all areas of accessibility moving forward."
The new accessibility measures were field-tested in Arizona and North Carolina schools last year. Students with visual impairments were able to "test the assessment" to make sure it worked for them.
"The students who have used the accessible version of MAP are able to participate at the same time in the same classroom as the other students," said William Koehler, assistant superintendent for Arizona State School for the Deaf and Blind. "Children say, 'I can be just like everyone else.'"
"For a young person, to be able to sit in a classroom with their peers, and take the same test at the same time, is a huge deal," Koehler continued. "This gives them a greater sense of participation in the classroom."
The Portland, Oregon-based nonprofit, founded in 1977, has users in 120 countries. It's officials said 8 million students have taken the MAP assessment.
Corinne Lestch contributed to this report.
Reach the reporter at darlene.aderoju@edscoop.com and follow her on Twitter @buuukky.