Obama leaves behind education legacy that advanced technology amid setbacks
The Obama administration launched Computer Science for All, a landmark initiative, but continued to face challenges with high-stakes testing.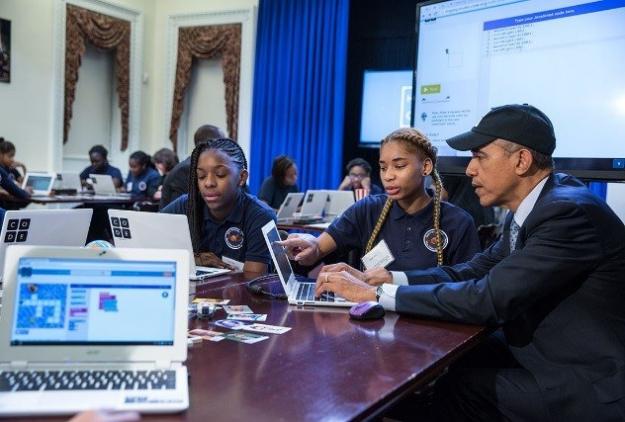 When President Obama leaves the White House in January, he will be remembered for several education initiatives including his administration's $4.3 billion Race to the Top funding competition and Common Core standards, which fueled an uproar among critics around new, high-stakes testing.
But despite the controversy and the continued challenges around equity in public schools across the United States, a host of other policies, programs and initiatives also came to fruition under Obama aimed at taking advantage of technology, including passage of the Every Student Succeeds Act.
Signed into law Dec. 10, 2015, the legislation replaced the No Child Left Behind Act. Among other measures, ESSA allows states more discretion in how they spend federal dollars and allocates $2 billion in professional development and new student programs that utilize technology.
The program that likely created the biggest buzz, however, is Obama's Computer Science for All initiative, which was announced in early 2016. Tech and computer science enthusiasts applauded the $4 billion proposal to expand computer science programs, and the $100 million to school districts to expand their course offerings and provide professional development to teachers.
Cartoon Network, Google, Salesforce and a host of other companies pledged involvement and financial backing, and Code.org promised training to 25,000 new computer science teachers this year.
Like many of Obama's budget proposals this year, however, Congress did not address it in the stopgap spending legislation that expires in April 2017.
#GoOpen gets going
The Education Department also took steps to advance the use of open educational resources, known as OER, through its #GoOpen initiative. Launched in 2015, officials sought to help educators find, adapt, create, and freely share educational resources online. The agency organized the first national #GoOpen Exchange for districts to trade stories and strategies about what was working and how they were transitioning to OER, and three task forces were created to promote the initiative.
"District leaders are reevaluating uses of instructional materials, determining how they can transition to openly licensed educational resources, and starting to prepare teachers through professional learning opportunities," officials wrote on Medium. "Educators are unpacking standards; searching and discovering resources to match standard indicators; and tagging and curating resources that offered students and teachers options for personalizing learning."
More than 100 districts in 19 states are now participating in the #GoOpen initiative, according to an Education Department website. But there is still a long way to go, with an abundance of online materials but few trusted organizations to curate them to meet students' individual needs, Randy Wilhelm wrote in a commentary on EdScoop.
Obama also tried to introduce new, rigorous testing, which was received with mixed results. Critics charged that the tests were redundant and of poor quality, and the administration tried to address that with a new "testing action plan." Hurrying to get the new tests into schools resulted in computer and technological mishaps.
The tests were supposed to be aligned with a more demanding set of measures called the Common Core standards, and, according to the Washington Post, the administration spent roughly $360 million for two multi-state consortia, known as PARCC and Smarter Balanced Assessment, to develop testing.
Boosting broadband
Obama's legacy will also likely be measured down the road by his highly touted ConnectED initiative, which promised that 99 percent of American students would have access to next-generation broadband by 2018. It is still unclear how successful the administration has been with fulfilling its broadband goals and closing the so-called "Homework Gap" — by ensuring all U.S. students have online access — which was a big theme in 2015.
Other associations are starting to take matters into their own hands, and encourage schools on a state-by-state basis to adopt new broadband measures. For example, the State Educational Technology Directors Association recommended that districts should aim to deliver broadband speeds approaching 1 gigabit per second (Gbps) per 1,000 students for the 2017-18 school year, and up to 3 Gbps per 1,000 students by 2020.
It remains uncertain just how much impact the Obama administration's education policies — including the efforts of secretaries Arne Duncan and John King — will have over the long run. There has been a substantial amount of speculation regarding how President-elect Donald Trump will change the Department of Education, and there is an expectation that many of Obama's key policies are going to change under Trump's nominee for secretary, Betsy DeVos, a Michigan philanthropist who has championed and financed charter schools.
But Obama has made sure to strike a conciliatory tone, especially after his meeting with Trump following the election, when Obama said that his No. 1 priority by Jan. 20 "is to try to facilitate a transition that ensures our president-elect is successful."
Reach the reporter at corinne.lestch@edscoop.com and follow her on Twitter @clestch and @edscoop_news.