Overloaded with apps? How to organize your edtech toolkit
Commentary: edWeb.net's Stacey Pusey shares how educators are using a new platform to manage data privacy and boost outcomes in the classroom.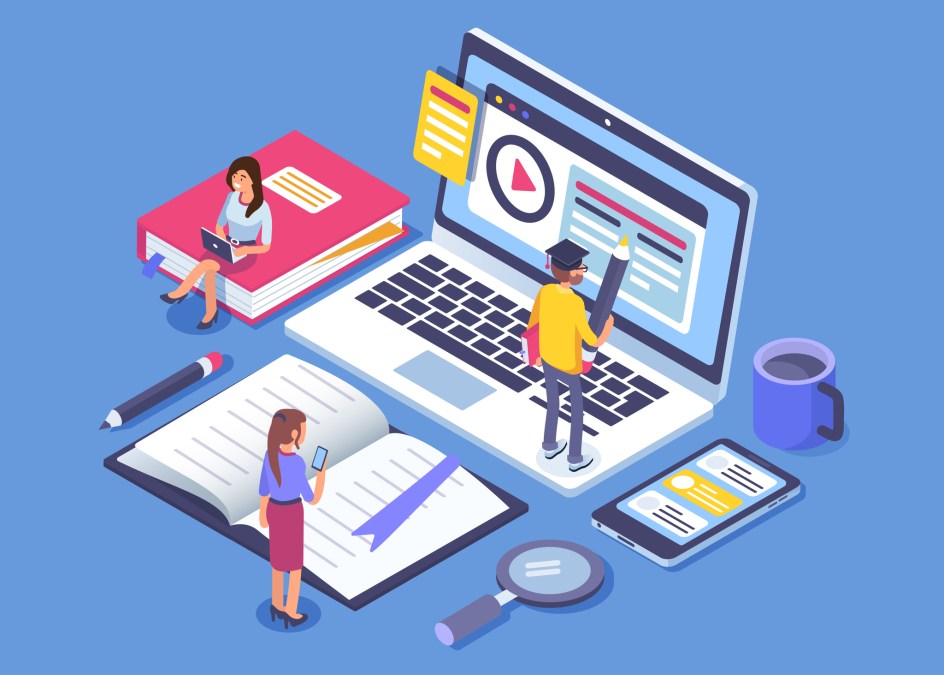 Many teachers today have taken on dozens of apps in their classrooms, but the complexity of their digital environments is raising questions of consistency in quality, data security and privacy, and uniform access between different schools and classrooms.
Two educators addressed these concerns during a recent webinar hosted by edWeb.net, in which they explained how using a data-analytics tool called CatchOn was helping their districts track apps and manage the adoption of new ones.
The presenters — Kyle Berger, chief technology officer at Grapevine-Colleyville Independent School District near Dallas, Texas, and Matthew Joseph, director of digital learning and innovation at Milford Public Schools in Massachusetts — each said the need for such a tool was clear in their districts.
"We have to sort through the edutainment software — you know, the ones that aren't really showing the true educational value, really getting our curriculum specialists to dive in and see how that's aligning to what we have in place in our classrooms," Joseph said.
The speakers said old methods of managing the apps included tracking software with spreadsheets or interviewing teachers to get a central record started, but on a day-to-day or even month-to-month basis these strategies were deemed unsustainable. District leaders didn't know exactly what programs teachers used, how effective they were, or why they chose the programs. And even though many of the apps used could produce reports and data, they didn't talk to each other and the data wasn't comparable.
Through the use of CatchOn platform, Berger said his school discovered teachers were using almost 500 apps — many of which he hadn't been aware of. There was no consistency in teaching, and they were spending money on programs that weren't being used. Using the data, Berger and his team started having in-depth discussions about what programs they had, which ones were effective, and the value of the programs versus the cost.
Now, teachers in his district aren't allowed to simply come home from a conference and download the latest app without permission. There's a review process in place that asks: Why is this better than what we have now? Apps are also reviewed on data privacy and security.
Similarly, Joseph's team found his schools had a large number of apps du jour that hadn't gone through any vetting process. The schools started sorting the apps, looking for gaps in usage, and evaluating each app's return on investment. They based decisions not only on how effective the app was but whether it could be scaled across subject areas or grade levels. Often, the reason teachers were reaching outside of the school's official edtech portfolio was because they didn't fully understand the apps it contained.
As part of the upgrade, teachers are now given ongoing professional development so they're comfortable integrating apps into lessons.
About the presenters
Kyle Berger serves as the chief technology officer for Grapevine-Colleyville Independent School District, a school district of 13,500 students located in North Texas. He has more than 18 years in K-12 technology leadership spread across districts of various sizes and demographics. Awarded Technology Director of the Year by TCEA in 2009, he has also been featured in several educational technology magazines as well as other published books on edtech. Kyle is known as a transformer of educational technology. His years of service are full of vast experiences in one-to-one deployment, complete district revitalization and overseeing of bond programs, and redefining technology in several districts. You can follow him on Twitter @edtechco.
Dr. Matthew X. Joseph has been a school and district leader in many capacities in public education over his 25 years in the field. He has been the director of digital learning and innovation in Milford Public Schools, Massachusetts, an elementary school principal in Natick, Massachusetts and Attleboro, Massachusetts, a classroom teacher, and a district professional development specialist. These roles have provided Matt incredible insights on how to best support teaching and learning. His experience has led to nationally published articles and opportunities to speak at state and national events. He is the author of Power of Us: Creating Collaborative Schools and co-author of Modern Mentoring, Reimagining Teacher Mentorship, which is slated for publication this fall. His master's degree is in special education and his Ed.D. in educational leadership from Boston College. You can follow him on Twitter @matthewxjoseph and visit his blog, techinnovation.live.
As CatchOn's Product Manager, Leo Brehm is actively involved in the design and development of CatchOn. Previously, Leo served as the learning evolution officer (CIO/CTO) for Central Massachusetts Collaborative Public Schools of Northborough. He is passionate about and has a proven history of dedication to the advancement of learning through a schooling model that is both student-centered and personalized. You can follow him on Twitter @leobrehm.
About the host
Monica Cougan joined ENA in 2012, where she currently serves as the product marketing manager. Bringing over 30 years of experience in technology integration, Monica oversees ENA's partner program and product marketing initiatives. Monica's prior work with education and the integration of technology in schools and districts, helps guide ENA's work with education partners offering outstanding programs to schools. She has extensive experience in building collaborative network opportunities specifically videoconferencing and collaborative technologies. Monica continues to support national organizations advocating for the effective use of technology and supporting the needs of our education and library communities.
Join the Community
Leadership and Innovation is a free professional learning community on edWeb.net that serves as an online forum for collaboration on leadership and innovation in schools to meet the needs of the next generation.
This edWeb webinar referenced above, sponsored by the Education Networks of America (ENA) and CatchOn, can be found here.