Research + Design Center expands Massachusetts school's unusual commitment to tech
Beaver Country Day School's new facility, which spans 38,000 square feet, allows students grades 6-12 to build projects and work collaboratively.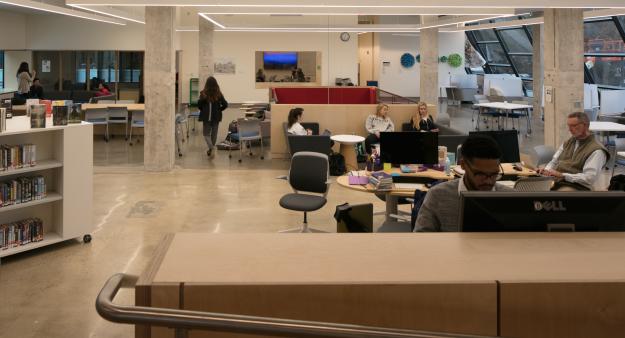 The first school in the country to create a "coded curriculum" — infusing coding concepts in every subject it teaches — has taken its commitment to learning technology a step further by opening a cutting-edge research and design lab.
Beaver Country Day School, a 6-12 private school in Newton, Massachusetts — located just outside of Boston — has recently opened a Research + Design Center, where students and teachers can work collaboratively with tools like laser cutters, PVC pipes and 3D printers.
The $18 million building, which covers 38,000 square feet, includes three floors — one devoted to research and the other dedicated to a makerspace. The third level includes 10 new classrooms.
"It really kind of reflects the different ways that kids and teachers can work most productively and most creatively," Peter Hutton, head of the school, said in an interview with EdScoop. "It provides more opportunities for project-based and what I call 'nonlinear' learning, rather than marching through steps."
The new space, which was formerly the school's library, features independent and collaborative work zones, a digital lab and design workshop, audio and video recording studios, an open art gallery, a presentation space and a courtyard.
This type of investment — which Hutton attributes to a "both and" mindset as opposed to an "either or" philosophy — is not an anomaly for the progressive school. In 2013, it became the first in the country to launch a "coded curriculum," which encourages students to foster and demonstrate computer science skills in every subject.
Beaver uses coding in the conventional courses, such as physics and calculus, but also incorporates it in other areas, like English, history and art.
"We didn't drop anything and design a new curriculum — it's our mindset," said Hutton. "It's part of our DNA. So moving into the Research + Design Center was a big deal, but it wasn't a big deal. It's not, 'Oh my God, how am I going to be able to teach in this?' It just supports what we're doing in the first place and helps us do it better."
Hutton, who has been with the school since 1992, said it radically changed about 10 years ago, when laptops were first introduced as part of a one-to-one initiative.
In the new center, students have learned about ratios by building life-sized cars with laser cutters and 3D printers. Other students built a Rube Goldberg machine. Another created a prosthetic hand. And one student who was interested in the Battle of Stalingrad produced a podcast instead of writing a paper.
"Papers are great, and kids have to write papers, but when a kid does that it's between the kid and the teacher," said Hutton. "When they do a podcast, anyone can hear it. So the stakes are higher."
School officials looked to a number of places for inspiration for the center. They visited the Harvard i-lab, where students develop startups, and Artisan's Asylum, a collaborative makerspace in Somerville, Massachusetts.
The school worked with Steelcase to design the furniture, and the architecture firm NADAAA to reimagine the traditional library space.
"Our curriculum is always evolving, and we're constantly evaluating new opportunities that arise," said Hutton. "I find education to be a pretty risk-averse sector, and I think in today's world, it should be the most entrepreneurial sector."
Hutton added that failure is another big part of the school's mindset.
"Make excellent mistakes," he said. "For teachers and students, if you're not making mistakes, you're not trying."
Reach the reporter at corinne.lestch@edscoop.com and follow her on Twitter @clestch and @edscoop_news.