2,300 Echo Dots put Alexa skills in every Saint Louis University dorm
The Missouri university will become the first higher ed institution to outfit every on-campus living space with an Amazon Echo Dot.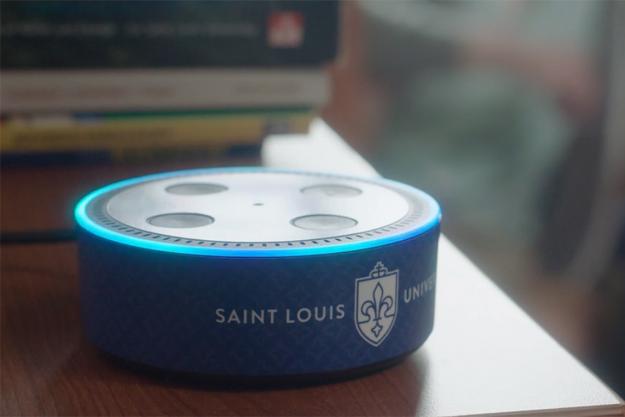 While institutions like Arizona State University and Northeastern University were drawing attention to their pilot projects for voice assistant technology, Saint Louis University (SLU) was quietly preparing to best them all.
On Thursday, SLU announced that it would become the first university in the country to place an Amazon Echo Dot in every student dorm room and on-campus apartment.
The university — a private Catholic institution in Missouri's most populous city — "went from concept to completion" on its Alexa-powered initiative in a matter of about three months, according to David Hakanson, SLU's vice president, CIO and chief innovation officer. That's quite an expedited process compared to other schools and colleges that have dabbled in the technology but have so far hesitated to roll it out institution-wide.
Hoping to improve students' access to information and make their campus lives more convenient, SLU conducted a pilot of voice assistants in the late spring semester. Twenty student rooms were equipped with the puck-shaped Echo Dots, while 20 more were set up with a competitor's device. After just six weeks with the technology, the pilot class not only engaged with the devices, but clearly favored the Amazon platform, Hakanson said.
From there, he said, it was a simple decision to launch the program in full.
Saint Louis University worked with n-Powered, a technology company that develops Alexa skills, to create a custom skill for its students. Northeastern University, which has also experimented with Echo Dots on campus, is another of n-Powered's partners in higher education.
The SLU skill is currently programmed to answer more than 100 student questions , many of which refer to campus building hours, event details and opportunities to get involved. Unlike Northeastern, which allows the devices to access sensitive records from the financial aid office and learning management system, SLU is not enabling students to connect any personal accounts or private information to their devices at this time. That means the Echo Dots will not even have access to Amazon Prime or Spotify Premium — two popular services available through the Alexa platform.
"The device won't know who they are," Hakanson said in an interview. "There is no association between the [Alexa] speaker and who the student is."
That decision may make the devices less useful to students, but by limiting access to their private accounts, Hakanson felt the new technology would come with fewer risks and privacy concerns.
"Right now, it's focused on public information," he said. "There will probably be a time where we attach that to student accounts, but we want to make sure the environment is ready for that. We want to make sure you're able to clearly see which student is asking a question."
SLU officials, with help from n-Powered, recently programmed all 2,300 Echo Dots in three days. In the coming week, they will distribute the devices to all on-campus living spaces — residence halls and apartments — so they're ready when students arrive for the new school year.
The Echo Dots don't come with a traditional "opt-out" solution for SLU students who don't want to bother with the digital assistant.
"If they don't wish to use the device, they can unplug it and put it in a drawer," Hakanson said. "We're not checking them in and checking them out. We consider it just a part of that room."
The devices, which come at no additional cost to students, may not be able to connect to individual music streaming services, but they can still play music. The Echo Dots can stream radio stations, for example, and function as Bluetooth speakers by playing music from students' laptops or mobile phones.
The university is looking into adding the custom SLU skill to students' personal voice assistant devices (not provided by the university), which would be a workaround to the limitation on personal information.
Because SLU is using Alexa for Business to manage the devices, the custom skill can be updated without any disruption to the students, Hakanson said.
"If there are new questions added, we don't have to touch the device," he said. "If someone requests the new skill, we can add that centrally and send it to a group of individuals — a learning community of engineers, for example — or to all students if we wanted to."
"If and when we get to the point where personalization becomes an option," he added, "that's an opt-in scenario. That would not be turned on by default."