State Department, Coursera grant free online education for refugees
The State Department and open education provider will give refugees access to MOOCs in an effort to open doors globally.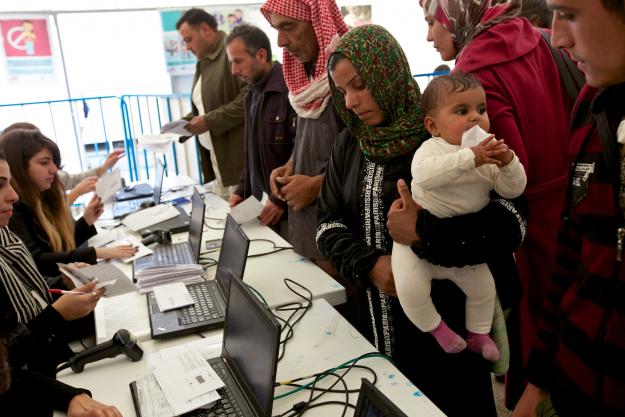 The largest open online education company is providing free courses and blended learning programs to refugees across the globe.
Coursera, an organization that promises to "provide universal access to the world's best education" through partnerships with leading universities, has teamed up with the U.S. Department of State to launch Coursera for Refugees, in honor of World Refugee Day on Monday.
The philanthropic partnership will provide massive open online courses, known as MOOCs, focused on career development. Essentially, Coursera officials hope to help refugees transition more smoothly into their new lives.
"We want to give our students the skills to succeed in the global economy," said Lila Ibrahim, chief operations officer at Coursera, during a call with reporters last week.
As a first-generation American, Ibrahim feels especially connected to the initiative.
"I think about my parents' own journey to pursue a better life," Ibrahim, said. "I wouldn't be here today if they weren't given an opportunity in a new country."
The goal of the program is not just to provide courses, but also give struggling immigrants a leg up on top-tier education, Coursera officials say. They say that access to an online education is a major gateway into the global economy.
"I don't need you to tell me the challenges and the needs that the refugee community has," said Evan Ryan, assistant secretary of state for Educational and Cultural Affairs. "We think, through this partnership, we will be able to help."
The launch comes as part of the State Department's longterm efforts to develop humanitarian refugee initiatives – utilizing 21st century tactics.
Ryan said that financial aid will be allocated to nonprofit organizations that aid refugees, who will then give the students free access to online courses.
Through the public-private partnership, the MOOC platform can reach more people worldwide, with its first cohort in Lebanon, Ryan said. Individuals can take advantage of classes like "English For Business and Entrepreneurship."
"We are going to work specifically with the U.S. embassy in Beirut, and they will host in-person courses at locations with high refugee populations," Ryan said. "We hope to provide a deeper learning experience for [refugees] as we expand to other places."
Through MOOC Camp, an initial pilot program launched in 2013, the State Department and Coursera found that by having a gathering place with computers to take the classes, people learn better and are more likely to complete the program, Ryan said. The MOOC program is now operating in more than 60 countries and is growing, officials say.
Coursera hopes to replicate these results by teaming up with nonprofits to provide students with online learning in a physical, collaborative setting. This way, students will get the support they need and will have direct access to computers, Ibrahim said.
"The State Department is connecting us to other on-the-ground organizations who are supporting refugees throughout their process," Ibrahim said.
In addition to receiving funding, the nonprofits will also receive special support from Coursera, including access to learner engagement data and a private communication forum to provide best practices.
Coursera hopes to help those who have potential to excel but aren't traditional students, Ibrahim said. "We know that Coursera for Refugees is going to make blended learning possible with this initiative."
Reach the reporter at darlene.aderoju@edscoop.com and follow her on Twitter at @buuukky.