Why teachers are essential to building a secure 'internet of things'
Even digital natives need help understanding the security and privacy implications of their devices, Cisco's Edna Conway told a conference audience.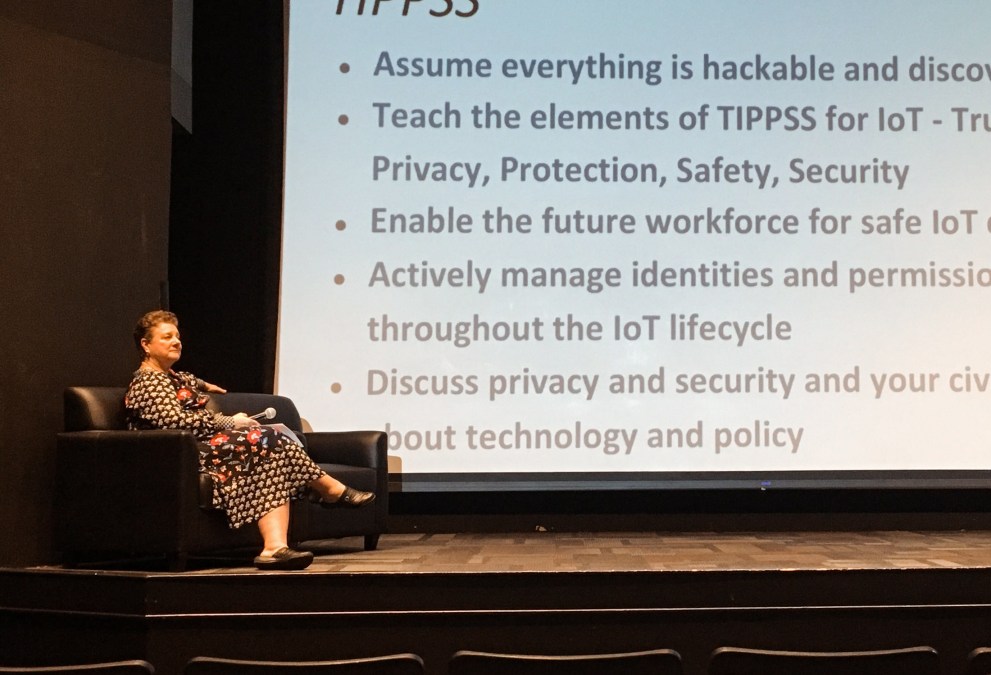 Many of today's students are digital natives — born with a seemingly innate understanding of how technology works — but with the proliferation of internet-connected devices, teachers have a critical role in educating kids to live and build a safer, more secure digital world, technology experts said at an event in Fairfax, Virginia, this week.
By 2021, the "internet of things" is predicted to reach 25 billion devices and will generate an immense volume of user data, according to the research group Gartner. Consequently, many technology experts have expressed the need to educate future generations on how to interact with such a hyper-connected environment.
"Here's the reality — we live in a world where things talk to other things at speeds beyond human comprehension," Edna Conway, chief security officer for Cisco Global Value Chain, told educators attending the Virginia Cybersecurity Education Conference at George Mason University on Wednesday. "And on top of that, what we are seeing is a proliferation."
Devices like smart watches, smart doorbells and even smart refrigerators are designed with aspirations of improving the efficiency and ease of daily life. However, in this newly emerging digital environment, users cannot view these advancements through rose-colored glasses, ignoring potential security and privacy concerns, she said.
Digital natives might understand how to use technology without being taught, but to become digital citizens, Conway said, people need to be instructed on how to prioritize risk to personal data and what questions to ask when assessing the security of a device and the privacy of the data it collects.
By developing curriculum that focuses on how to evaluate connected devices on dimensions such as trust, identity, privacy, protection, safety and security, she said educators will be able to ensure their students are able to securely interact with connected devices.
"I think academia needs to bring to the table how to ask the right questions," said Conway. If the user is then unable to establish trust and security, they need to think to reconsider using that device, she said.
However, the burden to create a secure internet-of-things environment does not rest entirely on teachers. Rather, she said, navigating a digitally connected environment requires participation and perspective from everybody — including academics, policy experts, lawyers and technicians — and from a wider range of organizations in the education industry and government.
Demand for those qualities of trust, security and privacy by consumers, along with a commitment from enterprise and government to assure those demands are met, will end up creating a safer, more secure "internet of things," Conway said.