U. Arizona launches COVID-19 vaccination website
Teachers and child-care workers can make vaccination appointments through a new website to receive their shots as soon as possible.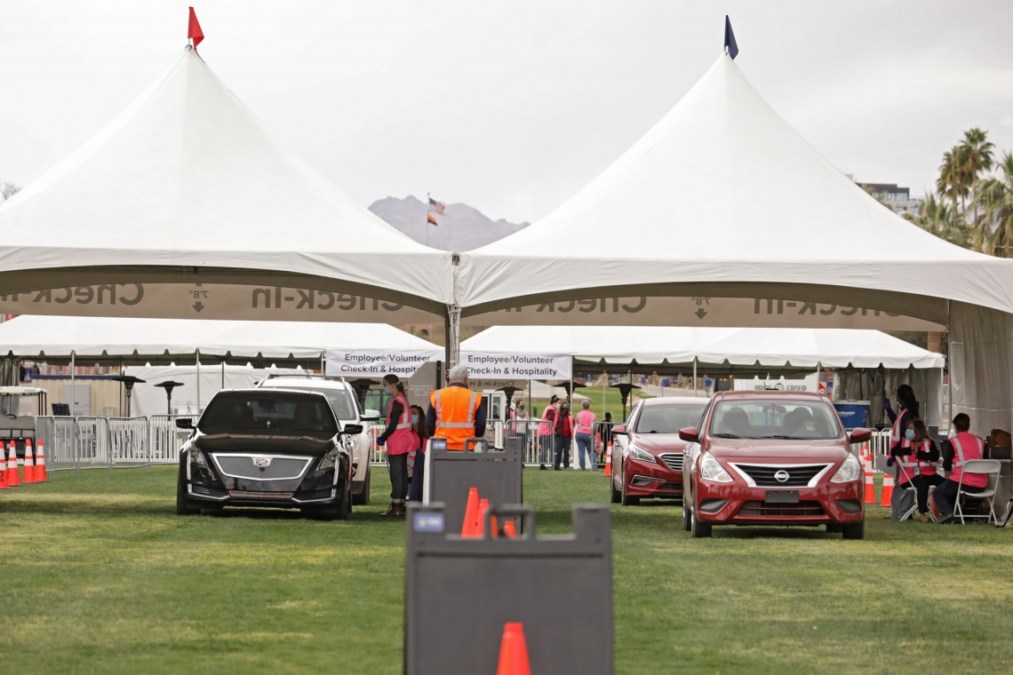 Following an announcement that its campus will be used to administer COVID-19 vaccines to teachers and child-care workers, the University of Arizona launched a new website on Tuesday with information on the process.
During the announcement, health experts at the university, which is based in Tucson, said it's essential the institution aid the surrounding Pima County with its immunization plan. They said quickly vaccinating people against COVID-19, especially those working in education, will help put an end to a pandemic that has disrupted students' learning for nearly a year.
Approximately 1,000 educators are to be vaccinated at the University of Arizona this week, including K-12 teachers, child care workers and university faculty and staff.
"We are working closely with our Pima County Health Department colleagues to ensure that our partners in the education sector are able to get the vaccine safely and efficiently," Mona Arora, the university's vaccine task force leader, said in a press release.
University leaders said the new website is designed to create an orderly process for inoculating K-12 and higher education teachers and staff, as well as student teachers.
The website shows who is eligible to receive a vaccination at the University of Arizona campus, which includes university faculty, staff, campus affiliates and associates, graduate assistants and associates, and student workers, along with other K-12 and higher education employees in Pima County.
Those eligible for the vaccine can schedule an appointment through the website and find information on insurance and the vaccination process. (Vaccines are being administered at walk-in and drive-through clinics on campus.)
University health experts said the university is ready to accommodate rapid vaccine distribution, with trained medical staff and a freezer farm that can store the vaccines at the required temperature. And having administered nearly 150,000 COVID-19 tests this semester, university leaders said the school will also be able to use its established testing process to assist in vaccine distribution.
"The University of Arizona succeeded last year in developing one of the country's most effective operations for providing diagnostic and antibody tests for COVID-19 to our campus and the community, and we are well-positioned to do the same for delivering COVID-19 vaccines," Michael Dake, senior vice president for UArizona Health Sciences, said in the announcement. "We look forward to contributing to the combined county and state efforts to vaccinate as many people as possible to help put an end to this devastating disease."
The University of Arizona is not the only higher education institution gearing up to distribute COVID-19 vaccines and serve as a major inoculation site. At the request of the New Jersey Department of Health, Princeton University has also been designated as a distribution point for COVID-19 vaccines, servicing university undergraduates, graduate students, faculty, staff, retirees and the surrounding community.
"By hosting on-campus clinics for our community, we may help relieve some of the burden on other medical facilities and healthcare providers in the state," John Kolligian, executive director for Princeton university health services, said in a press release.
Many other universities — including Purdue, Northeastern, the University of Chicago and Harvard — are also setting up locations on their campuses to deliver the vaccine.
According to the Centers for Disease Control and Prevention, 4.3% of U.S. residents have received one dose of the COVID-19 vaccine, which requires two doses. Of the more than 30 million doses of vaccine that have been distributed across the country, just over 11 million shots have been administered.