UCLA creates hate-crime map for a more complete picture
University researchers said the map is intended to supplement reporting on hate crimes and increase awareness.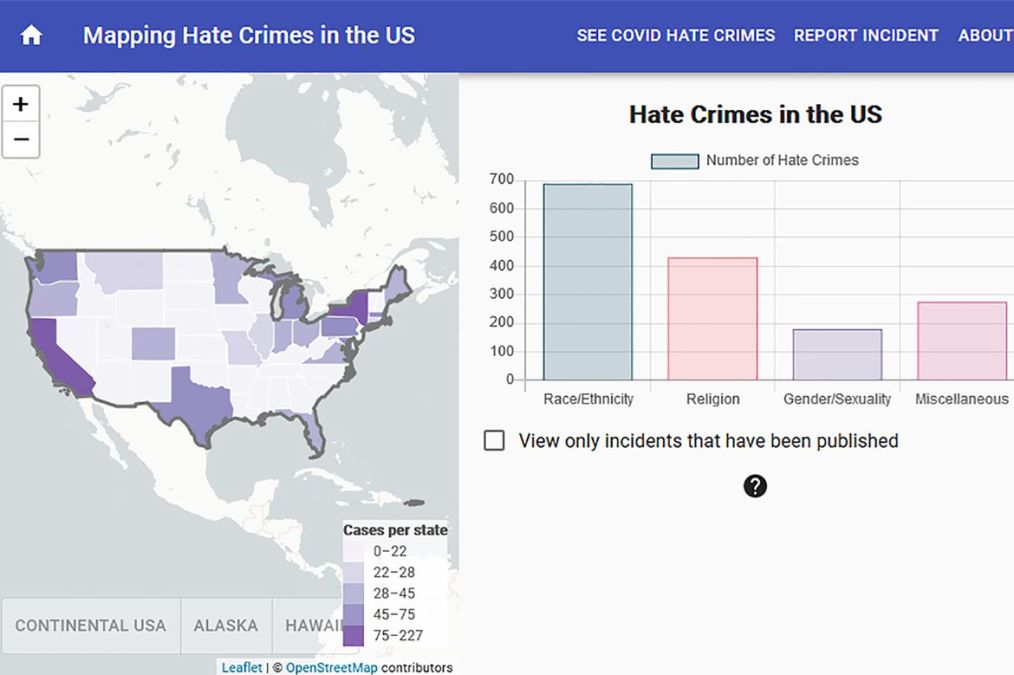 Researchers at the UCLA American Indian Studies Center recently launched an interactive hate-crime map to help track incidents across the U.S.
The map, which will collect hate-crime data from submissions by people who have experienced such crimes and through news sources, is intended to supplement reporting on hate crimes and increase awareness for them, according to an announcement made by the researchers last week.
"Ultimately, we hope it contributes to ending hate crimes against anyone," Shannon Speed, director of the American Indian Studies Center, said in a press release. "We know people of color have been victims of hate crimes for a long time, and we want to shine a light on this in a way that gives victims a means to share their experiences when they might otherwise not feel safe to do so."
Under the Hate Crime Statistics Act passed in 1990, the FBI is required to track and tabulate crimes motivated by race, religion, sexual orientation or ethnicity.
However, according to the nonprofit news group ProPublica, about half of hate-crime victims never report their incidents to authorities, and even among hate crimes that are reported to law enforcement, not all are reported to the FBI, as there's no requirement for law enforcement agencies to do so.
In 2016, of the 15,000 police agencies that were participating in the FBI's hate-crime tracking program, nearly 88% reported they had no hate crimes that year. But estimates from the National Crime Victimization Survey, conducted by the federal government, pin the number of potential hate crimes at almost 250,000 a year.
As a result, UCLA's hate crime map aims to supplement data for hate crimes, and the site's creators said they hope that over time researchers and journalists will be able to use it to better track the issues and stories around hate crimes.
Users of the site can hover over states to view a total number of incidents in the region, as well as view a breakdown of the type of hate crimes, weather they're motivated by a victim's race, religion or sexual identity.
The site currently presents data from January 2017 through October 2020, which has been collected from incidents reported by news sources across the country and links to the source material.
The hate-crime map is also tracking data gathered during the COVID-19 pandemic, which shows that since mid-March nearly 2,700 incidents of attacks and harassment have been directed at Asian Americans and Pacific Islanders. Additionally, hate crime data shows that personal attacks motivated by bias or prejudice reached a 16-year high in 2018, after a three-year increase in hate crimes from 2013-2016, according to FBI data.
And while UCLA's new map will cover only a fraction of the hate crimes actually committed nationwide, Speed said, the team that put it together is enlisting support from all of UCLA's ethnic studies center and social justice organizations around the country, and will continue to update the map's data with published news accounts of hate crimes in an effort to make the map as complete as possible.