Students powered design of U. Arizona's student information hub
Students and staff provided feedback for a new student information portal called CatCloud that one university director called "powerful."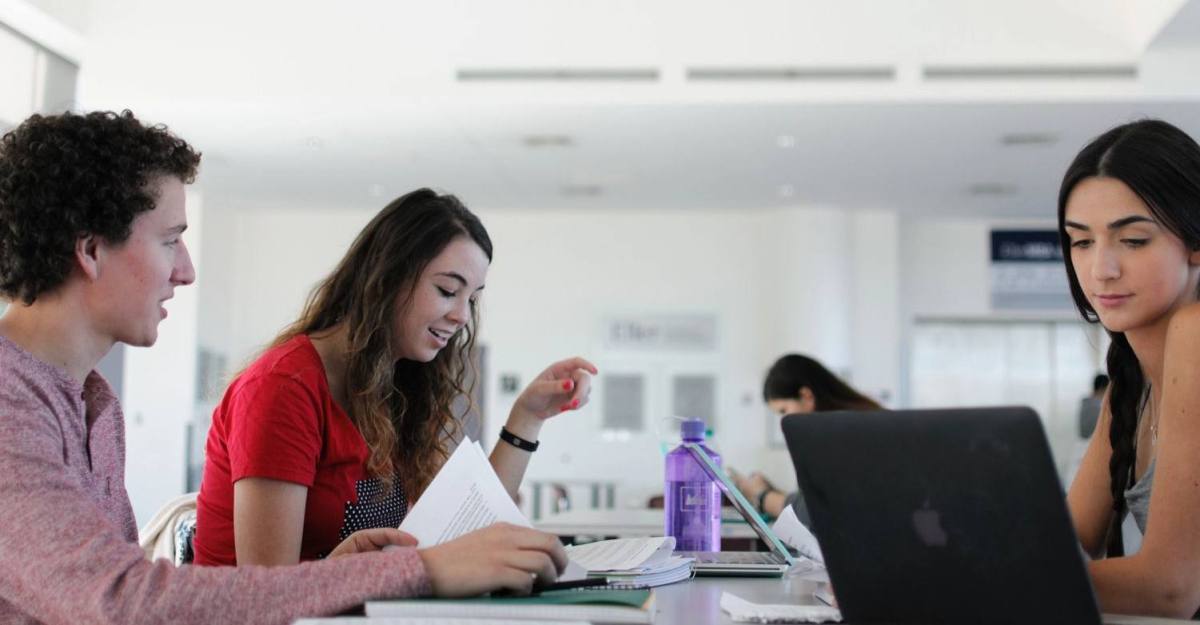 Figuring out if you're on track to get good grades at college shouldn't be complicated, but wading through multiple different systems and login processes can make the task challenging.
At the University of Arizona, a new tool called CatCloud aims to streamline this process for students, making it possible for them to view classes and grades, see upcoming deadlines for assignments and quizzes, make an appointment with an adviser, or check their meal plan balance, all in one place.
Removing barriers and making it as easy as possible for students to access the information they need to succeed in their degree was a guiding principle in the design of CatCloud, said Meredith Aronson, University of Arizona's director of customer relationship management and digital experience services.
The university launched CatCloud to all students last fall semester, but development of the Salesforce web application began before the pandemic, with groups of students invited to come together in-person to share what information and services they thought should be easier to access.
"That early work was very powerful. It gave us the foundation that everything else was to come from," Aronson said.
Over three years of development, hundreds of students offered insights and feedback on CatCloud, but getting students to participate wasn't always easy, she said.
"Early on, we sent out surveys to students asking their interest in helping us, and we did then leverage those students who voiced a willingness," Aronson said.
Serving student priorities
Getting a representative sample of students is hard, especially when you can't offer payment, Aronson said, but the CatCloud team managed to recruit students to share ideas and even participate in developing and testing the platform, through "networks of networks."
The university also consulted staff on what information they thought the hub should provide to students, but their priorities for the portal and the problems they thought it should solve were "vastly different" to those expressed by students, Aronson said.
Rather than trying to align the competing priorities of students and staff, Aronson and her colleagues determined that their student portal "should serve student priorities first and foremost," she said.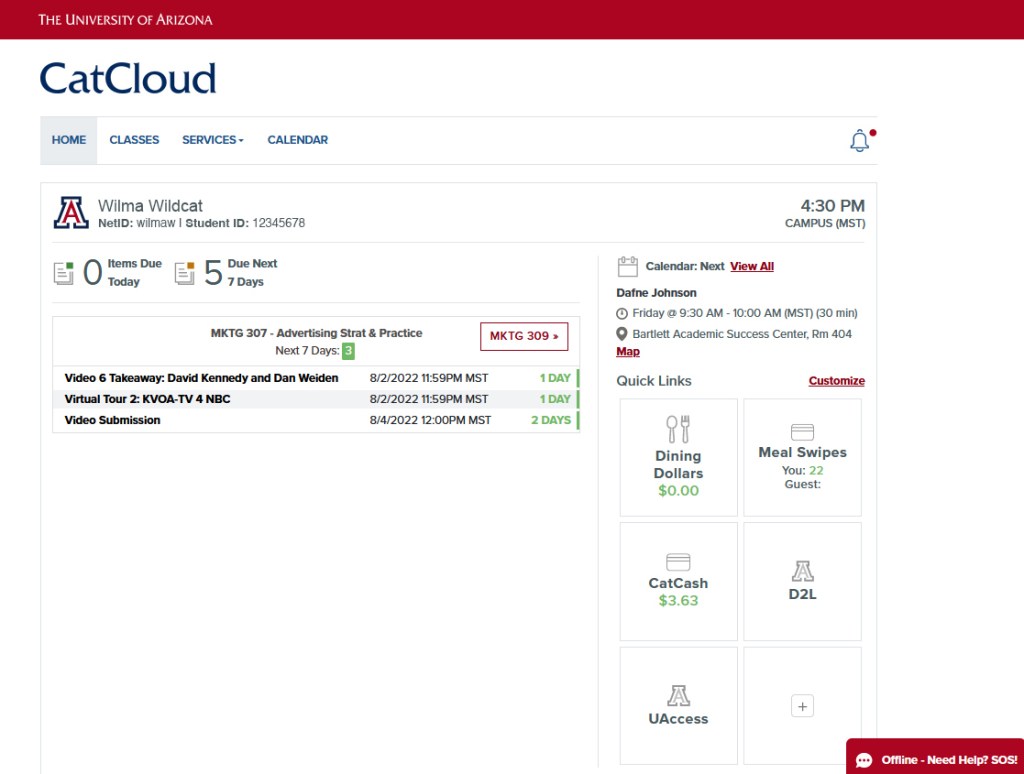 Throughout 2019, a series of student information-gathering sessions revealed that many struggled to navigate the learning management system and see all in one place which assignments they needed to complete for their classes each week. Students also shared they were unsure how to track their academic progress or figure out what scores they needed on their upcoming assignments to achieve their desired final grades.
Pulling this information on upcoming assignments and grades together and presenting it in one user-friendly hub sounded fairly straightforward to Aronson and her colleagues. But they quickly learned this task was much more difficult than they had imagined, not because of technical difficulty, but because professors' use of the LMS varied so widely, she said.
Plugging information gaps
The university is working with faculty members to encourage them to use more features in the university's LMS platform, which is Brightspace by D2L. If faculty members set up their classes and gradebooks correctly, CatCloud can pull relevant information from Brightspace and help keep students on track in class. But instructors still vary in their approaches to administering their classes in the LMS, said Benjamin Meyer, an undergraduate student in the College of Science.
One of the major advantages of CatCloud is that it pulls information from different classes into one place, so students don't have to search around for deadlines, Meyer said. Students can also set alerts for upcoming deadlines and easily see which assignments will have the biggest impact on a class' final grade, he said.
Meyer was part of a small group of students invited to help in the early development of CatCloud — testing features, making suggestions and providing weekly feedback. He said he was happy to work on the project on a voluntary basis because he was interested in app development and the experience helped him secure his job as a software engineer at the university's School of Mining and Mineral Resources.
Meyer said the interface was initially slow and clunky, without any integration with other student services, but it looks very different now.
"It's sort of like baking a cake. At first you just start with some raw ingredients, and then it becomes a mess, and then, eventually, it becomes a thing of beauty," he said.
Listening to feedback
Bringing in students to work on a tool for students makes a lot more sense than outsourcing testing to a group of people who might have "nothing to do with the people that are actually going to use it," Meyer said.
"We had input on the functions, the way it looked and felt, and that input was actually taken into consideration," he said. "Week by week, we would see changes that reflected our feedback – that something was hard to use, or unclear, or we wanted to see something on the front page, rather than having to click five times to get to it. It was almost always very responsibly dealt with. The development journey was really, really well done."
The CatCloud team was committed to giving students the opportunity to not only shape the platform, but build it, Aronson said. Students with computer science skills in particular were valuable, she said.
"We have made a couple of hires from those students, and that makes us really happy," Aronson said.
Students were also involved in picking the name CatCloud — a nod to the University of Arizona Wildcats, she said.
"We worked very early with our central marketing organization to brand it, and they worked with students on ideas," Aronson said, adding that name recognition is helpful in spreading the word to students and that this one seems to be sticking.
The university focused on spreading awareness of CatCloud among first- and second-year students since its launch in the fall, and around 15,000 users have signed up so far, Aronson said. Making appointments with advisers appears to be one of the most popular features on CatCloud, but the team hopes that insights from the user research will help them to engage students in other features too, she said.
There are no plans to turn CatCloud into a mobile app, Aronson said, and the university already has an app — Arizona Mobile — which will likely continue to focus on location-based services, helping students navigate the campus or check in to events. CatCloud, she said, will complement the mobile app.
A cohesive digital experience
Creating a streamlined, cohesive digital experience for students is important for the CatCloud team. Early on, students said they disliked the lack of continuity between different systems and platforms, which had different branding and required them to re-enter passwords.
"We're trying to share that vision of complementary systems, and we'll continue to try to promote the single-sign-on," Aronson said.
This vision of a cohesive, complementary environment of digital systems for students is shared by Alex Underwood, university registrar. As an institution, the University of Arizona has been working to catalog the disparate systems that students have to navigate, looking for opportunities to either consolidate or have these systems communicate better with one another, Underwood said in an interview.
CatCloud is the "foundation piece" of many initiatives the university is working on to get important information in front of students, he said. Students might not use CatCloud to make a payment or complete a transaction, but they will be able to use the portal to see the status of that transaction.
"The most exciting thing about the future of CatCloud, at least from my seat, is that it'll be curated to show students what they want to see, but will allow the university to get things in front of students that they need to know," Underwood said.
CatCloud could, for example, warn students about upcoming deadlines for withdrawals or share alerts about deadlines for adding or dropping classes.
"Those dates are obviously well-publicized on the registrar's website, but it's not everyone's favorite place to go, although it's beautiful," Underwood said. "But if it's in an app that students are using to do other things, they might see more information, just in time to help them make a good decision."
Research insights
The CatCloud team plans to integrate campus events into the calendar and introduce new features to help student employees manage their work shifts and classes. A collaboration with faculty members specializing in user research will also collect quantitative and qualitative data to understand user behavior and improve the product, Aronson said.
"It'll be a long-term collaboration," he said. "I'm really excited about it, because as we continue to think about the next layers of work that we could do, we'll have a way to refine our understanding of how our current users are using the platform."
Other universities, too, are conducting research to inform the development of their own student information portals, including the University of Washington; the University of California, Berkeley; and the University of Colorado, Boulder, Aronson said.
"We're part of a collaborative group of schools that are doing some really, really good fundamental user research in building their portals," he said.
While CatCloud's early focus was to help students stay on top of their schoolwork, it's evolving to support student success writ large — and not just to support academic success, Aronson said. Through personalization and presenting information that is actionable and relevant, she said she hopes the portal will help students navigate "this crazy huge university."
"It's not a one-stop shop, but it can help you to be successful and become the fullest person you can be while you're here," she said.