Utah Valley University has announced that Troy Martin will take over as associate vice president of information technology and chief technology officer for the university.
Martin, who will begin his new role on August 3, will help lead digital transformation at Utah Valley University and oversee the institution's IT strategy.
"I have seen firsthand how digital transformation can improve the educational experience for students and faculty, and I am excited to share my professional expertise and experience at UVU," Martin said in a press release.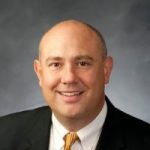 Before moving to UVU, Martin worked at Brigham Young University in a variety of IT roles, including senior IT enterprise architect and chief information officer, where he gained experience working in hardware design, systems architecture, technology management and data security management.
"His leadership experience and technology expertise position him perfectly to help digitally transform the university," Kelly Flanagan, vice president of digital transformation and CIO at UVU, said in a press release.
Martin holds a bachelor's degree from BYU in electronics engineering technology, an MBA in technology management from the University of Phoenix and is earning his Ph.D. in instructional psychology and technology from Brigham Young University.