Digital globe, 3D scanners, gamified tables in Arizona State's new $70M business-school building
A digital globe, interactive tables and 3D scanners to create avatars are among the features of a new building at Arizona State.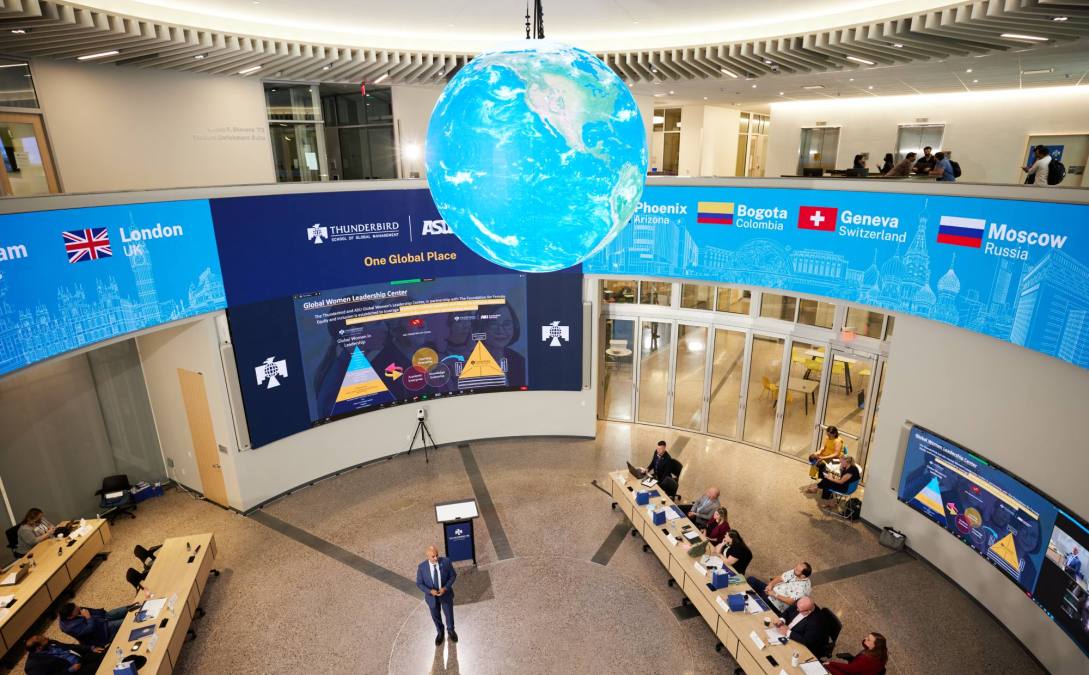 The technology features at the new headquarters of Arizona State University's Thunderbird School of Global Management look like a edtech obsessive's wish list: collaborative digital touch-tables, a full virtual-reality studio and a digital globe hanging from the ceiling, controlled by touch gestures from a nearby screen.
"Normally, people focus on one specialty item — we have six," Nathaniel Holland, a technology consultant for the building's design team, told EdScoop.
The downtown Phoenix building is intended to make a splash — its opening earlier this month was accompanied by fireworks and a parade. The building is meant to serve multiple roles: splashy event center, flexible learning space, content studio and international collaboration hub. The architects behind the building heralded the space as the "most technologically advanced building of any leadership, management or business school in the world."
The digital infrastructure for the building, including video-conferencing equipment and wireless internet, is needed to support nine classrooms, 11 conference rooms and seven group study rooms.
"The biggest goals we had was just to make sure it was very forward-thinking and flexible for what they needed to accomplish and then anything in the foreseeable future we could come up with, we could make work," Holland said.
Encouraging interactive learning
Classrooms incorporated touch tables with 11-foot diagonal interactive workspaces. These devices are a medium for instructors to "gamify" their coursework. Mike Grasso, director of digital initiatives at the Thunderbird School, told EdScoop that his team is working with instructors to transfer some activities that are paper- or card-based onto the tables.
"Essentially, it's a giant gaming table here they collaborate with each other," he said. "But the cool thing about these is when the server's running, we can actually tie the tables in together and collaborate across the entire classroom. And then thinking again, globally, if this [technology] gets put other places we can then tie those tables in globally."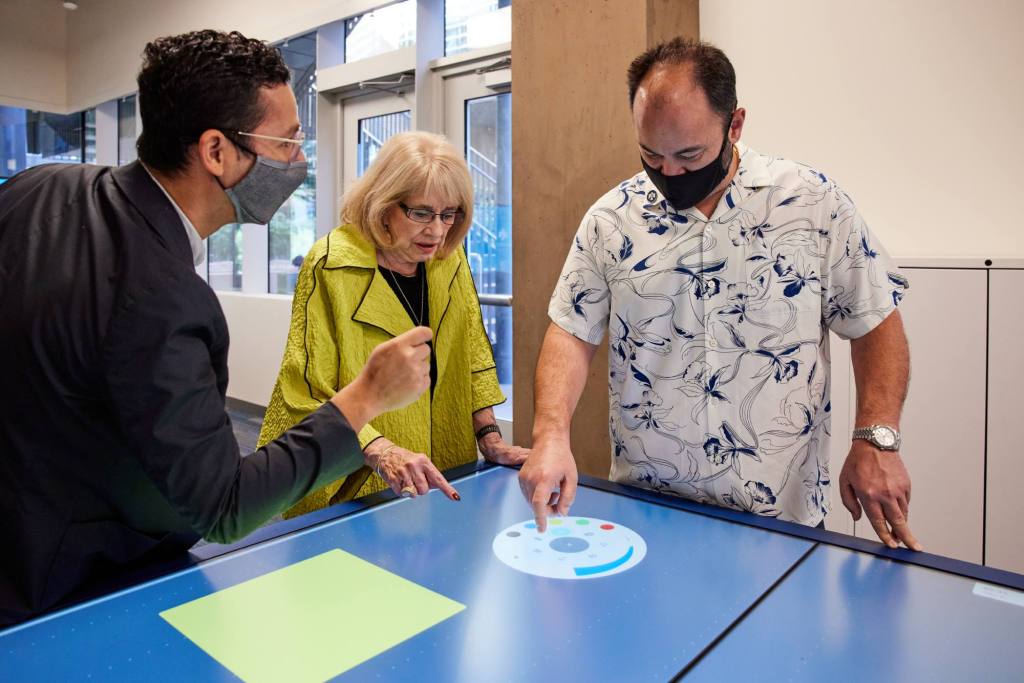 Grasso said that if touch tables are integrated at one of the management school's 21 centers across the world, instructors in Phoenix could run activities that allow students there to collaborate with students overseas.
Another step in ensuring collaboration goes smoothly is building infrastructure for digital meetings.
"We designed [the building] and kind of pushed it towards there are pretty much zero physical connections you have to make into your computer, your phone, your iPad, whatever, to actually present and share content or even video conference with people," Holland said. "You never have to look for a cable, a dongle — it's less things for people to break."
The building's wireless network supports classroom technology and studios where ASU is extending its foray into virtual reality courses. Arizona State released a biology curriculum with VR company DreamScape Learn last year.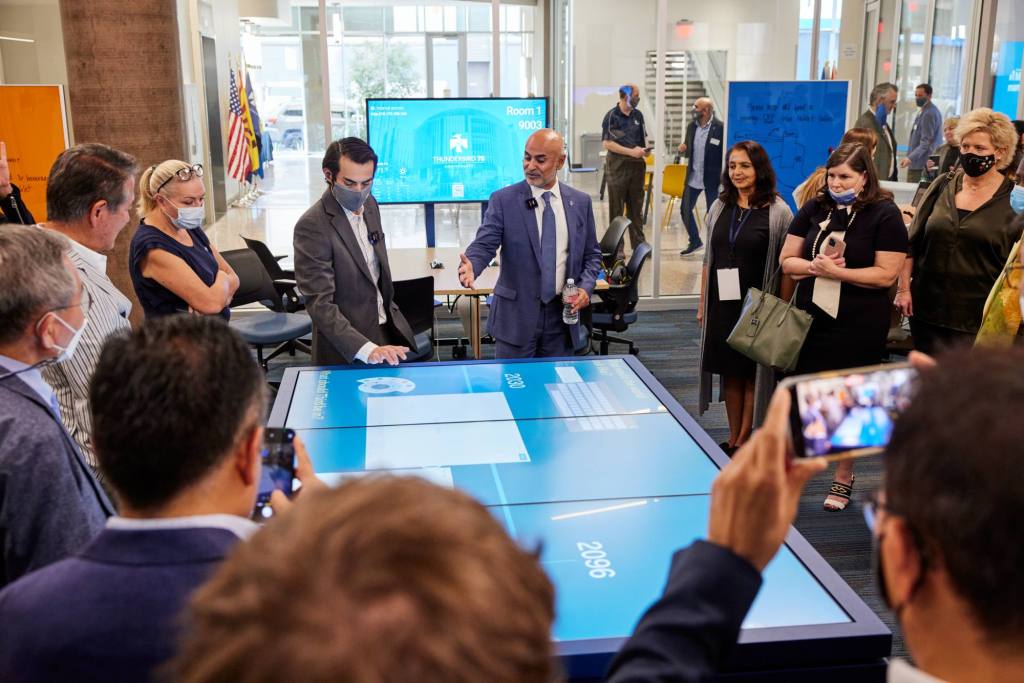 Though the building does not have 5G wireless installed, the broadband is designed to accommodate technologies like VR and live collaboration. Holland said wireless access points, of which there is one for every 30 people who could be in the space, provide five-gigabit connection speeds.
Modernizing presentations, catching attention
Aside from teaching and classroom collaboration, the building's other main purpose is as a meeting space.
The new building is fitted with a volumetric scanner to create 3D avatars for VR meetings or classes. Instead of fitting a visiting speaker or teacher in a suit, the system uses tiny cameras to create a 3D recording with audio — a "near holographic" projection, Holland said.
The Thunderbird School's designers focused on creating high-tech in-person experiences, too, with a meeting space called the "Digital Global Forum." The circular room is outfitted with a digital globe in the center, a ring of LED displays around the top and interactive screens below for video conferencing in groups for events.
The digital globe is meant to be reminiscent of a statue in a fountain at Arizona State's campus, called the Continents Fountain, in nearby Glendale. In terms of functionality, it's retractable, interactive and can visualize weather and climate-data feeds from NASA.
"We have, as far as I know, the only spherical direct-view LED display in North America," Holland said. "I only know one other one, in Australia, made by the same manufacturer, but we had to go through a bunch of clearances and specialty items to have this one here in the U.S."