Calculus video game boosted test pass rates say Texas A&M researchers
Playing a custom-built video game was shown to significantly improve test scores in introductory calculus classes.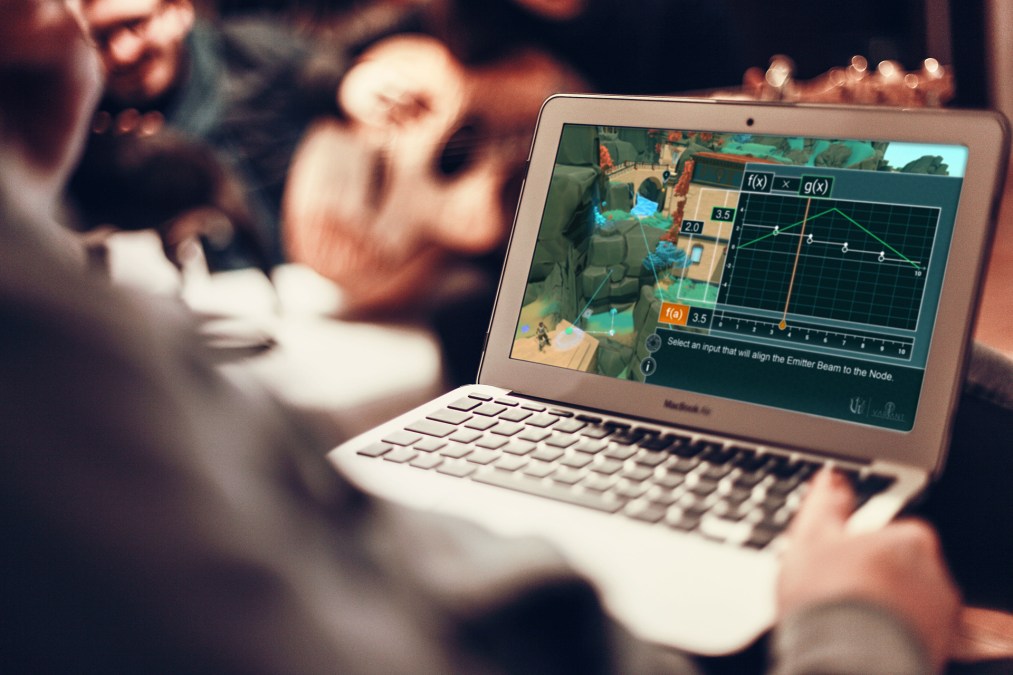 By playing an educational video game, students at Texas A&M University were able to significantly improve their test scores in introductory calculus, validating the effectiveness of gaming a learning platform to support STEM degrees, one of the game's developers told EdScoop.
"Calculus forms the foundation of any STEM degree," said André Thomas, a Texas A&M professor and director of the LIVE Lab that develops interactive visualization tools for education.
However, according to a 2015 Mathematical Association of America study, which looked at 213 colleges and universities from 2010 to 2015, up to 38 percent of college students failed Calculus 1. This high failure rate, coupled with a national demand for a larger STEM workforce, Thomas said, has created a need for educators to discover and develop new ways to teach calculus.
"Variant: Limits," the first in a series of thee calculus games to be developed by Texas A&M students and faculty in the university's LIVE Lab, takes a gamified approach to teach math in order help educate students pursuing degrees and careers in STEM fields. After students and faculty created an initial prototype, a game-based learning company co-founded by Thomas in 2014 called Triseum developed the final version of the game.
The educational video game integrates limits — a foundational mathematics concept — with a virtual, apocalyptic world where solving increasingly challenging calculus problems is the only means of survival.
For example, the game's protagonist, Equa, may be walking down a mountain only to have her path blocked by a boulder. To clear the road, the player must solve a visual puzzle with an underlying calculus objective.
Solving these calculus challenges will eventually lead to 100 percent mastery of the material, the game's description claims, and, according to research released from Texas A&M this month, completing all of the game's objectives leads to an improvement in calculus exam scores.
Researchers conducted a double-blind study last fall involving more than 2,000 Texas A&M engineering students enrolled in calculus. Half of the group was given access to the game and students were told they would receive extra credit based on their play time, but were not required to complete the game. The remaining half of the group didn't have access to the game.
Researchers found students in the experimental group saw a statistically significant improvement in their calculus exam scores, and those who completed the game — which takes an estimated eight hours — saw the biggest increase in exam scores.
Giulia Bini, a high school math teacher in Milan, Italy, used the game with her students, leading to a 100-percent testing pass rate, compared to an 80-percent pass rate the previous year. Outside of anecdotal evidence, researchers have not yet shared how big an improvement the game creates.
But are scores improving because students are spending eight hours more on task or is it because of the game?
Thomas said that the current research doesn't answer this question, but what is clear is that Variant: Limits is an effective teaching medium.
"I'm not aware of any other thing that would get a student voluntarily to spend eight extra hours on math," Thomas said.
Thomas lamented that video games are not yet a widely-used educational tool, maybe because they are seen by as educators purely as a form of entertainment.
"We don't do that with books," Thomas said. "I have yet to see a single empirical study that shows that a book actually helps a student [learn]."
To promote the use of video games in education, Thomas suggested using the terms "learning games," or "games for a purpose" to change their reputation. And as adoption increases, Thomas said that he and his team are eager to begin work on the next games in the Variant series — which will focus on other calculus topics such as vector differentiation and rates of change — and plan to integrate other subjects into gaming platforms.