Minority students bring social justice apps, video games to Capitol
The students were flown to Washington, D.C., this week to show off their apps and video games, which deal with heavy topics like police brutality and sexual assault.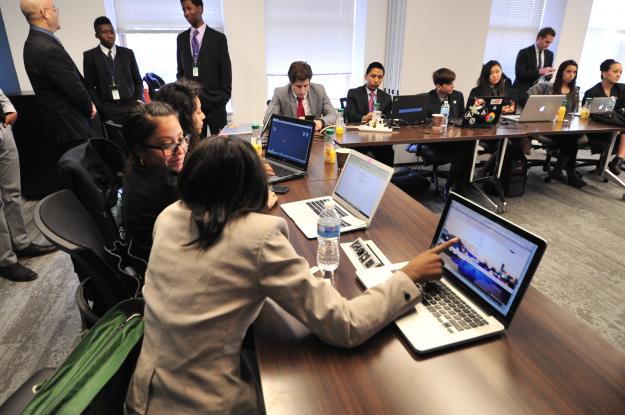 Juan Torres hears a lot about police brutality from his friends in the Mission District, where he lives, and from classmates at KIPP San Francisco College Preparatory, which is overwhelmingly Latino and African American.
So the 16-year-old junior is designing an app to tackle the pervasive problem. Called "Uncover Police Brutality," the service would allow users to video or audio record an encounter with the police, and then report the incident by typing in an officer's name, badge number, a synopsis of what happened and any witnesses that were present.
"There are a lot of problems about police brutality and people in my community facing it, so I wanted to make something that would prevent future issues," said Torres, who speaks in a soft, shy voice. "It's clearly a problem and we need to do address it, and my app basically will do that."
Torres, whose parents are from Mexico, was one of about 20 high school and college students across the country who were selected as Video Game Innovation Fellows, a program run by the Hispanic Heritage Foundation and the Entertainment Software Association. They were flown to Washington, D.C., this week, and met with members of Congress and the White House Thursday at the Capitol.
Many were dressed sharply in suits and sat quietly as they listened to politicians like Reps. Tony Cárdenas, D-Calif., Ruben Gallego, D-Ariz., and Yvette Clarke, D-N.Y., encourage them to pursue their dreams and find mentors who believe in them.
Antonio Tijerino, president and CEO of the Hispanic Heritage Foundation, said in an interview before the event that he wants to show minority youth the tech entrepreneurs and decision-makers in Washington who look like them. The hope is that more Latino and African American students will be interested in pursuing STEM careers to close the minority gap in those fields.
"They have an opportunity to make a bigger impact not just through their games they develop, but also as role models telling other minority youth, 'Whatever obstacles you're dealing, with if you're a gamer, you have an opportunity to make an impact,' to create something that engages youth on their terms," said Tijerino.
The idea for the program came partly from Tijerino's frustration after a meeting with policymakers at the White House' Office of Science and Technology Policy about four years ago.
The policymakers "were challenging everyone to move the needle with minority youth innovating and bridging into STEM careers," Tijerino recalled. "And of course, everyone was saying the same old thing: 'Let's do a conference.'"
Not satisfied with that response, Tijerino said the inspiration finally struck him when his wife complained that their son, who was 4 years old at the time, was spending too much time playing video games.
"I said, 'Don't you realize? He's a native user, he's got a comfort level with technology,'" Tijerino said. He contacted the Entertainment Software Association.
For many students like Torres, it was their first time in the nation's capital. While some had only early developments and ideas, others came prepared with slick prototypes and a long vision.
Christopher Carbajal, who looked like he could have been a political aide instead of a college student visiting for the first time, showed off his highly developed online fundraising app prototype, "Dollar Dreams."
"I'm always thinking about innovative ways on how I can help society," said Carbajal, 20, who attends Pasadena City College in California.
His app allows users to donate to relief organizations like the Red Cross, education nonprofits like Khan Academy and several other charitable foundations and groups.
The students' apps and video games dealt with other heavy topics many have faced in their communities, like sexual abuse, mourning loved ones lost to violence and maintaining healthier lifestyles.
Torres said the idea for his app came from the death of Alejandro "Alex" Nieto, a 28-year-old man who was shot and killed by police in Bernal Heights Park last year. Cops were responding to calls of a man with a gun threatening people, and found Nieto holding what turned out to be a Taser.
Four San Francisco police officers ended up firing a total of 59 shots, according to the San Francisco Chronicle. The death sparked a firestorm of demonstrations and calls for justice for Nieto. The cops were cleared of charges in the killing.
"It was excessive," Torres said. The police "took it to a whole new level."
With his app, he added, "I want to help build the relationship between the people and the police, for them to be able to get feedback."
Reach the reporter at corinne.lestch@edscoop.com or follow her on Twitter @clestch and @edscoop_news.