Congressional App Challenge attracts students, diversity to STEM field
The new director, a woman of color, said she hopes the competition will empower students from all backgrounds to learn about coding and computer science.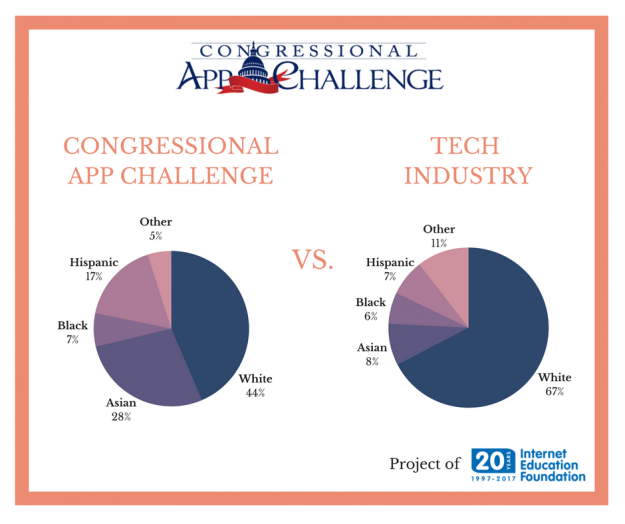 Bipartisan initiatives have become rare among members of Congress, but there's at least one program that both Democrats and Republicans can get behind: the Congressional App Challenge.
"This is one of the few issues where everybody is on the same page," said Rachel Décoste, newly named director of the Congressional App Challenge, in an interview with EdScoop. "Getting kids interested in STEM, in tech — it crosses [party] lines. It crosses all boundaries. I think that's a victory."
The third annual challenge will kick off later this month. At least 150 House members — more than one-third of the chamber — have signed up their districts to participate.
Students in those districts will spend about three months coding original applications. Their skills range from beginner to advanced, said Melissa Medina, the congressional affairs director for the challenge, but the purpose of the event is less about the final product and more about exposing students to coding and computer science.
The App Challenge is built around three pillars: inspire, include and innovate. It hopes to inspire students to dabble in STEM, learn how to code and maybe even pursue a career in the field. It wants to include students from all demographics — particularly women and people of color, both of which are historically underrepresented in the tech industry. And finally, it aims to make members of Congress more innovative in their own work after seeing what students in their districts can do with technology and STEM application.
For Décoste, who is spearheading this year's challenge, one of the most important outcomes of the event is that young people — particularly those whose demographics often lack visibility in the tech community — gain confidence in themselves and their potential to succeed in the field.
Décoste serves a role model in her own right as a woman of color who defied the odds by teaching herself to code using information from a library book when she was 13 or 14 years old, she said. She began making games to help her younger sister learn math, but it wasn't until starting her first computer programming class in college that she realized she'd already known how to code for years.
She decided to pursue a career in STEM. Décoste devoted years to working with Canadian and American air traffic control systems — including at the Federal Aviation Agency. One of her projects was to develop a sequencing and arrival system for airport runways. It uses technology to help planes flying into the same airport land in intervals so they aren't wasting fuel and time circling the airport.
In its first two years, the Congressional App Challenge — which is sponsored by the nonprofit Internet Education Foundation — hosted 239 challenges in 33 states, with 4,000 students across the country working together to create over 1,150 apps.
Also during those first two years, the event attracted far more diversity than the tech industry.
Participants in the challenge are about 30 percent female, Medina said, whereas it's closer to 10 percent industry-wide. More ethnic and racial minorities also participate in the app challenge — about 28 percent of students are Asian and 17 percent are Hispanic, compared to the tech industry, which is made up of about 8 percent Asian professional and 7 percent Hispanic.
"We beat the industry in terms of diversity," said Décoste. "I would like to keep that going, and I would especially like to concentrate on that. I think it's important for the field to be inclusive."
Beyond gender, ethnic and racial diversity, Décoste emphasized the importance of geographic diversity in tech as well. "You don't have to be in Silicon Valley to create an app that works," she said, adding that kids in the "heartland of America" deserve access to STEM careers as much as kids in major U.S. cities do.
The third annual Congressional App Challenge begins Wednesday, July 26 and runs through Nov. 1.