Campus mobile app solution saves time, money for IT specialists
Modo Labs works with over 200 colleges to streamline their mobile app platforms and improve student experiences.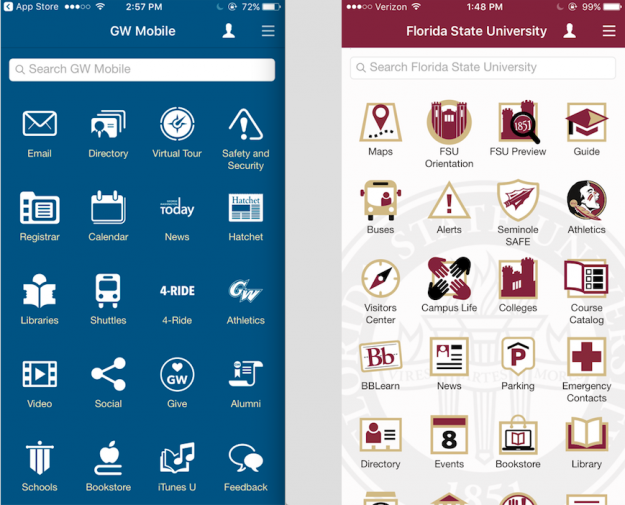 College students spend hours each day glued to the screens of their mobile devices, but the universities they attend have been slower to adapt to a mobile-friendly — let alone mobile-first — lifestyle.
In the years following the arrival of smartphones on campus, colleges that rolled out mobile apps struggled to keep them from becoming obsolete. That's because universities typically couldn't — and still can't — justify the resources required to develop an engaging, up-to-date mobile app, said Matt Willmore, product manager of higher education at Modo Labs.
"It takes an enormous amount of technical skills to build [a campus app]," Willmore said. "It takes a ton of time and effort. Given a school's list of priorities, having a dozen people work on the mobile app is usually not up there, if at all."
And that's how Modo Labs got started. The company was founded in 2010 by a team of mobile developers from MIT who wanted to give colleges a single, simple platform that they could populate with unique campus content. Today, over 200 colleges and universities have partnered with Modo Labs to build and maintain their campus apps.
Modo's solution is available for both Android and iOS devices, making it a popular, easy-to-use option for colleges.
Plus, it requires no technical expertise, meaning the content expert at each campus department — be it dining services, athletics, the bookstore or parking and transportation — can create and customize their own page of the app as easily as if he or she were designing a page on a WordPress site or other content management system.
"We felt Modo gave us — the university — a little more freedom to do our own development," said Mark Albert, director of university web and identity services in George Washington University's IT department.
"We knew Modo was going to delegate the administration to us … and we liked that because we didn't want every change we wanted to make to have to go through their support team. If we found something [wrong] at 7 p.m., we'd be able to fix it ourselves," Albert added.
Or if, say, the next president is being inaugurated and GW officials want to alert students of road closures and schedule changes, they could do that on the app, too. They did the same thing for the Pope's most recent visit to Washington, D.C.
"We could do that all day long — changing content — without having to know one stitch of code," he said. "We could turn that over to the appropriate offices … so folks can manage that information."
GW has been using the platform for about four years. Prior to that, the university used a home-grown app. It had pretty basic features and functions, Albert said, but the real benefit of moving away from their native app is that it saved the IT department a lot of trouble.
If they were still using an app built from scratch, GW's tech specialists would be busy submitting changes to the app store, monitoring Android and iOS version updates and keeping up with any rule changes or announcements. "That's labor-intensive," Albert said. "It takes time to deal with all that."
With the Modo Labs product, university IT specialists don't have to address those challenges. Modo handles it.
"It makes my job easier because I don't have to worry about the everyday care and feeding of the platform," Albert said. "That's a great help for me."
That's also one of the reasons Florida State University switched to Modo in December 2015 — their staff at IT services appreciated how much time it would save.
"In-house, we didn't have anybody with those skills [for developing a native app]," said Rebekah Dorn, the user experience director in FSU's IT services. "We would've had to hire someone with that unique skill set."
With Modo, though, it was a different story. "You didn't need to have technical skills to be able to promote or develop some features for the app," Dorn added. "I don't have to completely understand their platform. It already comes with several modules, several tools you can use right out of the gate with some simple configurations."
Dorn and her colleagues at FSU also liked that the app offers personalized content for each student. For example, admitted applicants can see information about orientation, but students whose admissions decisions have not been released cannot. At that point, it's not relevant to them.
"You're not overloading people. You're giving them what they need when they need it," Dorn said.
In the seven years since it was created, Modo has adapted to the technologies used and favored by colleges and universities, said Willmore.
"The core desire and core functionality is still there — being able to look at the weather and check the dining menu all still exist — but the product has evolved to keep up with what the higher education community needs," he said.
So when colleges began relying on learning management systems, Modo began integrating its platform with Blackboard, Sakai and Canvas. And when smart phones began to support push notifications, Modo developed a tool for colleges to schedule push campaigns.
These updates are important, Willmore said, because if the apps aren't high quality and current, the students will delete them and move on.
"We need something that is constantly up-to-date, constantly has this compelling content where they not only want to use the app, but use it every day," he said. "This is the app generation. Nearly every student is going on campus with smartphones … [so] it really makes sense to be where the student are and engage them in a way that's very natural to them, very comfortable to them."