California high school turns to crowdfunding for Chromebooks
Overfelt High School in California won about 200 Chromebooks for students to check out of the library through GoFundMe's Chromebooks Challenge.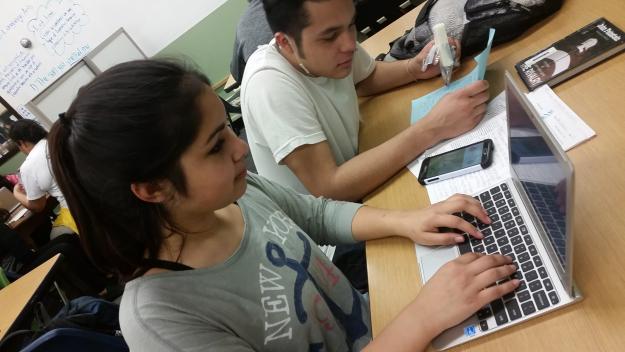 Students will soon not just be able to borrow books from the library at Overfelt High School in San Jose, Calif.
They will also be able to check out Google Chromebooks after winning a national fundraising contest sponsored by GoFundMe, a crowdfunding website for everything from medical bills to college tuition to educational materials.
The Silicon Valley high school received donations of about $13,000 from alumni, community members, current staff and students, and even anonymous donors. The school will purchase about 100 Chromebooks with the donations and some matching funds from GoFundMe, which is also giving the school another 100 of the laptops.
With the generous contributions, Overfelt's library will boast about 200 Chromebooks that students can check out and bring home. The school already provides laptops, PCs and about 800 Chromebooks in classrooms – but many students don't have access to computers at home. Closing the "homework gap" has been a major issue for top associations and government leaders, who say that low-income students need access to broadband and Internet at home.
"Ninety-two percent of our students are at the federal poverty level," Vito Chiala, the principal, said in an interview with EdScoop. "This will give them the ability to use their computers at home, so that they can complete their school work."
Among 1,447 students enrolled in the 2013-14 school year, 1,325 were eligible for free or reduced-price lunch, according to the National Center for Education Statistics.
The GoFundMe Chromebooks Challenge kicked off March 8 with nine schools across the country competing for the tech swag. Within 15 days, more than 12,000 people shared the school's campaign page on Facebook.
Overfelt won the challenge by accumulating the most Facebook shares, and received the money to support the school's Chromebook purchase from about 180 people. GoFundMe still gave the other eight schools $5,000.
Chiala was already familiar with GoFundMe – he made a few personal contributions on the website to support students paying for college tuition and trips. But this was the first time that Chiala got involved in a crowdfunding campaign for the whole school, and he plans to do more online fundraising in the future.
"It was pretty amazing how it generated funds," Chiala said. "That was a really good surprise to have so much support."
Most teachers and students use Google's applications, including email, calendar and Google Drive. Google's products make it easier for students to collaborate on their work and for parents to monitor their kids' learning process, Chiala said.
For example, using Google Docs, students and teachers can work on the same document at the same time, and they can see the real-time changes made by others as long as their devices are connected to the campus-wide high-speed Wi-Fi.
The school used to purchase software they had to pay to renew, but decided to switch to Google apps, which are cheap or free to use.
"We don't just look at the price in terms of the cost of the product," Chiala said. "We have to look at the price to maintain the product and how useful it will be in the classrooms."
Reach the reporter at yizhu.wang@edscoop.com and follow her on Twitter @yizhuevy and @edscoop_news.