Charter schools invest more in staff than tech for personalized learning​
Report from the Center for Reinventing Public Education ​should reassure those who worry that teachers will be replaced by technology.​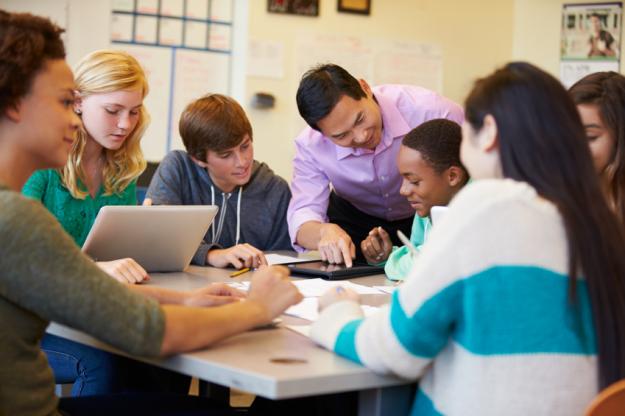 Schools that have launched personalized learning programs spend the most dollars on teachers' salaries, facilities and operations – compared to technology, a new report found.
Researchers at the Center for Reinventing Public Education, at the University of Washington, analyzed 16 charter elementary and secondary schools that opened in the last four years or so, and that have implemented personalized learning models.
Educators hope these models will cater to students' individual needs by introducing a mix of online and traditional instruction, as well as independent and collaborative work.
The findings, the study's authors note, "should reassure those who worry that teachers will be replaced by technology."
"When schools were faced with budget trade-offs, they typically cut
technology costs in order to preserve small class sizes and staff positions," wrote Robin Lake, director of CRPE. "The schools we studied treated technology as a luxury good – they paid for it when they had extra money to spend and reduced it when they were short on resources."
On average, the schools spent 44 percent less on software than they anticipated, and pushed more funds towards staffing, resulting in a smaller student-to-teacher ratio. Salaries accounted for about 60 percent of overall spending in the first year of school enrollment.
While spending on technology and infrastructure varied from school to school, at nearly all of them, IT was a minor expense compared to personnel – wages were more than four times greater than IT expenses in all but one of the schools studied.
Researchers also found that the long-term financial stability of the schools remains unclear after private funding for these specialized programs dries up. Nine of the 16 schools used private money to pay for costs that won't go away when the funding does.
"It is impossible to know at this time whether these
schools will be able to sustain their current personalized learning models on public dollars
alone, but all of the schools have so far managed to steadily shrink their overall reliance on
private funding," according to the report.
All the schools were given significant funding from the Bill & Melinda Gates Foundation, which also funded the report.
Reach the reporter at corinne.lestch@edscoop.com and follow her on Twitter @clestch and @edscoop_news.