Digital literacy the aim of Charlotte schools' 'Civic Tech Experience'
With $1 million from the Knight Foundation, the county intends to lose its status as one of the worst places in the U.S. for economic mobility.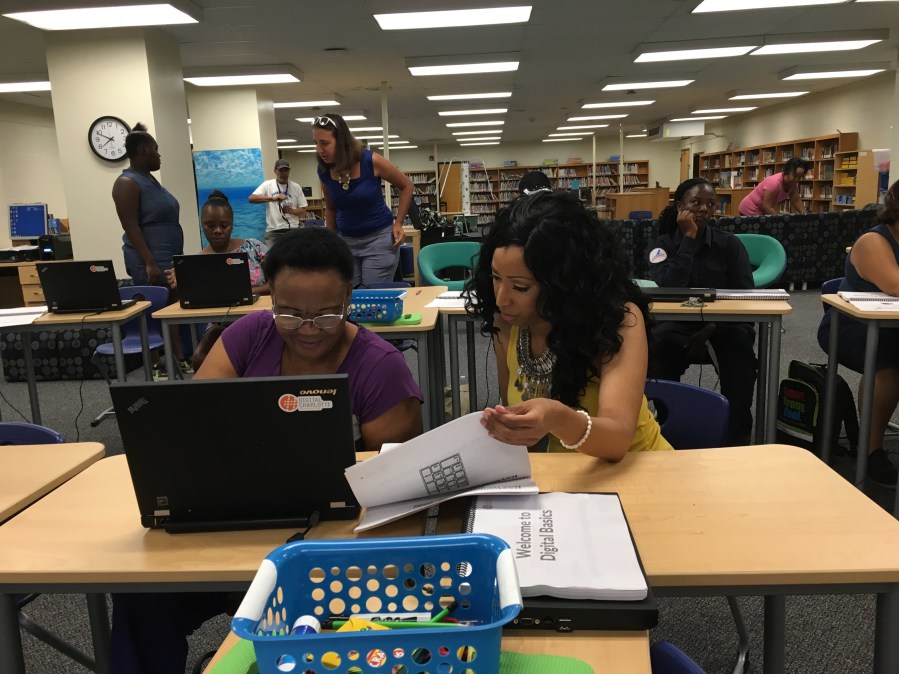 A public-private partnership in North Carolina's Charlotte-Mecklenburg County school system is now seeking to improve digital literacy within parts of the city that lack internet access at home.
The school system's Project L.I.F.T., or Project Leadership & Investment For Transformation, received a $1 million grant last month from the Knight Foundation to advance the project's Civic Tech Experience, which includes several initiatives geared toward providing students and their families access to mobile devices and basic education around financial planning and community resources. The funding follows a national study that ranked the city of Charlotte one of the most difficult places in the country for people to improve their economic status.
The project has operated for the last seven years as a nonprofit arm of a community of 29 grade schools within Charlotte that ranked low on student attendance, teacher retention, graduation rate and other metrics. Through initiatives like a 1:1 laptop program for students in West Charlotte High School, outfitting classrooms with technology and coaching teachers on how to use classroom technology effectively, the project has helped boost West Charlotte's graduation rate by 30 percent since 2011, when it sat at just 51 percent.
The project's technology facilitator, Lindsay Sipe, told EdScoop the Civic Tech Experience is a continuation of the project's overarching themes of talent, time, technology, and parent and community engagement.
Piloted earlier this fall, the Experience has three main initiatives — a "Digital Inclusion Institute," a "pop-up" village designed to give students and parents access to technology resources and "Charlotte Trajectory," an initiative to provide a "single-stop shop" for families to gain access to state and community resources.
"The Civic Tech Experience was created because our parents identified these critical barriers to their scholars' success," Denise Watts, learning community superintendent for the project, said in a statement. "We are optimistic that our programs will bridge the gap for these families and get them connected and enabled to be more upwardly mobile."
Three approaches to one challenge
Watts and Sipe said they were inspired by the Upward Mobility study conducted by Opportunity Insights, a Harvard initiative, that in 2013 ranked Charlotte the bottom city out of 50 on economic mobility, the capacity of people or families to advance their economic status.
"We need to start going into the community to work with our parents, give our parents digital literacy skills so that they can apply for jobs, build up resumes, pay bills online instead of having to ride the bus an hour to pay an energy bill," Sipe said. "We wanted something that would help provide resources. A one-stop place where somebody could go to say 'I'm in need of some help. What other things have I missed that I might qualify for.' That's where the civic tech experience was born from."
All three initiatives focus on technology, but the Digital Inclusion Institute takes the most tech-heavy approach. Sipe called it a "multi-generational" approach to learning. It contains a six-week digital literacy course for students and parents of any technology skill level. In the course, participants can learn everything from how to use a trackpad on a laptop to the internal hardware components of a computer. Those who attend five out of six weeks of the course will be supplied with a refurbished computer and a free Wi-Fi hotspot for a year.
The "pop-up" villages, which were piloted in August at local churches and schools, are designed to provide a physical space for students and parents to access resources about local libraries, holistic classes, technology classes and information about Charlotte housing partnerships. The pop-ups provide students and parents with information about other resources available like where they can get haircuts, free clothing, food, books, backpacks, school supplies, cleaning supplies and personal hygiene supplies. The first August pilot reached 325 students and 110 parents, according to administrators.
The third initiative is Charlotte Trajectory, a "single-stop shop" held at Johnson C. Smith University and Bruns Academy in the city. There, families can make appointments to receive benefits eligibility screenings and referrals for tax preparation, legal and financial counseling.
The Civic Tech Experience is slated to run through the end of this year with funding from the Knight Foundation, which has a history of investment in other civic technological opportunities. In the future, Sipe says Project L.I.F.T. will work with its public partners to sustain the civic tech experience.
"We're partnering with CMS to come up with a sustainability plan, because we know that's really important when grants and funders start to fall away and want to push us back into Charlotte-Mecklenburg schools a bit more," she said. "We need to be able to have the capacity to continue this work."