How one university is training its health care students virtually
Using ECPI University's new eHospital software, students can practice setting up IV pumps, taking blood pressure or take a virtual ride in a medical helicopter.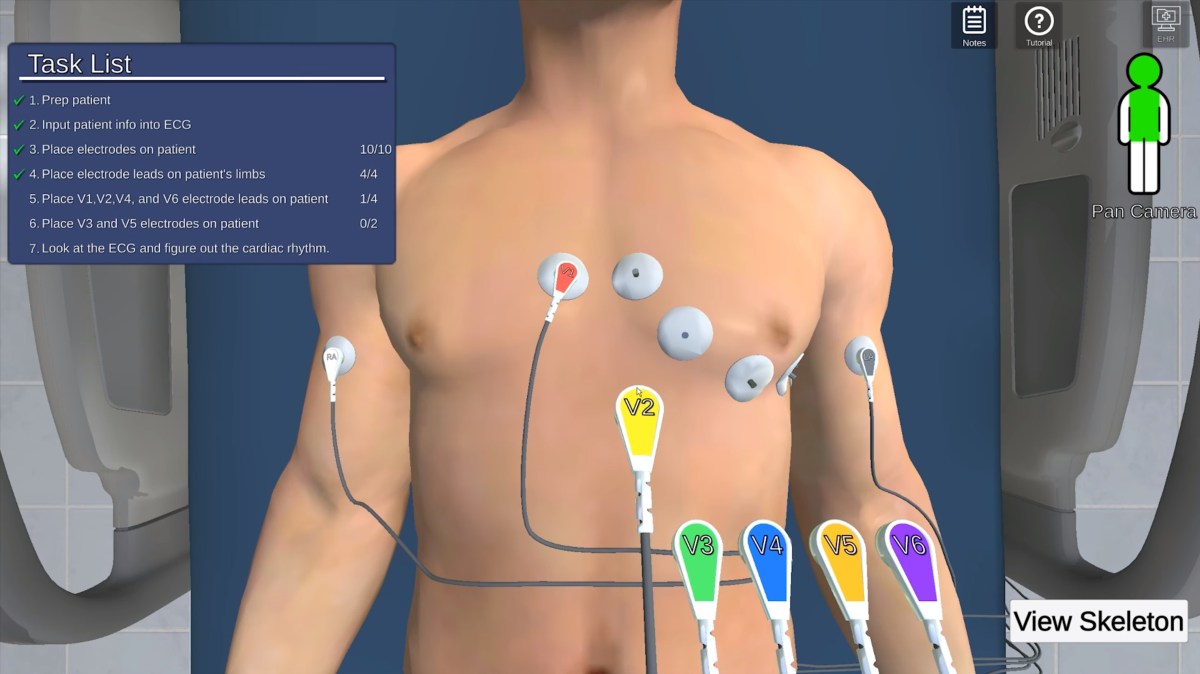 The pandemic has limited students' access to hands-on learning experiences, but ECPI University, a technical college in Charleston, South Carolina, has developed new simulation software that helps its health care students practice clinical skills.
The software, called eHospital, allows students to practice medical procedures in a virtual setting and helps prepare them for careers in the health care industry. And while the simulation has helped students to continue learning remotely during the pandemic, eHospital will continue to be an important educational tool even after in-person classes resume, Erica Jones-Foster, director of educational technology and innovation at ECPI University, told EdScoop.
Since its launch in the fall 2020 semester, students can log into eHospital any time from their cell phones, tablets or computers and practice skills like taking blood pressure, setting up IV pumps, electrocardiogram machines and respirators. They can also study anatomy, personal protective equipment and take virtual rides in an ambulance or medical helicopter.
Students can walk through the virtual world as a health care worker and engage in scenarios they would experience in a real hospital, Jones-Foster said. So a student practicing how to set up an IV pump, for example, must calculate dosages, input the information into the virtual IV pump and observe the rate at which the medication flows through the pump.
"[eHospital] is super convenient and it's as realistic as we can possibly get it," Jones-Foster said.
Students can also practice clinical skills whenever they have time and from almost anywhere, while faculty can use the software in class to demonstrate proper procedure for administering care to patients, she said.
"It's great for student engagement," she said.
The software was created in house by the university's IT department in about six weeks with help from nursing and health sciences faculty, Jones-Foster said.
And while feedback from students and faulty on eHospital indicates that it's a great tool for teaching many hands-on skills, she said, it's not a replacement for in-person clinicals.
"This is more of a supplement," she said. "But using this software, students feel more confident in the hospital clinical setting because they had that practice over and over and over again."
Students in ECPI University's nursing, medical assisting, physical therapy, surgical technology, and paramedic programs have been using the software to help them practice heath care skills while learning remotely during the pandemic, but Jones-Foster said eHospital will continue to be an important tool once the pandemic is over.
And the school also plans to add new features, she said.
"We're in the process of creating our own virtual city around the hospital where students will be able to do house calls and we have a firehouse coming as well," Jones-Foster said. "We're even adding a beach scene where students will have to go to the beach and help patients there. So we're adding different environments that we think that they'll encounter in their professional career. … [Students] don't want you to sit in front of them and just do PowerPoint or just talk. They want to be able to actually do stuff. So I think that a platform like this is tremendously needed."