Telepresence robots help nursing students train remotely
Medical students are among those facing challenges in education during the pandemic, but the University of Texas at Arlington may have part of a solution.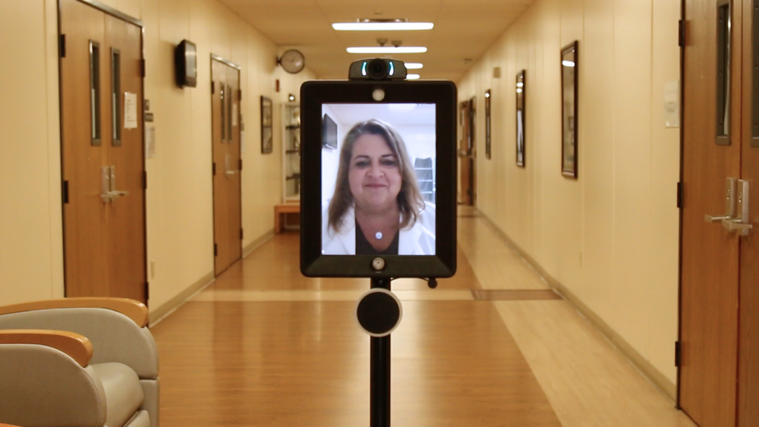 Finding a way to safely train nursing students is one of many educational tasks made more difficult by the pandemic, but a new program using robots at the University of Texas at Arlington may prove a viable alternative to in-person training.
The university announced this week that through a recent nursing innovation grant from the Texas Higher Education Coordinating Board it will expand its fleet of "telepresence robots" to assist nursing students who are training remotely. The robots, which are essentially tablets on wheels, allow remote users to navigate a clinical environment and meet with patients.
The robots may also find use beyond the pandemic as the university attempts to serve students in remote regions of the state, said Jennifer Roye, assistant dean for simulation and technology and a co-director on the project.
"Many students in rural communities lack robust health care training equipment, and we will now have additional tools at our disposal to help them long after the pandemic ends," Meagan Rogers, clinical assistant professor and project co-director, told the university.
The University of Texas at Arlington also plans to purchase with the funding additional "task trainers," devices that allow nursing students to practice tasks like inserting gastric tubes or administering oxygen to a patient.
Many other universities have been forced to find workarounds during the pandemic, particularly for disciplines like nursing or other subjects that include an emphasis on lab work or interacting closely with other people. ECPI University, a technical college in Charleston, South Carolina, recently developed software that allows its students to virtually practice procedures like taking blood pressure or setting up IV pumps.
Northwestern Health Sciences University, a private not-for-profit institution near Minneapolis, recently began equipping instructors in its chiropractic and acupuncture programs with head-mounted GoPro cameras so students could easily see what they were doing. Deb Bushway, the university's president and CEO, told EdScoop that while the adaptation was forced on the school by the pandemic, it proved to be more supportive of learning than having students attempt to crowd around a table in-person, anyway.
"We learned something there that will move us forward and help us use the hybrid model even more effectively," Bushway said. "I think those are the key learnings that we have to harvest now and hang onto as we move into the next piece."