Education Department launches interactive site dedicated to English learners
Using education data, maps and charts, the U.S. Department of Education created a "data story" about English-language leaners.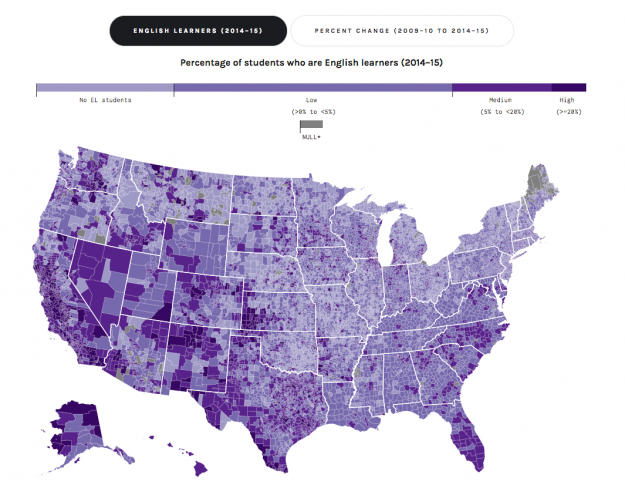 The U.S. Department of Education released a "data story" on English-language learners (ELs) on Monday, in hopes of eliminating misconceptions about them and giving educators a better look at their needs.
The story features colorful maps and charts in addition to segments such as "Who are ELs?" "Where are ELs?" and "Languages."
In 2014-15, more than 4.8 million English learners were enrolled in U.S. schools. Research from Common Core of Data (CCD) revealed that Alaska and the Southwest United States were home to the highest number of English learners.
The data also showed that, combined, English learners in U.S. public schools speak more than 400 different languages. Behind Spanish, the most common languages are Arabic, Chinese and Vietnamese.
The website notes that English learners are a "tremendous asset for our country if their full potential can be unlocked and harnessed."
Paige Kowalski, executive vice president of the nonprofit Data Quality Campaign, said on Twitter that she thinks the Education Department's data story is "a terrific use" of education data and data visuals.
Jose A. Viana, the assistant deputy secretary in the Office of English Language Acquisition, says the data story is "worthy investment on behalf of ELs, their families and the entire education community."
This site is the product of an ongoing collaboration with Office of English Language Acquisition and the Department's Policy and Program Studies Service.