Education Dept. CIO rushed to hospital after House questioning
Chief Information Officer Danny Harris was transported to George Washington University Hospital Tuesday after a four-hour-long hearing that probed his misconduct.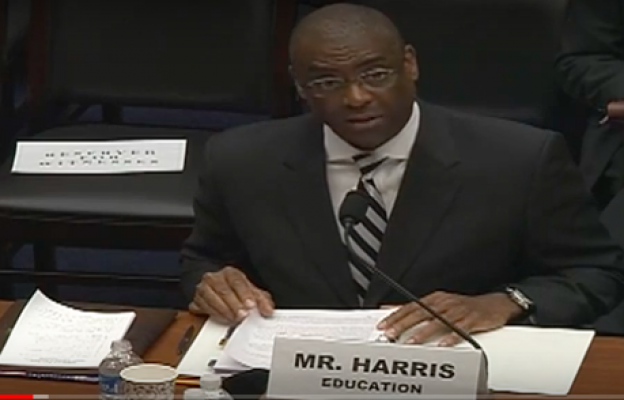 Education Department CIO Danny Harris collapsed after intense questioning by the House Committee on Oversight and Government Reform on Tuesday, and was rushed to George Washington University Hospital. He was conscious and in stable condition Tuesday afternoon, an agency spokeswoman confirmed by email.
Harris, who started at the department as an intern in 1985, was the focus of an intense hearing into his conduct. Investigators at the department confirmed he used his office improperly, running a home theater installation business and a car detailing venture and failing to report the extra income on his tax returns. He also secured a job for a relative in the agency, and had a close friend whose company was awarded about $10 million in contracts to perform work for the department.
"Simply put, the CIO's failure to bring high ethical standards to work – institutions suffer, and the data of millions of Americans are in danger," said Rep. Jason Chaffetz, R-Utah, chairman of the committee.
Harris has previously come under fire for allowing security loopholes in the agency, which received a flunking score on benchmarks set by the Federal IT Acquisition Reform Act.
Harris' $15,000-a-year adjunct professor post at Howard University; $5,000 from an IT consulting gig in Detroit; and $17,000 in annual bonuses at the government agency also raised eyebrows among both Democratic and Republican committee members.
"You're a very busy man," said Rep. Carolyn Maloney, D-N.Y. "I could understand why there were problems with cybersecurity in the Education Department."
Harris maintained that his side ventures were "hobbies," although he paid two subordinate employees to help him with the work. He had created business cards and a logo, but never applied for a business license, according to investigators.
"I want to say, categorically, that these are hobbies that I enjoyed," Harris told the committee. "I am a teacher. That's one of the things I love to do."
Rep. John Mica, R-Fla., ripped Harris for avoiding any punishment when the transgressions occurred in and before 2013.
"There is no reason why he shouldn't be fired," Mica said. "I don't think you can find more ineptness or misconduct with any senior employee that's come before us."
Chaffetz also clashed with acting Education Secretary John King, who testified during the four-hour-long hearing.
King, who was a deputy secretary before previous Secretary Arne Duncan stepped down at the end of the year, said Harris had a "lapse in judgment" – but stopped short of saying that Harris violated rules or department policy.
"It was a lapse in judgment," King said during a heated exchange with Chaffetz. "As a result, he went through counseling."
Chaffetz pressed on, saying that "everyone is watching" King now that he leads the agency.
"It's your leadership that's on the line," Chaffetz said. "I'm asking you, is it appropriate to have outside income and purposely not disclose it?"
King deferred to reports from the department's offices of the Inspector General and General Counsel, which substantiated claims that Harris ran side businesses and failed to report about $10,000 in extra income on top of his government salary on his tax forms. They had turned over the findings to the U.S. Attorney's Office for the District of Columbia, but prosecutors declined to prosecute.
"I believe the evidence is clear that the activities have stopped," said King. "[Harris] understands the gravity of the impression that was created by these activities. His remorse is evident."
Reach the reporter at corinne.lestch@edscoop.com and follow her on Twitter @clestch and @edscoop_news.