Ellucian CEO: University CIOs should expect a big focus (and new strategy) around cloud
Now working at the nexus of higher ed and technology, former Microsoft and Cisco exec Laura Ipsen says new role is a "bit of a homecoming to me."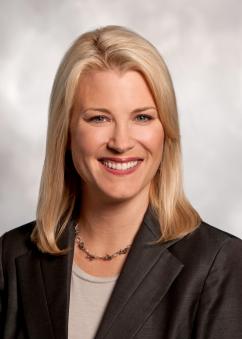 Laura Ipsen is a veteran technology executive, having spent the last 25 years with PwC, Cisco, Microsoft and, most recently, Oracle.
But Ipsen in December made a major career change when she took the helm of Ellucian, a software company based just outside Washington, D.C., in Reston, Virginia, that provides solutions for colleges and universities. The move is "a bit of a homecoming to me," Ipsen said, after growing up in Virginia with parents who were deeply committed to and passionate about higher education and technology.
The new chief plans to bring her experience migrating businesses and organizations to the cloud and her understanding of disruption — including her "mentality of moving with speed, skill and focus" — to Ellucian and, by extension, to higher education.
Amid the transition, Ipsen spoke with EdScoop about what led her to Ellucian and what college and university CIOs should expect from Ellucian in the next few years under her leadership.
The following interview has been condensed and lightly edited for clarity.
EdScoop: You're obviously no stranger to the technology industry, but I'm wondering if you could tell me what attracted you to the education side of things?
Laura Ipsen: I spent about 25 years in the tech sector, and prior to that a little bit of time in consulting with PwC. Oddly, I feel like higher ed is in my blood mostly because both of my parents were in higher ed.
My father was a professor and ran a department at Virginia Commonwealth University. My mother ran an education center and was a pioneer in technology when she celebrated figuring out how to build a local area network in her office. So, I have a very tech-savvy mother. So somehow that combination of higher ed with tech came together in unusual ways for me. I went to school at the University of Virginia, then I worked in D.C., then went out to Silicon Valley for a year and it just kind of stuck, until coming back to Virginia for this role [at Ellucian].
But in terms of education, in my early time in the Valley, I worked at Cisco Systems for almost 17 years. And I worked for a leader, John Chambers, whose passion was education and it really brought back the importance of lifelong learning. The concept John had is that education is a great equalizer in life and technology is a wonderful enabler. … So I learned very early on about the power of technology for education and for advancement of skills and jobs.
I grew up in a company whose value system and "philanthropy" was all about education. I started the government affairs global department at Cisco and worked on education issues and education policy at the state level in California, at the federal level and globally through organizations like the World Economic Forum. Education was a big foundation of what I did at Cisco.
When I left Cisco, I moved to Microsoft, where I ran global public sector business. A big chunk of that was global education business — both K-12 and higher ed.
And when I moved to Oracle, I ran a very interesting group that was designed to help our customers move to the cloud. I worked very deeply with higher ed there, building both solutions and capabilities, and running a strategy council for higher ed institution leaders to connect with peers on their strategy of migrating to cloud.
While I would say the bulk of everything I do has been high-tech or tech-focused, I've done a lot in higher ed in various different iterations — certainly thinking through and working on helping customers extend what they do and move to cloud and driving innovation and new capabilities.
When this Ellucian opportunity came my way, it really was a bit of a homecoming to me from my roots and my family. It's also a mission I've been passionate about pretty much my whole career. Cisco really infected me with the vision and importance of education and technology as an enabler.
EdScoop: Did you expect to eventually end up at a place like Ellucian?
LI: I like working on transformation and I really appreciate being deeper in a "vertical." I love getting deep into a specific industry, so yes, absolutely at this point in my career I was looking for a place where I felt a mission and a passion, which education fits, and going deep into providing capabilities and enabling the future of something that needs to be much more modernized.
And education is one of those areas where I think it's something that impacts every industry. I can bring in my background in education, moving to the cloud, transformation and disruption.
EdScoop: About five months in, how are you seeing that your experiences at Oracle, Microsoft, Cisco and elsewhere benefit you and inform your decisions at Ellucian?
LI: Number one, I think I have a pretty strong background in multiple different technology areas and a broad view around building and scaling software. The most important thing is my experiences in companies that have transformed to grow, not just on the product side, but how you run a business to scale to grow.
I've been through the transformation of moving to cloud at Microsoft and then Oracle. And I've learned how we have to do things differently to get there. When you think about moving from on-prem to the cloud, it's not just the implementation and migration of software to cloud; it's governance with customers, it's the skills they need, and the skills we need at Ellucian and how we build that and go through the transformation.
Our business is changing at the same time as our customers'. From my years in Silicon Valley, I think I bring a level of understanding about disruption — moving with speed, clarity, prioritization. Growing up in the Valley, where you feel like every day you can be disrupted by the next startup, I bring a little bit of that mentality of moving with speed, skill and focus, and I think that experience in that environment will be very valuable as we make decisions about our portfolio and get closer to our customers at a time when they are changing.
EdScoop: If I were a CIO at one of America's colleges or universities, what should I expect new or different from Ellucian in the next few years under your leadership? Where are you taking the company?
LI: It's still early, but I think what our customers should expect is a pretty exciting product roadmap and capabilities that are very focused on cloud. We're looking at a new future in terms of how CIOs create an empowered campus, empowered students and empowered community with data and analytics with our Ethos platform.
I think they will see from us a vision and a strategy for the cloud that makes sense for them, with new capabilities for innovation that are affordable, scalable and with proof points that deliver value.
I'm a person focused on customer success and customer journey so they should expect that we will be getting closer to our customers, working to fully understand what success looks like for them and to be more hands-on on their journey, on their pain points, and work with them as they migrate to the cloud.
We want to know, three to five or even 10 years out, what it looks like at their institution, not just what it looks like this year or next. That's how we will partner for the future.
EdScoop: What's your sense, at this point, of the state of enterprise technology platforms in higher ed?
LI: I think one of the things schools — or at least the very smart ones — are doing is thinking about overall architecture, not just in terms of technology, but the way CIOs and their organizations need to transform to deliver value.
For these institutions, things are becoming net new. Why? Because they're moving to cloud. Many of these institutions have thousands of integrations and modifications to their software that they have to figure out how to scale. Some have massive investments in data centers that are becoming utility as we work more and deliver more in the cloud. The face of enterprise software is transforming in a big way.
If we work to scale this across entire states with community colleges, as many states are building a hub-and-spoke model to create more value for the larger colleges to share with the smaller ones, I think we'll see the face of enterprise software dramatically shifting with these new value capabilities in the cloud.
EdScoop: Coming from Oracle, what surprised you about the technology where you landed or about the edtech landscape? What intrigued you?
LI: I think what intrigues me is if you look at the landscape of all the software out there, in the whole higher ed space, it's pretty darn exciting. It's very creative. There's a lot of innovation happening in higher ed, beyond what I typically saw at a Microsoft or an Oracle. I think it stems from the learning, knowledge and experimentation that's really at the root of higher ed.
Also, higher ed is very open and interested to learn from other verticals and one another. They're asking what media companies are doing, how to think about marketing in the future to get the right students to their institution, and so on. But higher ed should not come last; it should be a test bed of innovation to scale.
I think the most important thing right now is to recognize and embrace the innovation, to create a pathway with a purpose.