As tech giants focus on accessibility tools, the equation changes for education
Costs and ease of use improve as Microsoft and other companies expand features and promote them.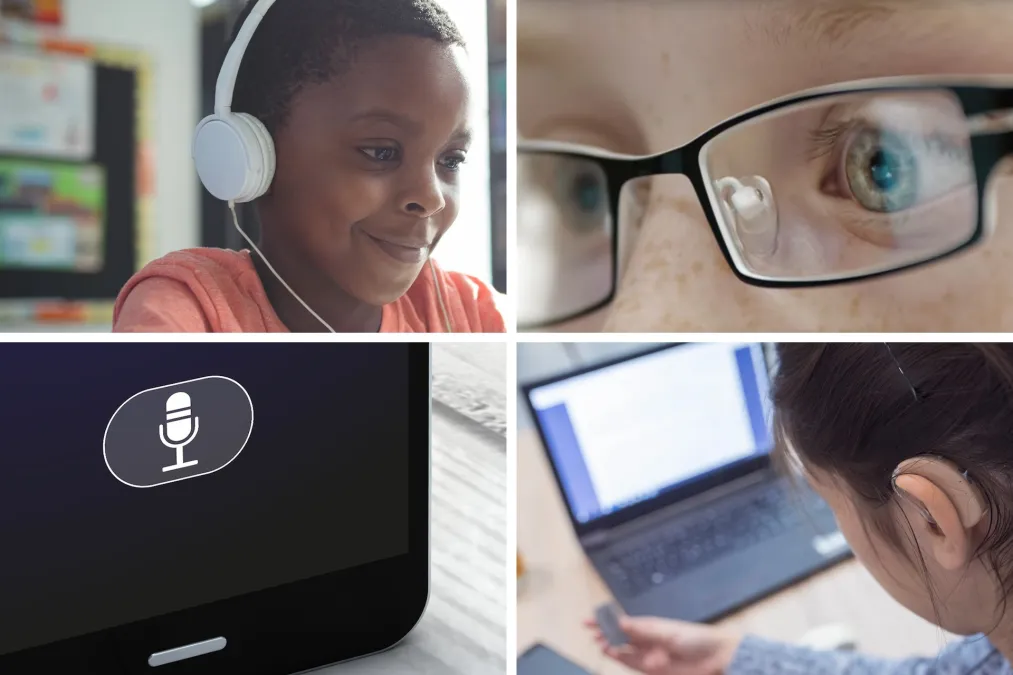 The door to education is communication, some say. And the big technology companies are opening that door more widely than ever before, not only as their products become more accessible to people with specialized needs, but also as educators find more ways to use those features in the classroom and beyond.
The biggest technology companies — think Apple , Google and Microsoft — include language accessibility tools in their vast array of products, and those features are available to pretty much any user. And the companies have been actively improving those tools in recent years. Each of the tech giants has a group that promotes accessibility, said Luis Perez, technical assistance specialist at the National Center on Accessible Educational Materials, who himself has a visual disability.
The products themselves reflect those efforts, he said.
"There's a series of tutorials by Microsoft, really nice, that placed accessibility within the classroom. I've been using their Learning Tools quite a bit — it's great to have them so integrated into their [software] … Being able to go in and customize is really important to me," said Perez, who is also president of the Inclusive Learning Network from the International Society for Technology in Education (ISTE).
"Apple has this clips app; as you're speaking you can turn on subtitles [and] scribe what you're saying as you're saying it," he noted.
Those advancements come as schools face more pressure from the public to improve how they serve students and families.
Alise Crossland, senior researcher at the American Institutes for Research (AIR), said it's one of the big reasons digital accessibility has become a really hot topic over the past few years.
"It's driven in part by schools, districts and states getting civil rights complaints over lack of accessibility to their websites or their tools," Crossland said. "The fear of getting sued helps people move a little faster."
Assistive learning tools go mainstream, at lower cost
Educators and administrators also are finding that fixing accessibility problems is potentially less expensive than it used to be.
Adding assistive technology — anything designed to make classroom learning more accessible to students with any of a wide range of disabilities — inevitably used to mean extra costs, as schools needed to buy additional hardware or software to meet specific needs. Many districts still wrestle with such acquisitions, for sure. As the big tech companies have expanded their cloud-based software products, though, it has become easier for IT departments to share a solution anywhere that a user is logged on.
Microsoft, in particular, has led the way in making accessibility an inherent component of its software offerings, said Gordon Knopp, director of technology at Laramie County School District 1, in Cheyenne, Wyoming. It's the largest school district in the state, covering 1,600 square miles, but it has just 14,000 students.
"From a district point of view, you're trying to be as systemic as you can — you don't want one-offs," Knopp said. "We have been trying to avoid Teacher A using product A, Teacher B using product B … We do occasionally have a student whose needs are so unique [that a unique solution is needed], but when it comes to the majority of assistive tech, the goal is to make it universal."
He said his district began to experience some issues as costs for technology increased while budgets decreased. "We have one [less] computer technician today than in 2002," Knopp said. "We had 3,000 computers in 2002, but 15,000 today."
When Knopp's office of technology first started looking at how to lower the overall per-student cost of technology by moving to software hosted in the cloud and purchasing less expensive devices, most assistive tools were installed on desktop computers. As the district was having a conversation about the challenge of needing dedicated desktop computers for assistive technology, "Microsoft really put a concentrated effort on their accessibility tools," he said.
"Products we used to buy as a third-party [package] and install on the desktop now come in Windows 365," he said. "We don't have the cost of installing it, the manpower, the training. … It really makes it a learning-rich environment for these kids who have extra needs." Knopp added that teachers don't have to worry about whether the kids have internet access at home; as long as they have their school-issued device, they have the tools built in.
"The tools I hear the most stories about, the ones that bring tears to your eyes, are … the learning tools," Knopp said. "Text-to-speech readers, some of the word prediction, and the learning tools that scan in a document [using] optical character recognition, the ones that change the screen background for kids with epilepsy or [a condition] who may need special assistance with colors … Those are all built in."
While cost is always a concern, Perez cautioned that school districts should be careful about standardizing.
"Large school districts will lock themselves into a single platform, rather than consider a range of them, which might not be perfect" for all students, Perez said. "There's always that tension between the need to standardize because of business concerns and the goal of truly personalizing education."
Raising awareness and usage
The tech companies have worked hard to address teacher awareness and education. Apple and Google offer similar learning accessibility tools to those created by Microsoft. Google, for instance, just released a range of new and expanded tools for teachers in its Teacher Center. But in this area, Microsoft again gets the most effusive praise from accessibility experts.
"Microsoft has really focused on education, and recently, particularly on putting their tools in locations [within the software] where teachers can see them and access them," Christopher Lee, chief learning officer for the International Association of Accessibility Professionals. "They made a huge shift on making sure the tools can be seen right away … They've made a strategic effort to make a difference to the disability community, and they're doing it in a way that's inclusive. It's not about people with disabilities, it's about putting tools in the hands of everyone who can improve their productivity."
Mike Tholfsen, principal product manager for Microsoft Education, said expanding accessibility is something the company has always cared about, but the commitment deepened when Satya Nadella succeeded Steve Ballmer as CEO in 2014.
"He's got a son with cerebral palsy who's nonverbal [and] a daughter with learning disabilities," Tholfsen said. "That's where things really started coming into more focus."
Microsoft, Google and the rest of the industry still have strides to when it comes to ensuring that educators truly understand what's available, though, said AIR's Crossland.
"There's still a communications piece for teachers to know these tools are available," she said. "In an inclusive classroom, a general education teacher may not know about [them] … It can be a steep curve sometimes to help them learn how to use those tools."
Helping to end the stigma of 'special' ed
The experts stress that the boom in accessibility features has benefits beyond ease of use and potential cost-savings for schools. In classrooms where the tools are built-in to existing, general-use software or hardware, students with learning challenges are less likely to feel singled out. Children can balk at having to use "special" software or designated devices.
"Students would rather go without than stand out," Perez explained. But if an accessibility tool is seen as an inconspicuous, regular feature of a piece of technology, that problem goes away, said Karyn Fillhart, technology training specialist with the Chino Valley Unified School District in San Bernardino County, California.
"Everyone can use accessibility tools as a productivity tool. Let's just call them tools … and not put on that label of 'disability,'" Fillhart said. "I never wanted my students to feel different. Now my students with autism can carry an iPad."
Fillhart told EdScoop of one teacher who showed her class Immersive Reader , which allows students to manipulate text on a screen, making it easier to read. Not only can users change the line focus — showing just one or two lines of text, akin to using a ruler under each line — but they can also highlight parts of speech or have the software read the text aloud. That teacher's students used it to read their own writings out loud, Fillhart said."When they listened to their stories, they said, 'Oh, OK, now I'm hearing it.' You can scan it and think 'Yes, this is what I meant,' but you hear it out loud and catch things," she said.
Another teacher had a class of students who were all English language learners. "She had the kids open up Microsoft Translator ," Fillhart said. "They used five different languages for a whole middle school period."
Sometimes the line between an accessibility tool and a general-use product is even more blurred. Lauren Pittman is a special education teacher with the Cherokee County School District in Georgia, north of Atlanta, with about 43,000 students in its 28 elementary schools, eight middle schools and six high schools. She has been using Microsoft's Learning Tools, both for students who struggle with reading and writing and for students who are not proficient in English.
"What I've been really happy with, they just put out a picture dictionary," Pittman said. For example, "'school' has multiple meanings — a school of fish, school as a building — so the kids can see the difference in the homonyms."
Not just more, but smarter
Accessibility tools aren't just easier to find and use these days — they're also smarter, too. Leaders at the National Technical Institute for the Deaf (NTID) — one of the Rochester Institute of Technology's nine colleges — noted the effect that Microsoft's artificial intelligence technology has had on the quality of the company's voice-to-text software.
NTID is the largest technological college in the world for students who are deaf or hard of hearing. It has about 1,200 students, most of them deaf or hard of hearing; some hearing students also are enrolled, as part of the school's interpreting program.
Of the deaf and hard of hearing students, about half are cross-registered with other RIT colleges, said Gary Behm, interim associate vice president of academic affairs. Behm and Brian Trager, associate professor and associate director of NTID's Center on Access Technology, spoke with EdScoop via Skype with the aid of sign language interpreters; both men are deaf.
"In NTID we offer access services for students with different needs — some students know sign language, others have none," Behm said, and "students who cross-register are using access services. It's always a challenge for instructors to communicate with every individual."
Trager said Microsoft's voice recognition tool is converting professors' lectures into text that students can read, in the language of their choice.
Microsoft's use of artificial intelligence "is really making a difference — it's not just the words, it's understanding the context," Trager explained. "If it's a specialty topic, and you know in college there are a lot, that's a real challenge. The product is really able to understand 'this is a key word, this is the context.' It's something that Microsoft has been willing to work with us on."
"They've been telling us about Presentation Translator, an add-on in PowerPoint, that allows someone like [me] to run the presentation, scan it, send it to the cloud service where AI will build a custom [version], with all the vocabulary, all the key words, and it does it in about five minutes," he added. "When the teacher is speaking, it's providing captioning in the PowerPoint in the alternate language, using the context from a few minutes before."
There are applications beyond the college classroom as well, Behm said.
"Many students are involved in a variety of activities — sports, fraternities, clubs," he said. "Some deaf students have hearing roommates … We hope to facilitate communication between those subgroups."
The availability of these communications tools through smartphones and laptops also holds promise to give deaf and hard of hearing students far greater employment opportunities.
"We want to set up partnerships with companies out in the community," Behm said. "Each company would have a custom model [with] acronyms and jargon" unique to the company and particular industry. "There are a lot of possibilities."