Gen Z strongly favors learning through YouTube and video, report says
As digital natives, Generation Z diverges strongly from millennials, their older counterparts, according to new research from Pearson.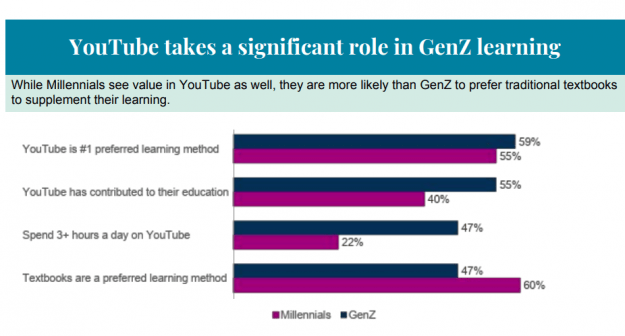 Generation Z is significantly more interested in learning through YouTube and videos than the millennial generation that preceded it, according to research released Wednesday.
In a new report entitled " Beyond Millennials: The Next Generation of Learners ," digital education company Pearson trains its sights on the educational perspectives of people born after 1995.
Gen Z — whose oldest members are still currently in high school and college — are digital natives; for the most part, they've grown up using the latest technologies. Millennials (defined as 24-40 years old), on the other hand, are largely in the workforce now and grew up having to adapt to recent innovations.
The Pearson report finds that for Generation Z and students that fall into this category (14 to 23 years old), the use of technology and learning preferences are inextricably intertwined.
Compared with millennials, members of Gen Z use more modern versions of social media, spend more time with online visual and video media and are more likely to share this type of content through social media.
Notably, Gen Z ranked YouTube and video as preferred methods for learning by large margins over millennials. In fact, YouTube was second only to teachers as a learning tool, and ranked higher than lectures, in-person activities with classmates, learning applications and books.
This departure in learning prefers marks a significant shift, consistent with Gen Z's higher rates of digital literacy and early-stage technological adoption.
"As Generation Z enters and settles into college, technology has already shaped their educational expectations, even more so than for the previous generation of traditional college students, millennials," Pearson said in a statement . "Generation Z expects experiences … that are more rewarding, more engaging and less time consuming."
The report also shows that Generation Z's learning experiences — inside and outside of the traditional classroom — are becoming more of a routine, integral part of daily life.
"To understand the future of learning — and especially higher education — we have to understand not just how the future of work and skills is evolving, but how students are changing and what's on their minds," said Asha Choksi, vice president of global research and insights at Pearson.
"Generation Z didn't have to adapt to new technologies like their predecessors — they have been immersed in it their entire lives," Choksi said. "This has led to students demanding changes to education, including accelerated, flexible and adaptive education options and tools."
The report also found that Gen Z still values on-campus education. Forty-five percent of millennial respondents said they seek out as many online courses as possible, whereas only 26 percent of Generation Z respondents agreed.
Generation Z and millennials did strongly agree on one thing. Both — 78 percent and 80 percent, respectively — ranked teachers and professors as the top influencers for their personal development.