Google rolls out new college search feature
Similar to the job search function it introduced last year, Google's new feature quickly presents students with the most sought-after information.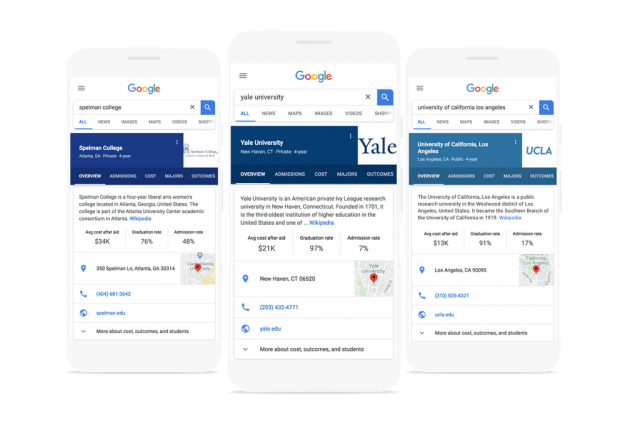 As of Tuesday, prospective students may not even need to leave Google when beginning their college search. The tech company has launched a new feature that offers a quick rundown of the most important information students are seeking about four-year universities — all within Search.
Now, if they'd like, Google users can explore colleges and universities, peruse relevant information and pull fast facts about a given institution, such as tuition costs, admission rates, demographics and financial information. With the new feature, Google aggregates data and brings forward key figures that may otherwise be buried in an admissions page on a website.
Google compared the new initiative with the job search feature it rolled out last year, which it says has helped tens of millions of job seekers find employment and the right vocational resources.
In a similar spirit, Google says that it hopes to improve educational outcomes with its newest feature. The college selection process "can be confusing. Information is scattered across the internet, and it's not always clear what factors to consider and which pieces of information will be most useful for your decision," Jacob Schonberg, a Google product manager, wrote in the company blog post announcing the education feature.
This move allows Google to become an informational clearinghouse, of sorts, in the preliminary college search phase, and liberates students from needing to track down critical information dispersed across many different websites and obscured under promotional verbiage.
The "new experience" relies on public information compiled in the U.S. Department of Education's College Scorecard and Integrated Postsecondary Education Data System (IPEDS), a comprehensive data set for American universities. Google says that it also consulted education researchers, nonprofits, high school counselors and admissions staff.
"It is Google's mission to make information universally accessible and useful," Schonberg told EdScoop in an email. "We believe education is a critical part of a person's life, and we are invested in making information around education easily available."
The feature, which only applies to four-year institutions, was rolled out Tuesday on mobile, with some features available on desktop. On a mobile device, the feature loads at the top of the page. On the desktop, it can be found to the right, in a sidebar.